The odds are that you will lock your keys in your car sometime. It happens to everyone. Rather, than worrying when it will happen, though, it's best to plan what to do "if and when" it does occur. Here's some advice to consider if it happens to you.
Dial 911
The first item to discuss is safety-oriented. If you are locked out of your car and you are in a dangerous area, call the police. It's their job to assist citizens whenever they get into situations such as this.  In many cases, especially with older cars, police can help you unlock your car and if they can't, they will assist you by calling a tow truck or locksmith. In either situation, you will be safe.
Call for roadside assistance
Here's when those annual auto-club fees really pay off. AAA, Allstate, and other organizations that provide roadside service can usually get you inside your car quickly. Being a member of roadside assistance services such as this can really give you peace of mind for less than $100 per year.
If you don't subscribe to such a service, you might still be in luck. Many new cars come with roadside assistance during the basic warranty period.  Keep in mind, you won't be able to open the owner's manual and find out who to call (because it's in the locked car!) but a local dealer, like thompsontoyota.com, should be able to help you.
Call a tow truck
If you have no other options, most towing services provide lock-out service. Google it, or call 411 for services in your area. Tow truck drivers, in most cases, are quite good at getting into locked cars and have the necessary tools to perform the service.
Get a temporary key
If it's during the day when car dealers are open for business, a local dealer might be able to make you a temporary key that will open the doors for you (but not start your car). This will allow you to retrieve your permanent keys. You'll probably need your vehicle identification number (visible through the lower edge of the drivers-side windshield) and identification to prove that you own the car.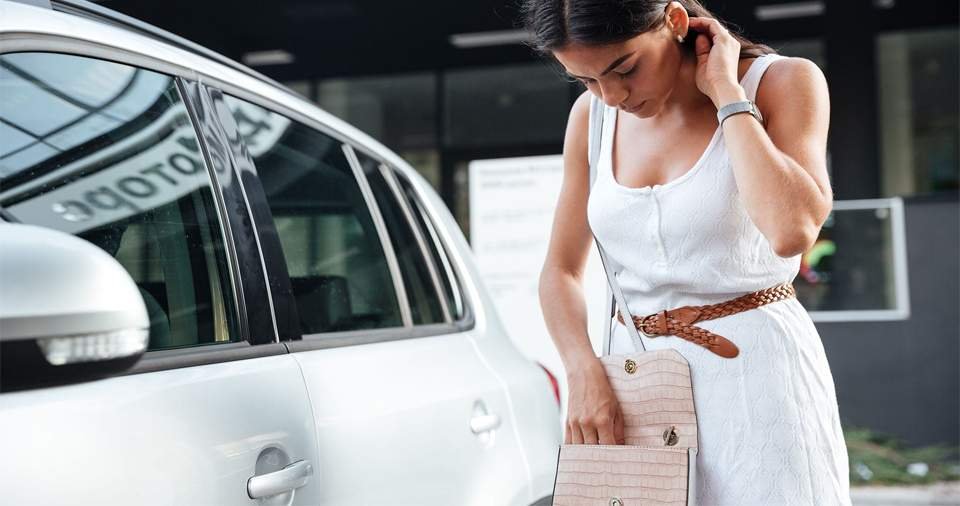 Keep an extra key handy
You know the old sports adage: the best defense is a good offense. Take the time to get a spare key and keep it in a place where you can get at it easily.  Good places are in your purse, in your wallet, or even a well-hidden spot on your car. You can buy a small magnetic box that is designed to hold a car key and it is placed on a car's underside. Another technique is to leave a spare with someone who could come and rescue you.
Keeping an extra key in your wallet prevent you from spending the whole night outside if your car is your only living option.
Get a car with benefits
If you drive a vehicle with a telematics system, you can call a toll-free number to have your car remotely unlocked. Those systems also offer free smart-phone apps that let owners unlock their doors. Check automaker websites for further details on their telematics systems.
Oops, you lost the keys
If you have actually lost the keys to your car, things get a little more complicated. You are going to need a locksmith and, as you might imagine, it's probably going to be expensive – maybe very expensive. The folks at fourseasonsford.com tell us that that keys for some higher-end models can cost several hundred dollars –so be ready for the bill. Although you can't avoid this absolutely avoid this -things do get lost and stolen – having a backup plan in mind may save you a great deal of trouble in the future.  Your best backup plan might just be a spare key that you have stashed somewhere just in case your keys do "disappear".
Courtesy of: Thompson Toyota