It's been over twenty years since Breckenridge Riverwalk Center turns into an extraordinary gallery of snow sculptures every year during the month of January. Artists from various corner of the world spend almost sixty-five hours to create those artistic sculptures (which are about 25-ton blocks and 12 foot tall).
Snow Sculpture Competition
This year we found ourselves fortunate enough to experience these extraordinary creations. This year sculpting process started from 22nd of January and it continued till 26th of January. Authorities let people see these creations from January 25th to 29th. During this period we are also allowed to vote in favor of our favorite team.
Around the viewing area, they have various restaurants and coffee shops too, where you can get some rest and refuel your energy reserves.
This year they had sixteen teams, each having four members. Some of these teams came from, India, Italy, Mexico, China, Mongolia, Germany, Switzerland, Turkey, Argentina, Estonia etc. They had four teams from the USA. One represented Colorado, USA-Wisconsin, USA-Oregon and another from Breckenridge itself.
Check out the pictures of some of the snow sculptures that we liked most: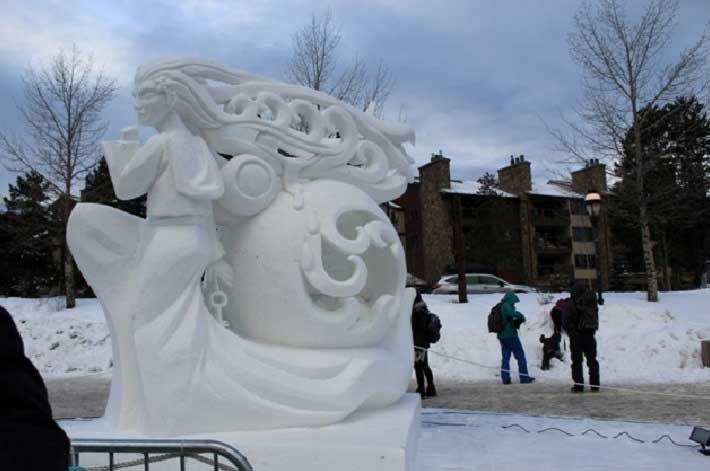 In 2018 Mongolia won the gold medal, with their sculpture called Secret, which represented women and their secrets.
Last year's winner Team China won silver this year. Their entry was called Thinker which showed an orangutan thinking about an apple.
The bronze medal went to team USA Wisconsin. They created Dance Devine, which showcased two leaves that were intertwined in a very complicated manner.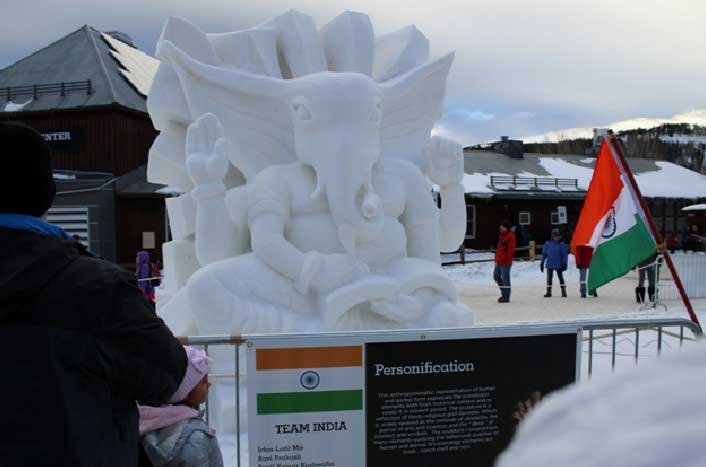 Though India's entry didn't get any so-called medal but their personification of Lord Ganesh caught people's eye and got a lot of acclamation too.
This is another favorite sculpture of 2018 championship. It's called Time sculpture made by Mongolian team.
This is our last by no means our least favorite sculpture, It is called Catch and Release and it has been created by the home team Breckenridge.
Featured Image : Flickr