The Fortune 500 list, based on revenue research and compiled by Fortune Mag, is a list of the top 500 corporations of the United States. Companies are added to this list based on the measurement of their gross revenue.
Improve Your Business With Fortune 500 Company Values
The Fortune 500 isn't the only list outlining the best of American businesses. Forbes compiles a top 500 private corporation list, Fortune compiles a global 500, and Business Week compiles a global 1000.
However, none of these lists are as prestigious as the Fortune 500. This list defines American business. Ranking on the Fortune 500 list means the corporation wields lots of power, and even influences government policy on a regular basis. Which is to say, there are a lot of things to be learned from Fortune 500 Companies.
1. They foster solid communication and teamwork skills.
Major, successful corporations recognize that success and failure are team efforts. They know good and transparent communication is key to keeping operations running smoothly. Good communication is essential throughout an entire company.
2. There is a focus on intensive learning.
American Society of Training & Development spokesperson Kristen Fyfe notes industry leaders "create a culture of learning at their organization, which enables them to attract the best employees."
By focusing on learning, Fortune 500 companies enable their employees to consistently update their skills and contribute more to the company. Intensive learning leads to strong ideas, unique content, and a competitive edge.
Knowing employees are constantly updating their skills, learning, and generating strong ideas helps employers allow their employees do their jobs with minimal interference. Successful corporations facilitate employee development and growth. Some companies, such as Agilent Technologies (Fortune 500 2017), work to create intensive pre-training exercises like interactive webinars, and e-learning opportunities.
3. Strategic planning and goal-setting is critical to success.
Fortune 500 companies have a clear vision of where they want the company to go. This vision stems from top management who provide a sense of what the corporation is about, and what they want it to be. Strategic planning allows companies to chart a course of direction, goals, and action in order to reach their vision.
Vision should be clearly communicated to employees as it's used to help make decisions on a daily basis. A solid understanding of company vision, direction, and mission helps employees set goals, achieve them, and provide value to the corporation. Agilent Technologies in particular provides "post-training", where employees learn how the individual training courses and programs align with the company values and goals.
Monitoring employee performance also helps reach company goals. If goals are set for all major performance areas and feedback is given clearly and often, companies chart a course for success.
4. They know the importance of good branding.
Strong marketing materials help businesses stand out among their competitors. A memorable logo attached to a reputable brand image goes a long way. Logos are a company's first impression; the design and colors conceptualize a business. Many popular, notable logos belong to Fortune 500 companies because they know the value of brand identity.
Fortune 500 companies are good examples of strong branding attempts and marketing materials. An analysis of Fortune 500 company logos offers insight into the characteristics of successful branding. How? These reputable companies are represented by memorable logos.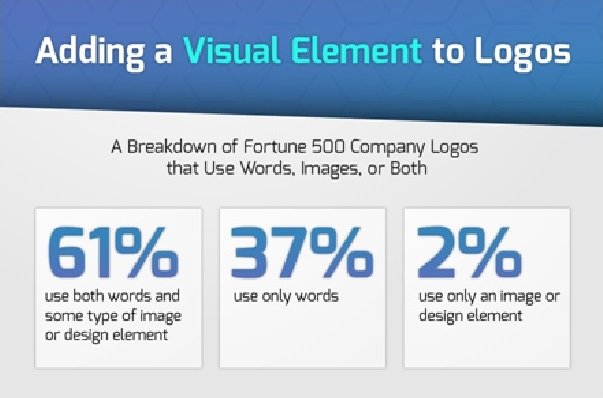 This analysis shows it's important to consider these factors in logo design: capitalization, font choice, color and color pairings. For example, an overwhelming 82% of Fortune 500 companies used two or less colors in their logo. It's also important to consider whether your logo should include an image, text, or both. More than 2/3 of Fortune 500 companies paired images and words in the design of their logos.
They use their brand identity in order to expand as well as engage on multiple social platforms. This increases brand recognition as well as engagement, increasing a corporation's notoriety.
5. Fortune 500 companies are adaptable.
Being able to stay with or ahead of the competition is what helps Fortune 500 companies generate so much success. Change is necessary over time. Not only does adaptability help give a company a competitive edge, it also helps them improve employee performance.
Consumers needs and wants change over time. Corporations need to adapt and adjust to meet the demands of the consumer. Failure to do so means risking their place in the market to a corporation who will embrace change. Pepsi is a good example of a major corporation rising to meet change. There are strong trends in America towards healthier lifestyles. People want healthier options, and Pepsi is working to meet those desires in order to maintain their place on the market.
Here is a snippet of their new market strategy, emphasising adaptability:
"Through our new Products goals, we'll continue to refine our food and beverage choices to meet changing consumer needs by reducing added sugars, saturated fat and salt, and by developing a broader portfolio of product choices, reaching more underserved communities and consumers."
Following a strategy of constant change, innovation, and adaptability is a key way businesses stay on top.
There are a lot of things to learn from Fortune 500 companies as they are the best of American business. Replicating the characteristics of Fortune 500 companies can help improve your business and market strategy, company goals, employee contributions, and your ability to stay ahead of your competition.