Is your smartphone outdated? Are you missing out on the latest apps because your operating system is too old for the newest technology? A phone older than two or three years means missing out on a lot of new features, functions, and apps.
Upgrade Your Smartphone
Let's take a look at new improvements in the world of smartphones.
Updated Look
Thinner and sleeker, new smartphones also offer bezel-less screens using the entire front surface area for viewing texts and images. Improved picture quality, larger data caches, and longer lasting batteries give the users more time on the phone and less time recharging. Plus, you can select from a variety of phones, screen sizes, and colors. Wireless headphone jacks with Bluetooth technology give you a better sound for music and movies, and they get rid of annoying cords. Choose a smartphone upgrade from T-Mobile, the network voted fastest overall by OpenSignal.
True Colors
Images on older phones often lack the sharpness and brightness. With a new smartphone, your picture quality rivals any point-and-shoot camera on the market. Experience vibrant images for photos, movies, and games. The new images make your selfies and other shots stand out from the crowd on Instagram and Snapchat. Don't settle for the slightly blurry, off-color pictures from an older model phone.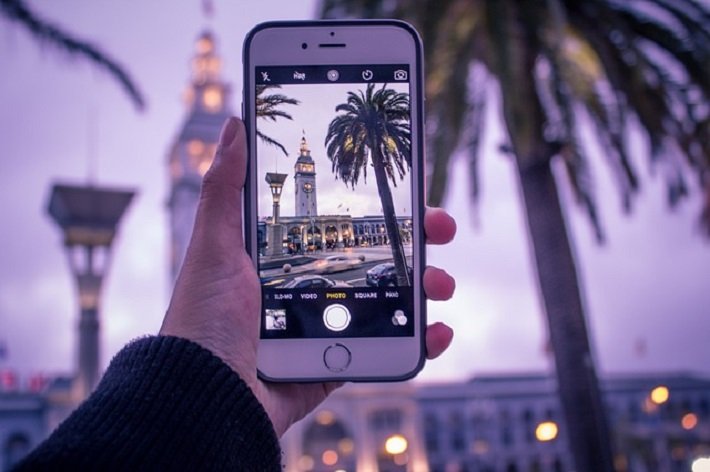 Great Camera
Smartphones now have two cameras, at least 12 megapixels, and new editing capabilities. The second lens is telephoto allowing clear and sharp images of distant subjects. New smartphones offer better low light shots and truer colors. Some offer a portrait mode that simulates the shallow depth of field effect that happens on traditional cameras with a long lens and a big aperture. Or, try using a bokeh effect that lets you blur the background while keeping the subject of the photo sharp and clear.
Stronger Seals
Water is the number one enemy of mobile phones. New phones are not only splash proof but some smartphones withstand immersion in water up to 3 feet. It's still not a good idea to swim with your phone, but if it accidentally falls into water, don't panic. The tougher seal also keeps dust and dirt from reaching components.
Bluetooth Technology
No more headphones or earbud wires. New smartphones use Bluetooth technology when connecting with listening devices. With wireless devices, just plug in the USB adapter and the sound flows through your headphones and earbuds crisp and clear. Plus, Bluetooth wireless speakers let you bring sound to the entire party without a fancy stereo system.
Constant Internet Access
No matter where you go, the internet is as close as your phone. Today's smartphones connect online without a wireless café or other internet hotspots nearby. If you're stuck in the middle of nowhere, switch your phone to the Wi-Fi hotspot mode and enjoy uninterrupted data. Plus, acting as your own hotspot lets nearby friends or colleagues connect to Wi-Fi through your phone. Next time you're stuck in severe weather or lost on vacation, just check your phone for tips and maps to get you where you're going.
Faster Processing
New apps seem to pop up every day. But, if your operating system is old, chances are you can't load the new software. How fast your phone loads and how well it runs apps, games, and movies depends on the speed of the processing system. Many older phones can't run new apps and downloading music and movies takes a long time. If you want better streaming quality or play the latest version of your favorite game, you need a new smartphone. As more businesses offer apps for customers and clients, keep your phone up-to-date and don't get left out.
Manufactures offer new phones each year, but they only have major updates to operating systems once every three years or more. Keeping up with the new software is important if you want your phone to function properly. As phones age, many companies drop tech support for the older versions. That app you use every day might not work as well anymore. Invest in a new smartphone and keep your world running smoothly.