Hawaii is a place filled with a lot of great nature, people and culture. For these reasons i absolutely love taking time out of my busy schedule and heading there as often as i can. I wanted to talk about a small but great place in Hawaii that deserves so much attention and it has to be one of my favorite places for me when i visit there. I wanted to take the opportunity to blog a bit about some of the things that are possible there. I hope you enjoy it.
Visit Oahu Hawaii
Find a Base
The first thing to do when in Oahu is to find a great place where you can relax at the end of a long day. There you can wake up feeling super relaxed and inspired to get out and do it all again and the huge number of beautiful vacation rentals in Oahu is definitely enough to leave you inspired. If you can you should definitely find somewhere next to the beach, because this is just the most amazing place to stay and when you are in Hawaii you should definitely be soaking in as much of the atmosphere as you possibly can.
Diamond Head
Image by Flickr
This is one of the most intriguing places in Hawaii that combines history and nature. There is a 1 kilometre hike to the top of the crater rim. From the top there are some amazing views of Honolulu and it is truly amazing how much you can actually see from the top and Diamond Head is very easily visible from the city itself. You will wonder how you got so high up! The hike itself is not overly difficult, but requires a little bit of physical fitness and the wind and uneven rocks make it a little bit more challenging. The hike features a narrow tunnel and set of staircases to the top. Make sure you take a bottle of water and are wearing some shoes with good grip, as they will be very useful on the way up and down.
Lanikai Beach
Image by Wikimedia
This stunning beach is one of the most relaxing places to visit and is located near the town of Kailua. The name literally translates to "heavenly sea" and it really shows with a beach that consistently tops the lists for best beaches in the world, which is really saying something. It actually isn't possible to park here due to the beach being public property, but not state land. This means that there are also very few public facilities, but this makes it a much nicer and more authentic than any other beach that what you would usually expect in Hawaii.
One of the highlights is sitting on the beach and looking over at the twin islands of Na Mokulua, which are also known as the "mokes". Kayaking to the islands is another popular thing to do here, but you are not allowed to land on the southern island due to its status as a bird sanctuary. If you are extremely lucky you can see the sun rise directly above the mokes, which makes for an amazing sight and photo opportunity too!
Pearl Harbour
Image by Pixabay
This place has a huge significance to the Second World War and the attack on the naval base here by the Japanese in 1941 signaled the entry of the United States into the war. The Japanese took the Americans by surprise and many lives were lost. Today you can take tours of Pearl Harbour and learn more about the war. In particular, I find the USS Arizona Memorial to be very interesting from a historical perspective and also due to its incredible uniqueness.
This is a battleshit that was sunken during the Pearl Harbour attack and today is a memorial with a futuristic looking structure built on top. The USS Arizona was never raised from the water and from the shrine on top you are able to see the remains of the ship from very close up, which is very fascinating. The memorial is also very moving and it contains the names of those that lost their lives during the attack.
Hanauma Bay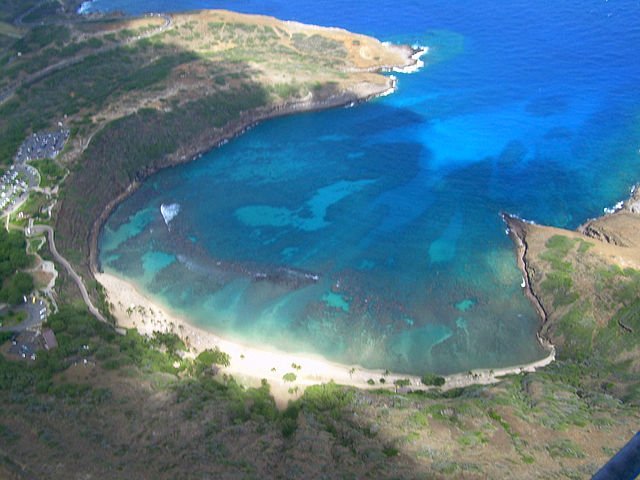 Image by Wikimedia
This bay is located on the southeast coast of the island and is a very popular destination to visit due to its beauty. Here there is a very rich array of sea life here, with a lot of coral, over 400 species of fish that inhabit the bay and even green sea turtles. The bay is also quite famous for the parrotfish, which is an extremely colourful tropical fish that lives in these waters. It is incredible to see these creatures swimming around and swimming and diving are the best way to experience these up close and personal. They have a fluorescent aqua colour with other rainbow colours mixed in, as well as many other intricate patterns.
Go for a Drive
It may sound a little bit odd, but going for a drive could be one of the best things that you do in Oahu. The Hawaiians have a culture of just heading out and driving and more often than not lead to an interesting adventure. It isn't hard to see why this is the case in Oahu, because there is just so much to do and see around the island. One thing I have always loved about driving is that you can stop wherever you want and there are a number of beaches, forest and much more to explore. I would highly recommend hitting up the Pali Lookout for some incredible views if you decide to take a joyride around the island.