Driving a car is dangerous at any time. There are more deaths that are attributed to some type of automobile accidents around the world. There are a number of things that need to be considered as there are several roads in the world that are more highly mentioned on these charts as being dangerous than others.
There are so many different roads that are known for being dangerous that it is hard to consider these roads and the overall safety of those who are driving or riding on these roads. Most of the roads of the world that are considered to be the most dangerous are working through some different types of terrain that simply could be considered that there were no different areas of the world. These different types of terrain include that these roads are crossing over waters, rocks, mountains, stones and steep slopes.
There are many different roads in the world that should be considered as part of the most dangerous. The following roads are the most dangerous roads in the world.
North Yungas Road
Image credit:  wanderlasss
The Road of Death (as it is known by both locals and those who are unfamiliar with the area as well) or the North Yungas Road in Bolivia is considered to be the most dangerous road in the world. This road is a mere ten feet wide and stretches for miles on the side of a mountain. The road runs for over forty miles in these conditions.
Sichuan-Tibet Highway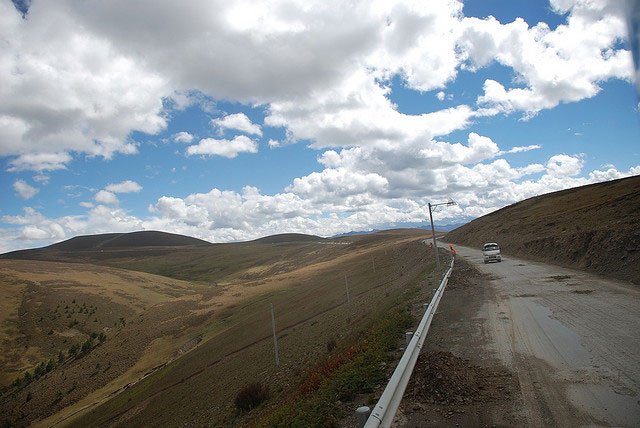 Image credit:  Jonathan
Another road that is considered to be very dangerous is the Sichuan-Tibet Highway in China. This highway is another highway that is running through mountains. Further the highway is high and narrow and has a higher than average chance of clouds due to climate and elevation conditions. The highway runs for two thousand and twenty eight kilometers through the steep elevations and mountainous terrain.
Pan-American Highway
Image credit:  A. Duarte
The Pan American Highways are also known as being extremely dangerous. These roads run for nearly thirty thousand miles from Alaska to South America. The Guiness Book of World Records has named this road as the longest motorable road in the world as well. This road has rough terrain and goes through a number of different types of land formations as well as running through different various climates and temperatures. There are some common problems with these roads which include that there is a high chance for flash floods and landslides as well as there being narrow curves and steep cliffs.
Coastal Roads
There is also a lot of danger that can be experienced in the Coastal Roads of Croatia. These roads are located on the coast and the average speed is somewhat higher than that of the other roads on this list or other roads around the world. These roads account for many of the injuries and deaths that are associated with driving and issues.
Guoliang Tunnel
Another road in China that has been considered to be dangerous is Guoliang Tunnel in the Taihang Mountains. This road takes it name from the Chinese meaning for road that does not tolerate any mistakes. Originally this tunnel was considered a gateway to the outside world for those who were living in one remote village. They created the tunnel in order to help them to get to the outside world however the tunnel is very small and narrow. The tunnel is a mere fifteen feet high and twelve feet wide which can make driving a scary thing.
Luzon the Halsema Highway
Located in the Philippines on the island of Luzon the Halsema Highway is known for being dangerous. There are many things that would need to be considered when driving on this road. There is a high chance of landslides on this road as well as parts of the road being unpaved and big stones being in the way or the possibility of extremely cloudy conditions as well.
Grimsel Pass
The Grimsel Pass in Switzerland is known for being dangerous as there are a number of things that should be considered. These are that the road is running through the mountains and that the pass is two thousand one hundred and sixty five meters high. This road runs between the valley of the Rhone River and the Haslital Valley.
Karakoram Highway
If you are traveling from Pakistan to China by ways of the Karakoram Highway there is much chance for danger as well. This road is the highest paved road in the world and is known to be a tourist attraction for the different various views of the mountains that are available.
Skippers Canyon
Another dangerous route to travel is Skippers Canyon in New Zealand. This road is known for its beauty as well as its danger as the road is carved out of the rocks. The road is narrow and unsealed and it is even warned by rental car companies in the area that it is road by which they should not travel.
Russian Siberian Road
The Russian Siberian Road to Yakutsk is another very dangerous road. This road is a government owned road and the only road that is available to get into Yakutsk. The road is very dangerous when it has rained as the road is made of clay that can quickly turn into a mud. This mud has been known to swallow vehicles and even tractors.
Rural Russian Road
There is a rumored story that connects one rural Russian road to dangerous gases that are seeping out of the ground. Although this road has appeared to just be another road and somewhat normal there are an unusual number of accidents and those who have accidents report not remembering anything prior to the accident and seem to be drugged after the accident.
Some other roads that are significantly more dangerous include the different various roads that are located in Nepal, Tibet and Bangladesh. These areas have roads that are not properly cared for and that seem to have more problems with motorists and accident rates.
Traveling can be scary enough alone but add in traveling on one of the world's most dangerous roads and you too might have problems with being able to get home safe and sound.