Generally, we like to term different milestones of life with precious gems because we consider them significant. For example, 18 is the legal age of independent adulthood, and 21 years of age marks the prime age for adults to take on responsibilities in life. Similarly, 25 years marks the prime age in which adults are expected to settle down and start their own lives – fortifying relationships, making a home, doing a decent job or starting a business.
So, if you ask, "What is a silver birthday party?" it is when any man or woman reaches the prime age of 25. In many cultures, people love to celebrate this milestone as a fresh start to their adulthood life.
The Significance of Silver Birthday
When a person reaches 25, he or she becomes mature and intellectually sound. Hence, it is a great time to do some self-reflection and avail a chance to set new goals for the future.
In many cultures, "silver" is referred to as a gem that depicts success, wealth, and purity. So, silver birthdays also symbolize the start of a new phase of life with a calm and clear mind.
Depending on personal preferences, people throw themed birthday parties to celebrate this special day with their loved ones.
What's the History of Silver Birthday Parties?
The culture of celebrating 25th birthdays as silver birthday parties is inspired by the traditional celebration of 25 years of marriage anniversary. On the anniversary, the close friends and family members of the wife gift her some silver jewelry items. This is where the silver theme of the 25th birthday comes from.
A Brief Silver Birthday Theme Decor Guide to Celebrate Your Special Day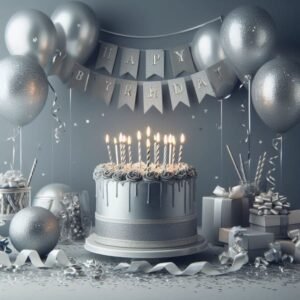 Although there are many fun ways to celebrate a 25th birthday party, if you want it all to be silver-themed, the following are some ideas you can try.
1. Silver-colored invitation cards
They add a little more style and glamour to the birthday event and communicate with the guests about the theme of the party. You can customize the text and graphics with a silver hue or include any sparkle.
2. Combine silver with white, gold, black and gray
To create a more elegant and trendy look, you can combine the theme with some other strong colors. It will make the silver birthday decorations more versatile.
3. Use silver tableware
The plates, flatware, and silver-rimmed glassware can add a touch of luxury. Plus, silver-colored decor pieces and table vases can really lift up the aura of the party.
4. Silver Backdrop
Silver and white streamers, ribbons, or metallic curtains as backdrop decor look unique and stunning. You can also make a personalized photo wall.
5. Coordinated dress code
You can encourage guests to wear silver birthday dresses with a touch of black, gold, or white to match the theme of the event.
Hand-Picked Content: How To Dress For A Birthday Party?
Bonus Creative Ideas For Celebrating A Silver Birthday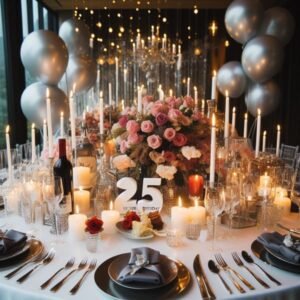 To make your celebration more unique and Instagram-worthy, the following are some fun things you can do on your birthday. These will stun the guests like never before!
Host an outdoor dinner under the stars with silver string lights. Combine it with aesthetic silver tableware, candles, and other stuff.
Set up a sparkling wine and champagne bar with a variety of silver or metallic-labeled bottles. Plus, include the silver-rimmed glasses to compliment the decor.
Throw a virtual birthday party with silver-colored aesthetics.
Guests can bring their wishes and prayers written in a small silver glass bottle that you can read aloud after the party. Include some humorous comments as well.
You can provide crafting supplies for guests to create their own silver-themed crafts, such as jewelry, candles, or ornaments.
Related: Handy And Easy Tips On How To Clean Jewelry!
Popular Gift Ideas For a Silver Theme Birthday Celebration
Since everything is dipped in silver, why not make the gifts match the birthday party theme? Here are some cool gift ideas you can try.
Gift silver-colored book version of the classic favorite novel. It can be a very well-thought-out item that every book lover would love to read.
Grab all the snacks having silver packaging and add them to a food box.
Gift a spa basket with silver-themed bath salts, lotions, and scented candles for a relaxing at-home spa experience.
If the birthday girl or boy loves gadgets, why not gift her or him silver tech gadgets like laptop sleeves, phone cases, headphones, and more? If you do not find it in the market, get one customized.
Subscription to a silver-themed monthly box or service can also be a great option. You can get a silver jewelry subscription or a wine club with silver-themed labels.
Conclusion
In short, celebrating silver birthdays is not that much of an old tradition, but people nowadays throw parties when they complete a quarter century of life. It is a great way to start a new phase and have a good, intimate time with your loved ones. Many people use it to self-reflect on their journey of life up until now and make new plans.