Deciding what to wear to a birthday party is always confusing. But, if the birthday is yours, then you can go all out! Don't worry, even if it isn't your birthday, there are still plenty of party-wear outfits that can make you look good without stealing the show from the birthday gal.
COVID-19 took away the opportunity from us to have parties and spend time with our loved ones. Never did we take for granted our ability to dress up nicely to attend a party than we did during the COVID-19 lockdown. So, now that the adversary is over, it's time to glam up and make up for all the time we spent in our pajamas on the living room couch!
In this article, we have an elaborate guide and plenty of ideas on how to dress up for a birthday party in all seasons. So, get inspired and ready to rock a perfect look for your big day!
Ways to Dress Up for a Birthday Party in Spring
There are plenty of fun things to do on your birthday, but the classic idea is always to have a birthday party with your loved ones. On a day filled with celebration and fun, here are some outfit ideas you can try for a spring birthday.
1. Floral Dresses Are Always Iconic
Spring is all about flowy dresses and floral patterns. For a perfect spring birthday party look, try going for a pretty one-piece dress in pastel colors to embody the spirit of the spring season. This look is ideal for outdoor birthday parties or pool parties.
2. Opt for a Casual, Elegant Look With a Fit-and-flare Dress
If flowy, flowery dresses are too girly for you, try fit and flare dresses without patterns. It'll make you look feminine without overdoing it. Luckily, you can find fit-and-flare dresses in all sizes and patterns, from a neutral minimalist look to a flowery maximalist one.
3. Off-shoulder Jumpsuit for a Chic, Cool Look
Your outfit affects your self-esteem. It can be the difference between a good day and a bad day. Some women feel uncomfortable in dresses and might struggle to find appropriate party-wear outfits. For them, jumpsuits are quintessential. An asymmetrical, off-shoulder jumpsuit, paired with minimalist jewelry is the best outfit for an elegant birthday look.
4. Jeans and Oversized Shirts Never Go Wrong
Knowing how to dress up jeans is crucial for building a good wardrobe. There are many types of jeans like skinny jeans, wide-bottomed jeans, fit and flare jeans as well as mom jeans that make up for show-stealing Gen Z Fashion. Pair up your jeans with an oversized comfy shirt for minimalist spring aesthetics. A white button-down shirt is ideal but you can also go for a silk blouse.
5. Go for a Soft Look With a Mesh Mini Dress
Nobody will disagree that spring is about cottagecore aesthetics and soft looks. You can embody this soft look with a pastel mesh minidress to look ethereal and divine at your birthday party this year. If you don't like minidresses, you can opt for a long maxi dress with mesh sleeves and a neckline as well.
Summer Birthday Party Outfits
It can be difficult to look stylish in summer especially when you're sweating buckets. Fortunately, we have a remedy for that! Check out the following outfit ideas to look gorgeous on a summer birthday without compromising on your comfort.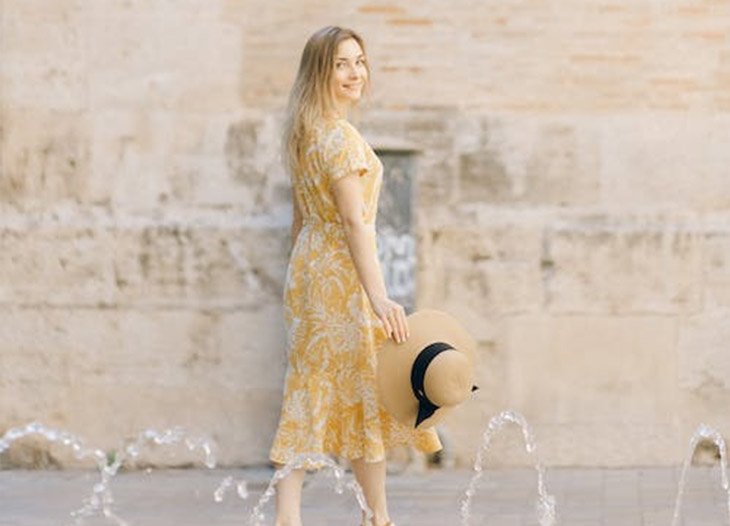 6. Sunny Yellow Dresses Are the Vogue
Yellow is the color of summer and the best way to personify it. A pale yellow or lemon-yellow dress is a refreshing way to dress up for a birthday party. Moreover, everyone should have at least one good quality yellow dress that complements their complexion. Pai your dress up with yellow sandals to complete a beautiful summer look!
7. Get on the Trend With a Crochet Dress
Crochet is trending. And no, crochet is not just for winter only. There are so many stunning crochet clothing and swimwear out there that is perfect to beat the heat.
For those who do not know, crochet is a form of knitting that uses a hook instead of needles. Depending on the stitch type, it allows you to create warm fabric for winter as well as cool mesh-like fabrics that are perfect for spring and summer seasons. Summer crochet dresses are usually super airy to cool you off on hot days.
8. Go Classic With a Denim Miniskirt and Halter Top
One of the most popular summer outfits includes a denim skirt paired with a halter top. It is sexy and you probably already have these garments in your closet. Throw those on along with a few trendy accessories and long boots to solve your how-to dress-up for a birthday party dilemma!
9. Tie-strap Tops for an Effortless Summer Look
If you want to look summery but without dresses, then a tie-strap top is perfect for you. Tie strap tops, especially with pastel, floral motifs are an instant way to look stylish and feminine. Ideally, pair up your top with a skirt. It can be a soft midi skirt or a jean skirt. Make sure you get a pattern that complements your respective bottoms and doesn't look mismatched.
10. Lightweight Summer Pants With a Sexy Bustier Top
Who said pants can't be a party-wear outfit? In the sweltering heat of summer, lightweight breezy pants are the ultimate comfortable fashion goals. Furthermore, there are numerous ways to style pants. You can get pastel-colored pants and pair them up with a halter top for an effortlessly sexy look; or get a puff sleeve top for a statement look. Similarly, a frill crop top can also make a good outfit with summer pants.
How to Layer Up for a Chilly Birthday Party in Autumn
Autumn is a beautiful time of the year. With the red falling leaves and spooky Halloween vibes, your invitation list is bound to be full of Halloween parties and bonfires already. Add in that mix, your birthday party, and it's sure to be a season when you need lots of outfit ideas.
11. It's All About the Leather!
Although leather is popular year-round, still it looks the best in the months of autumn and winter. It only makes sense to wear a warm leather jacket when the weather is chilly. Plus, you can style a leather jacket in any number of ways. Think, black skinny jeans with a punky leather jacket, or blue acid-washed high-rise denim with a black turtle neck top plus a leather jacket.
Not only that, but a slightly oversized leather jacket goes well with a white button-down shirt dress also. Plus, if you pair it with black boots, you'll rock the look. Truly, a leather jacket is so universal and complements both men and women effortlessly.
Likewise, you can incorporate leather pants into your birthday look as well. The sleek, shiny pants are sure to make you look like a badass. If you're feeling extra adventurous, go for a full leather outfit and rock that biker aesthetic!
12. Incorporate Fishnets and Boots
Autumn is all about dark, edgy fashion. If you want statement fashion on a budget, you can't go wrong with fishnets and statement chunky boots. Pair up a warm dress with fishnet stockings and knee-high boots to look fab at a birthday party. Of course, this look depends on where your birthday party is being held. If it's at a club with friends, then perfect. But you might need to tone it down a bit if you're going to a fancy birthday dinner party with your family.
Similarly, jean shorts go extremely well with fishnet stockings and boots, matched with a black leather jacket to complete the edgy look.
13. Glam Up With a Blazer
It's really important to invest in high-quality statement pieces that are timeless and versatile. A blazer is one of them. There are so many ways you can style a good blazer, not just for a professional look but also for an elegant party outfit as well. In addition, it's perfect for keeping away the chill of an autumn evening.
A blazer looks equally stylish with ripped jeans as it does it a formal pantsuit. A fun popular way to style up a glazer is with shorts and plain tops. You can even accessories it with a belt at the waist for a chic look.
14. Get All Blingy With a Shimmery Sequins Dress
Party is all about blings and shimmers. And if it is your birthday? Then, sequins are a must! Although not a lot of people are sequins fans, you can't deny that they are fun. So, this birthday, get yourself a fun blingy sequins dress and be the center of attention at your birthday party. We would recommend doing some research on how to wear sequins the right way beforehand. After all, you want to look sparkly but not too sparkly.
15. Look Extra With a Feather Dress
Looking extra might be weird on other occasions but on your birthday? Not so. So, if you still can't figure out what to wear to a birthday party, then give feathers a chance. Yes, it sounds ridiculous and extra but it's the perfect birthday outfit! Whether it's a mini dress or a long maxi dress, you can style up a feathered dress to look extra and fun on your birthday!
Look Stylish Without Being Cold for a Winter Birthday Bash
Who said you can't be stylish in winter and have to be buried under layers upon layers? It's definitely not true! Here are some good ideas on how to dress up for a birthday party in winter.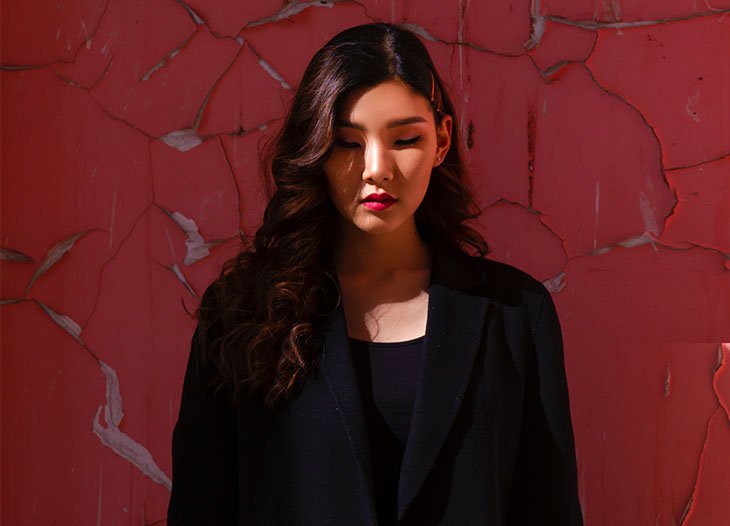 16. Become a Punk Princess!
The punk aesthetic is not something that anyone can adopt. But if you do know to rock this look, then you're all set for your winter birthday bash. Becoming a punk princess means layering up but in the most stylish way possible. You can layer up t-shirts or tops with blazers or leather jackets. Similarly, plaid skirts with long boots are a classic.
One iconic punk look is to wear corsets over your top. Plus, you can incorporate lingerie into your outfit for a more edgy look as well. Don't forget your makeup and hair!
Related content: How to Get Rid of Frizzy Hair
17. Black Dress is a Winter Staple
If you can't decide what to wear to a birthday party, go for a black dress. It's a safe option plus looks stunning when paired with minimalist statement jewelry. In fact, it won't be wrong to say that a timeless black dress is a staple that should be in everyone's wardrobe.
18. It's Velvet Season!
One awesome thing about winter is that you can finally wear velvet! Velvet is the quickest way to make your outfit look luxurious and glamorous. That black dress we just mentioned? Make it velvet and you've got yourself a beautiful elegant winter birthday party outfit without any effort.
19. Instantly Vamp Up Any Dress by Wearing Long Gloves
If you've got a plain black dress and nothing to accessorize it with, get yourself some long gloves. Velvet preferably. Gloves can instantly make any dress look captivating, with the added bonus of not letting your fingers freeze to death in winter.
20. Can't Go Wrong With Dark Academia Aesthetics
Dark Academia fashion is all about comfortable pants, long plaid skirts, turtle necks, vests, long coats, boots, and everything suitable for winter. Take inspiration from dark academia Pinterest boards and put together a birthday outfit using clothes that are already in your closet.
Final Words
Without a doubt, it is pretty challenging to decide how to dress up for a birthday party, whether it is yours or someone else's. Hopefully, with this article, you now have enough outfit ideas for birthday parties in all seasons!