Are you wondering how to throw a virtual birthday party for your mates living abroad? A virtual birthday party can save you a lot of hassle and money. Connecting to all your friends at once from the comfort of your room is pure bliss. Not having to clean the mess after a party is an out-of-the-world feeling.
Covid struck us hard, but now that it is almost gone, it left us with some amazing technologies. Zoom, House Party, Skype, Google Classroom, Microsoft Team, etc., are some amazing apps for virtual meetings. You can use them to your advantage and throw an amazing birthday party on a budget. Here are some virtual party ideas and tips you need to know!
Tips to Throw a Virtual Birthday Party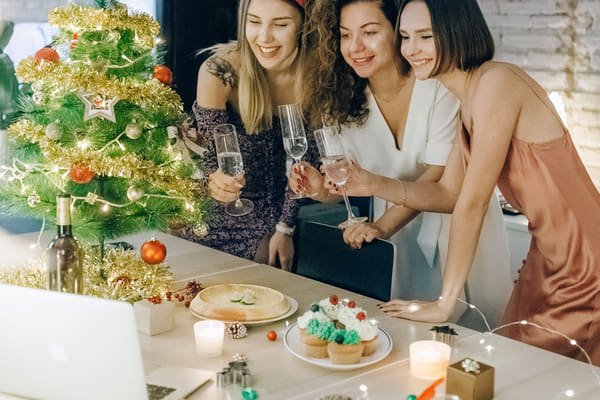 Planning a virtual birthday may seem like a huge task, and some people find it more challenging than arranging an actual party. However, you need to have a set game plan to make things work and the process smoother. We are sure these virtual birthday party ideas and tips will help you:
1. Have a Game Plan
On a normal workday, having a list of action items makes you feel sorted. Similarly, having a game plan is crucial when planning a virtual birthday party. Quickly grab a notebook or open your phone notes to jot down things you want to do on your birthday. Before you get into the nitty-gritty, figure the following things out:
Invitations
The first step to planning a virtual birthday party is to decide who will be a part of it. You may have a lot of close friends and family members you want to send invites to. Brainstorm and make a list of guests, and write everybody's names down, so you don't forget.
You can hire a graphic designer or make a cute virtual card. Try to make it colorful and attractive, and do mention all the essential details such as time and platform. Send your advice through WhatsApp or email and ask everybody to confirm.
Choose a Platform
People wonder how to plan a virtual birthday party without messing up. One of the things that can make your virtual birthday party a big failure is choosing the wrong platform. Before deciding on a particular platform, make sure you have bought its subscription to invite as many people as possible.
You should ask attendees if they know how to use a particular platform before choosing it. Confirm if everyone can open the link and connect to the platform. Zoom is an easy-to-use platform with multiple options. However, you can also use other platforms that suit you and your guests.
2. Select a Theme
Most people make the mistake of not making their virtual birthdays interesting; hence, guests get bored. You need to make your party as realistic and enjoyable as possible. Selecting an interesting theme is a great idea as it helps in spicing up things.
Choose a theme that everyone can follow and be a part of. Hollywood, retro, blingy, rockstar, etc., themes work best for birthdays. Mention the theme on the invite and ask everyone to dress up accordingly. You can also make a DIY backdrop to match the theme and share it with guests so they can follow. You can also mail decorations to people so that they can put them up in their background.
3. Order Snacks or Food
Food can be an issue at birthday parties; hence, you have to pay special thought to it. You can plan a small menu with items accessible to everyone. Some snacks such as skittles, potato chips, and brownies are available everywhere. Plan the menu smartly and ask everyone to follow along.
You have to make exceptions when it comes to food at virtual parties. Keep the food as simple as possible such as ramen noodles, pasta, or mashed potatoes. If you have the budget, you can order everyone's food for them and send it over. You can surprise everyone with food mid-party, and all of you can eat together.
4. Ask Everyone to Wear Nice Clothes
Most people don't take virtual parties seriously and end up wearing their pajamas. However, try to make your party feel as realistic as possible. If you have decided upon a theme, make sure everyone is on one board. It can be hard to coordinate with everyone virtually and make guests follow the rules. Besides the virtual birthday card, send a special note with all the rules.
Don't be over-imposing with the rules, but ask politely. One of the hacks for making easy-to-follow rules is to be inclusive. Ask them to wear their nicest clothes and not a certain kind. People can wear a dress to look put together or jeans and a blouse. However, you only need to ask them to make an effort to look their best selves. It is better to ask everyone to wear wedding semi-formals if you feel fancy.
5. Keep the Conversation Organized
A party where everyone is speaking simultaneously becomes a hot mess. You don't want your party where some are blabbering while others struggle to get a chance to speak. A party where everyone is on their own is not how to host a virtual birthday party.
The host has all the mic controls and can mute anyone they like at any point. However, you don't want to be rude to anyone. Hence, try to maintain a conversational flow and start by giving a welcome speech. Here are tips for having an organized conversation on a virtual platform:
Keep the mic control with you to avoid chaos.
Address everybody with their names so they can answer.
Play fun games to make everybody engage and have fun.
Make group rooms so that everyone can interact personally also.
Host virtual karaoke so that everyone can participate.
6. Play Fun Games
A birthday party without fun games is not fun because everyone likes to use their competitive spirits. You may think virtual birthday party games are quite limited, but you can do a lot of experiments. Of course, you can't play musical chairs or scavenger hunt, but you can play charades.
You can make groups and play bingo cards. If you don't have common friends, you can play a 20 questions game as an icebreaker. On the other hand, guessing the movie or song is an easy game to play. You can also keep small rewards at the end so that everyone is engaged and making efforts.
7. Plan Fun Group Activities
Long virtual birthday parties can get boring if they are unplanned and you are only having conversations. Make a plan of activities and send it over to guests to follow. Group activities are fun and can make you have a great time. Divide people into groups and make them watch fun documentaries. You can also do a karaoke session to end the fun evening.
8. Send Favors
Party favors are a fun way to thank people for joining and make them leave with a smile. However, things are different with virtual parties, and you can make individual gift bags. If you have the budget, you can send small favor bags over after or before the party.
Also, you can keep the party favors a surprise to make people even happier. Sending online coupon codes and gift cards is an effortless yet innovative idea. People like to use gift cards, which come in handy for many things.
People often wonder how to throw a virtual birthday party without making it boring. However, it is not that hard to follow a plan and get everyone to cooperate with you. Planning fun activities and games make sure everyone is involved. Before the virtual party, make sure you have a stable internet connection and backup to avoid inconveniences. Try to keep things simple and enjoy your time with loved ones.