Americans didn't invent automobiles, but they progressed quicker than any other nation in the automotive field. Leading the way in luxury, performance, beauty, affordability, and inventiveness, no doubt we have now a long list of classic American cars.
History has established repeatedly that a vehicle doesn't need high sales numbers to get an iconic status in the world. Here we go with our 10 best hand-picked classic American cars' list to fulfill your car mania thirst. So, let's see what makes these old American cars timeless.
1. 1963-67 Chevrolet Corvette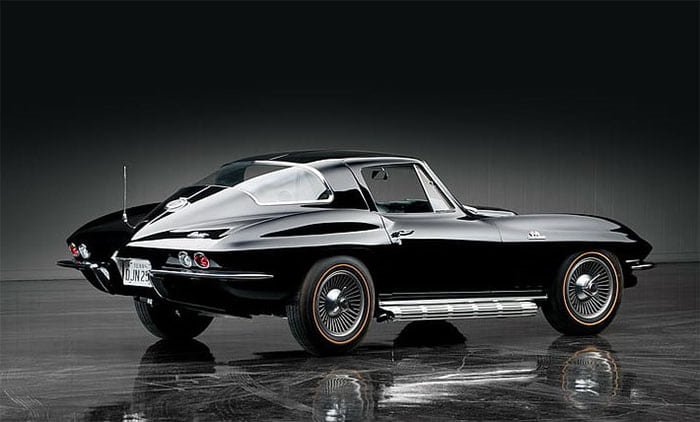 While Chevy engineers worked hard over the years to improve Corvette progressively, it persisted a raw, emergent teenager, expecting maturity. Then we witnessed the design director William Mitchell and engineer Zora Arkos-Duntov joining hands to build the 1963 Corvette Stingray. It is when Corvette got the status of a superior sports car. Known as the C2, the second generation's chief designers were Larry Shinoda and Pete Brock.
While Chevy made available the same mills as offered in 1962, the C2 performed better due to its lightweight and many other improvements. The automaker gave buyers four small-block V8s delivering between 250 hp and 340 hp. A 3-speed manual gearbox came standard, while a 4-speed automatic was optional.
Chevy produced both coupe and convertible models, but the 1963 Stingray coupe gathered more accolades. The Stingray proved such a success that Chevy had to go for a double shift and still couldn't meet the demand.
Since Chevrolet only made the Stingray from 1963 to 1967, these are rare cars that received blue-chip investment status. Chevrolet's concept Corvette also appeared in the Transformers movie, taking its design cues from the '63 'Vette, all the way to its split rear window.
2. 1967 Pontiac GTO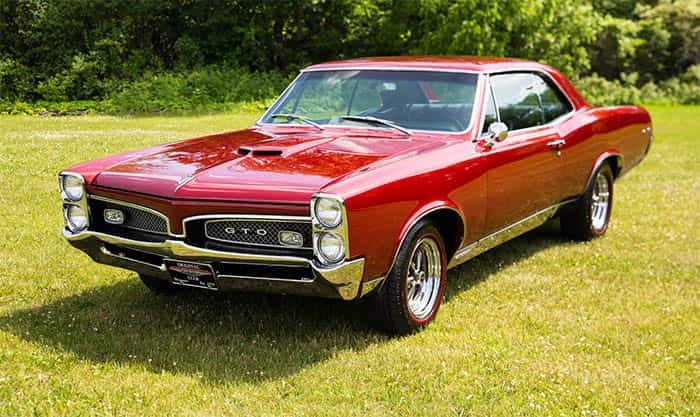 Credited to be the first muscle car and one of the most gorgeous of all time in its category, Pontiac introduced the 1967 GTO in three body styles: hardtop, convertible, and sports coupe.
It came with several mechanical tweaks, including the carburetion system and a larger cylinder bore for the 6.6L V8, generating 335 hp (250 kW) at 5,000 rpm and 441 lb-ft (598 Nm) at 3,400 rpm. Furthermore, the more powerful High Output mill was good for 360 hp (365 PS; 268 kW) at 5,100 rpm and 438 lb-ft (594 Nm) at 3,600 rpm.
While it was undoubtedly a pioneer in the muscle car market with a Motor Trend Car of the Year Award in 1968, the young generation came to know about it in 2002 when it appeared in the Hollywood movie XxX.
Today, a genuine and clean model can go for anything from $25,000 to $75,000.
Also Read: Thinking of buying a classic car? Here's a buyer's guide
3. 1970 Dodge Charger R/T
First introduced in mid-1966, the 1970 Dodge is undoubtedly one hell of a classic car in our list of American muscle classic cars. Its popularity spread to media, where we saw it performing in plays like The Dukes of Hazard and famous franchises like The Fast and Furious. While it was an exceptionally pleasing to see muscle car, what made it more desirable was the 440 Magnum V8 6-Pack and factory sunroof.
The standard engine options included different six-cylinder and eight-cylinder mills. The Charger R/T came with a performance package including a new taillight panel and rear-facing scoops with the R/T logo on the front doors, over the door scallops. Dodge created 10,337 units for the 1970 model year, each starting at $3,711.
Talking about the new 440 Magnum V8 6-Pack, it was capable of generating 375-horsepower and 480 lb.-ft. of torque.
4. 1964-70 Ford Mustang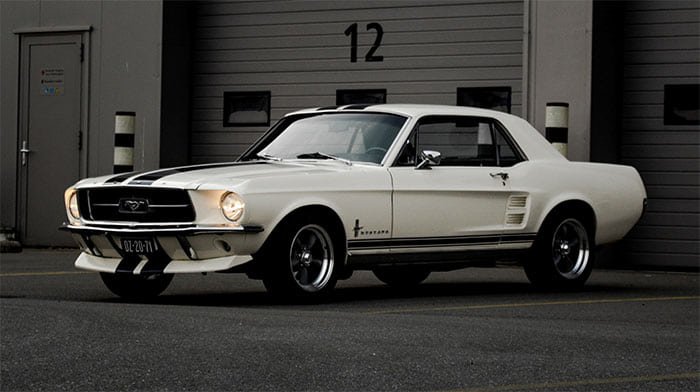 The first-generation Ford Mustang came in April 1964, introducing a new pony car class to the market. Its popularity grew over the years thanks to the evolution in design, power, body styles and variants, equipment packages, and options.
The American automaker offered the Mustang in 2-door hardtop, 2-door fastback, and 2-door convertible body styles. Under the hood, buyers had plenty of engine options starting from a 2.8L I6 1-barrel to a 4.7L V8 4-barrel producing power output in the range of 105 bhp to 271 bhp.
We witnessed the first significant redesign in 1967 and added power from the 7.0L Cobra Jet V8, pumping out a maximum of 335 bhp and 440 lb-ft of torque.
The 1968 Ford Mustang GT Fastback was one of the most famous models of that era, as it appeared in the 1968 film, Bullitt. Behind the GT, we saw Steve McQueen pursuing a Dodge Charger. In January last year, this specific GT hit the Mecum Auctions site and was sold for a whopping $3.7 million, comprising auction charges. In 1969, the Mustang grew in size and received new variants – the most famous of which were Mach 1, two Boss models, a luxury model Grande, and customized Shelby models.
5. Shelby Cobra 427 Super Snake
One of the best classic American cars ever, the Shelby Cobra 427 Super Snake is such a rare vehicle that only one remains in the world. Custom-created for Carrol Shelby by Shelby American and his sponsor, Henry "The Deuce" Ford II, you might have seen it in the movie Ford vs Ferrari.
This specific Cobra came into being as a factory 427 Competition model – one of 23 created in 1965 – before transforming into a Super Snake in 1967. Over the years, it retained its actual condition. The engine block, body panels, brake calipers, rear end, and exhaust system – all are original.
In 1968, Road & Track magazine named it "The Cobra To End All Cobras," and it still is worthy of this title. It is not just one of the most iconic classic American cars, it is also one of the most expensive. In 2007, it was sold for a whopping $5.5 million.
The Super Snake came under the Barrett-Jackson hammer again in 2015. This time it went home to its new owner with a $5.1 million price tag. On March 29, 2021, the CSX 3015 hit the Barret-Jackson auction again and sold for $5.5 million. After all, "Any time you can get a muscle car back, it's a good thing." – Adam Ferrara.
6. 1969 Dodge Coronet R/T and Super Bee
The 1969 Dodge Coronet R/T came to compete with other classic American cars like Pontiac GT featuring a "Coke-bottle" shape and "bumblebee" stripes enveloped around the tail.
The R/T's other salient features included a replicated woodgrain instrument panel, sill and wheel-lip details, Rallye suspension, F70 x 14 Red Line broad-tread tires, and a Power Bulge hood.
The two engine options included 440 Magnum V-8 with three-speed TorqueFlite and 425-bhp Hemi engine.
The R/T coupe's price was a little on the higher side, and not everyone was comfortable with the $3,379 price tag. So, Dodge introduced the budget-friendly Super Bee variant in 1968 to compete against the Plymouth Roadrunner. The 1969 Super Bee came with some changes and introduced a new Six Pack option (priced $463 more over the $3,138 hardtop base figure), delivering 390 horsepower and 490 pound-feet of torque. 
7. 1969 Plymouth Roadrunner
The American automaker Plymouth revealed the Roadrunner in 1968 as a budget-friendly alternative to its upscale GTX model. The Roadrunner name also became famous through Warner Bros – Seven Arts and other channels.
While the 1968 Roadrunner was available, only in 2-door pillared coupe-style, in 1969, the automaker also started offering it in convertible style. Plymouth only developed 2,128 convertibles, all featuring 6.3L engines, except ten that came with 7.0L Hemi.
In mid-1969, the company introduced another engine called 440 Six Pack (code-named 440 6-BBL). Plymouth only produced 1,432 Road Runners, with this mill rated at 390 hp and 40 lb-ft of torque. The popularity of the Road Runner earned it the Motor Trend Car of the Year Award for 1969.
8. 1967 Chevy Camaro
Chevrolet made a name for itself in the performance arena through the Camaro. It all began in 1967 when the automaker decided to venture into the pony-car market segment, dominated by the Ford Mustang. Undoubtedly, Ford was on the top, but when the Camaro came on the scene, it decidedly attracted more performance-oriented buyers than the Mustang. However, we can't say Camaro could beat the Mustang.
The first-generation Camaro came in 1967 and lasted for three years. What made it an excellent choice for performance enthusiasts was the range of engine options. In fact, Chevy made available all the mills in its lineup from 230ci gasoline inline-six to the COPO-only 430-hp 427ci big-block. In other words, Chevy made sure there was a Camaro for every fan there. They even nearly reproduced every component, comprising full (Chinese-sourced!) body stampings.
9. 1970-74 Plymouth Barracuda
The two-door pony car produced by Plymouth came in 1964 with parts and bodywork borrowed from the Valiant model. For the third generation (1970-74), the Chief Designer John E. Herlitz redesigned it in the coupe and convertible body configurations. Built on the E-body platform, Plymouth offered it in three variants the base Barracuda (BH), the luxury-oriented Gran Coupe (BP), and the sporty 'Cuda (BS).
A special model arrived in the mid-70 named the Barracuda Coupe (A93). There were plenty of engine options to suit the needs of different buyers. Despite its good looks and high performance, Plymouth stopped production in 1974. However, it is a collectible car now, especially the high-performance versions and convertibles.
The 1971 Hemi 'Cuda convertible is one of the most popular vintage cars among all the models that remained. The automaker only created thirteen units, seven of which sold locally. During the June 2014 Mecum auction in Seattle, a blue on blue 4-speed went for US$3.5 million. Many replicas of the Hemi 'Cudas appeared on TV and in movies, but none of them had a Hemi V8, the car is famous for.
10. 1970 Dodge Challenger
The Dodge Challenger arrived on the scene after the glimmering entries of Camaro and Mustang. But when it did, it really attracted all the attention. Like its sibling, the 1968 Charger, the Challenger featured an exceptional design, boasting plane body outlines, an eye-catching grille, and racing stripes, depicting its muscular nature.
Besides its gorgeous looks, what fans liked most about it was the availability of nine engine options. The most stout was a 426ci Hemi V8 churning out 425 horsepower, first introduced for the 1968 Charger.