Do you want to know the best Ford Fusion mods to upgrade your ride? You are at the right place! But first, a few words about this spacious, sporty, and reasonably-priced sedan.
The Fusion is a well-rounded and affordable midsize sedan that the American automaker Ford introduced in 2006. Just after a few years into production, the sales improved tremendously, and Fusion started to impress the automotive critics. It gathered multiple awards in 2010, including Motor Trend Car of the Year nominee, and won the honor of North American Car of the Year. It was so well-received that in 2011, the USNews named it the best affordable midsize car for families. So spacious and comfortable that you can even live in it.
While it possesses a distinct, eye-catching exterior, well-designed & spacious interior, generous trunk space, pleasant ride, and sporty handling, owners still look for the best Ford Fusion mods (just as they seek the Prius mods) to stand out in the crowd and improve their drive's handling and performance.
This post discusses all things about the modded Ford Fusion. It means we will talk about Ford Fusion tuning, Ford Fusion interior mods, Ford Fusion sport mods, Ford Fusion aftermarket parts, and so on.
Best Ford Fusion Mods for 2023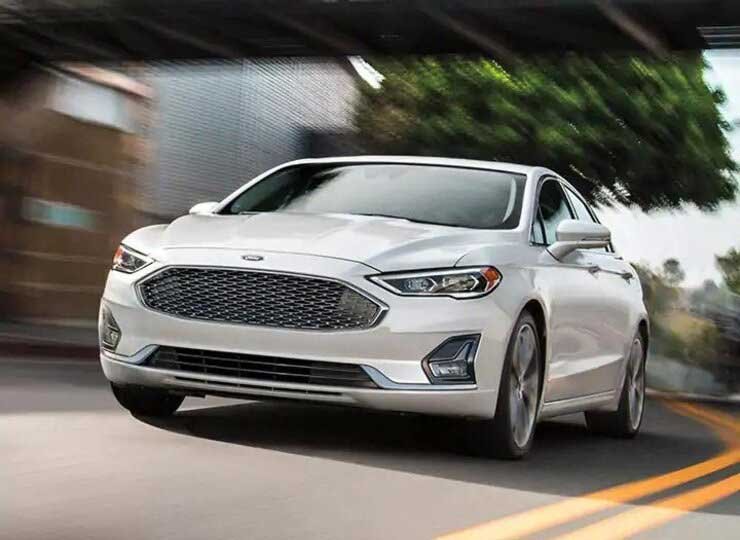 The Fusion remained a class leader in the sporty sedan segment for a long time, thanks to the changes the engineers made for every new model. However, there is still room to improve its styling, drivability, handling, and performance.
It doesn't matter if you are searching for the Ford Fusion body kit or Ford Fusion custom parts; you can find a huge variety of products for the interior, exterior, performance, lighting, wheels & tires, and automotive tools.
Handling and Suspension Mods
Handling and suspension mods for Ford Fusion are some of the most common for this sporty sedan. To improve handling, go for a 0.9 to 1.5-degree toe-out at the front and install a slightly negative camber.
You can drop your Fusion as much as you like, but we suggest you lower it by 30mm – 43 mm or go for an arch work for a more considerable drop. For shorter drops and to add a sense of style performance, install lowered springs and sway bars. These two things will not only drop the ride height for a more assertive posture but will also make the body roll and cornering better than the stock suspension.
Swapping damaged bushings and shocks also lifts Fusion's handling significantly. Tuners mostly employ poly bushes and coil-overs for this purpose.
Performance Mods
How to make my ford fusion faster, or can Ford Fusions be fast? These are pervasive questions from people seeking the best Ford Fusion mods. The possibilities for Ford Fusion tuning are endless. Below are some of the best Ford Fusion Mods for performance.
1. Internal Powerplant Modifications
Improving your engine output requires changes to crank, pistons, conrods, and compression ratio. The connecting rods and pistons are ideal for larger turbos. Find and install durable, high-quality H-beam or I-beam rods and forged pistons to witness a huge power boost.
In addition, you can install fast road camshafts to boost performance, but only an expert mechanic must do it. These camshafts are not easy to come by, so you need a professional who can regrind the stock ones.
2. Low Mass Flywheel and Wheel Hop
A lesser mass flywheel has the tendency to enhance Fusion's free-revving ability. Furthermore, you can eliminate the wheel hop by modifying the axis of rear engine movement through a solid rear motor mount.
3. Forced Induction Upgrades
There is no doubt that a turbocharger will increase the air intake, thus permitting the engine to burn more fuel and improve performance. While it is one of the best Ford Fusion mods, it is also the most complex.
Another thing you can do with a turbo to enhance power output is to install a turbo spool with a downpipe. The faster will be the expelling of the hot air; the quicker will be the turbo spool, enhancing the horsepower and torque as a result. You can achieve this by adding a bigger downpipe, selecting from catted and off-road. The catted would be an ideal choice until you want your Fusion to hit the racetrack.
4. Air Induction Kits and High-flowing Exhausts
Again, you will get plenty of options for both induction kits and exhausts. For instance, a cold air intake system allows more air, and a performance exhaust will give you a significant horsepower boost. In some cases, the exhausts and kits may improve the power output only after eliminating a restriction.
Remember that a good air induction kit can only improve performance if your Fusion's current air intake is not working properly. Moreover, understand that this kit won't be beneficial for small power plants. However, if you have made several changes to your mill and it requires increased air, then you should use an induction kit.
The best way forward in this regard is a full induction kit with a cold air feed. Employ a panel air filter instead of a paper filter for effortless cleaning and maintenance. We also suggest avoiding a big exhaust because it can reduce the exhaust rate.
5. Remaps
Go for a remapped electronic control unit to improve your vehicle's performance. You can also easily find aftermarket ECUs and inline tuning boxes from the market.
6. Brake Mods
Installing the performance upgrades and not fitting high-performance brake pads will be counterproductive in your modification journey. Therefore, your Fusion would require better disc brakes with improved stopping power. Avoid using race brake pads because they are noisier than conventional ones and require a warm-up to work effectively.
7. Alloy Wheels
Choosing the right size of wheels and tires is crucial for Fusion's improved performance. Select alloys that are lightweight with a suitable design for brake cooling. Similarly, a soft tire of the right size is essential for improved handling and performance. A larger than recommended tire will increase road drag, so it won't be beneficial if your goal is enhanced performance.
Some experts recommend a maximum of 19 inches for the US-bound Fusion, but we say you should fix 18-inch tires for optimal fuel efficiency and performance.
Other Ford Fusion Mods
These are just a few of the best Ford Fusion Mods. There are plenty more for the exterior and interior. For exterior decorations, you can add a custom grille, a body kit, towing and hitches, new head- & taillights, a spoiler, wind deflectors, a roof rack, a bike rack, mud flaps, custom horns, and so on.
Additionally, adorn the interior with new floor mats, seat covers, a steering wheel, shift knob, pedals, cargo liners, a dash kit, etc.
Get cheap mods for Ford Fusion or go for luxurious ones; the choices are limitless.