After fuel prices remained stagnant due to the Covid-19 outbreak in 2020 and some parts of 2021, we witnessed a steep rise in 2022. In the automotive industry, higher fuel prices significantly affect consumers' buying decisions. Thankfully, buyers now have a number of choices in the shape of hybrids as well as conventional combustion engine vehicles. To make it easier for you to buy a gas-efficient car, we bring you the best mpg cars of 2022.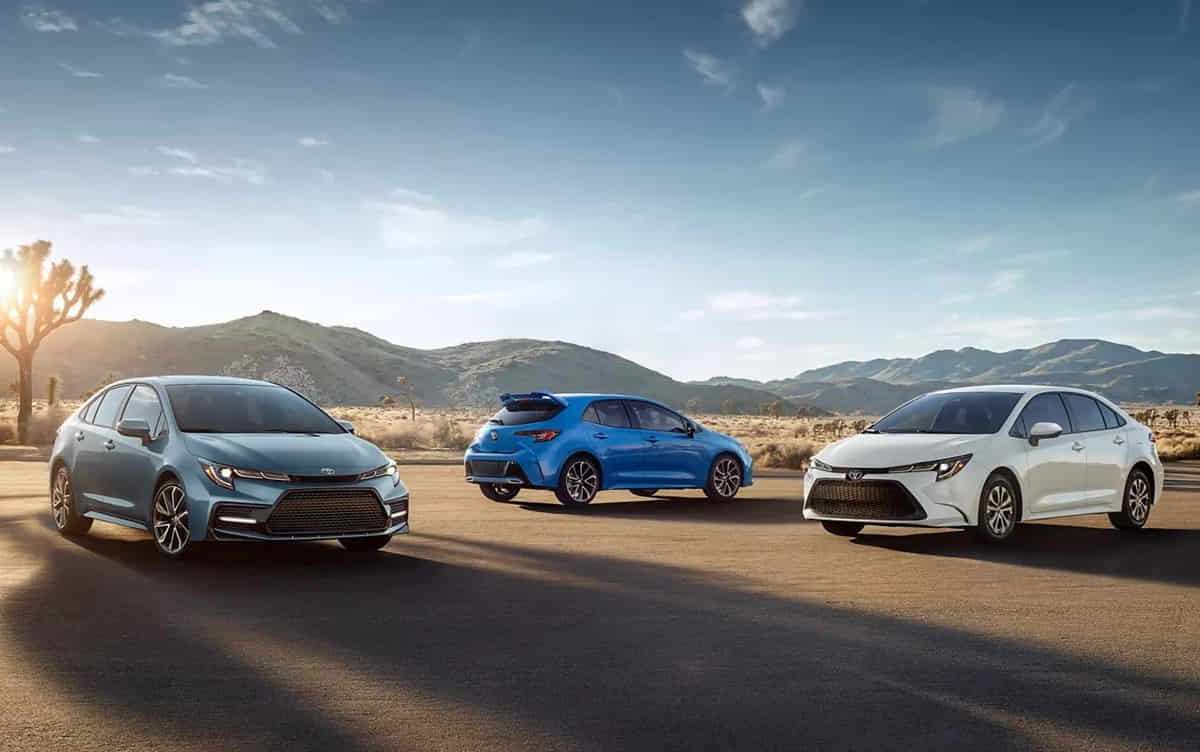 Best MPG Cars With Hybrid Powertrain
This is a list of highly economical, affordable, and reliable hybrid cars. The MPG figures of these cars are based on EPA's fuel mileage ratings.
1. 2022 Hyundai Ioniq – 55 MPG Combined
The 2022 Hyundai Ioniq takes the crown in our list of best fuel-efficient cars, delivering up to 54 mpg in the city, 57 mpg on the highway, and 55 mpg combined. Power comes from a 1.6-liter four-cylinder engine and an electric motor creating 139 horsepower, mated to a six-speed automatic transmission.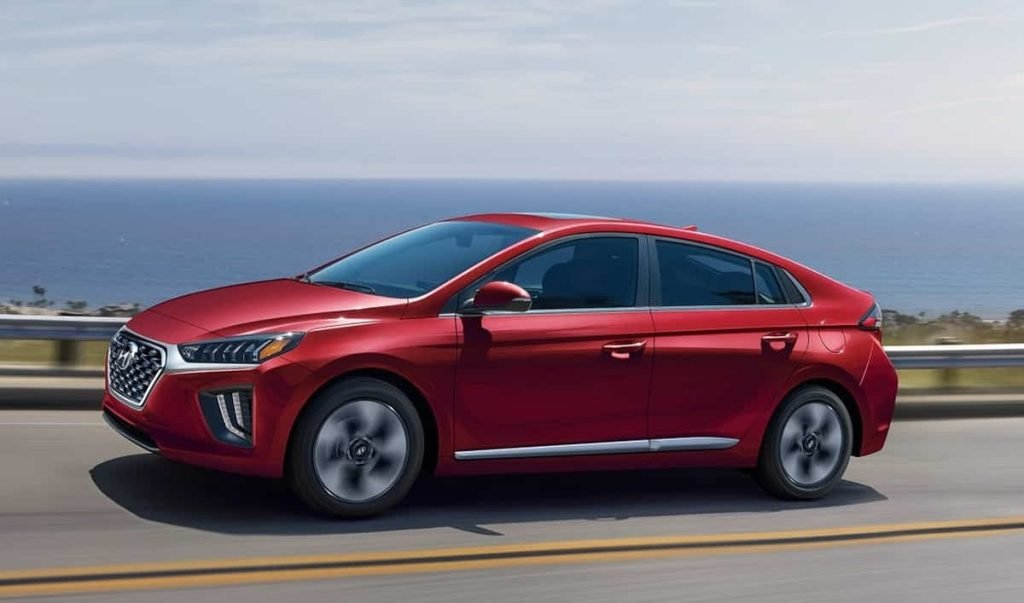 The new Ioniq comes equipped with an eight-inch touchscreen (upgradable to 10.25 inches) with Apple CarPlay and Android Auto compatibility, a six-speaker stereo, and a host of standard safety facilities.
While you may not like its accelerating ability on highways, it is an excellent city driver. Particularly if you want to make your trips light on your pocket! Hyundai offers the Ioniq plug-in hybrid version as well for those looking for an even better economy. Furthermore, it is accessible with local and federal EV incentives.
FYI: What is Combined mpg?
Combined miles per gallon is an average of the city and highway numbers. In other words, you can add city and highway mileage and divide the resultant number by 2 to get a combined mpg.
2. 2022 Toyota Prius – 52 MPG Combined
While talking about cars with the best gas mileage, how can we forget about the Prius? Many people still relate the word hybrid with the Prius, and rightly so. Unveiled in 1997, it was the world's first mass-manufactured hybrid passenger car.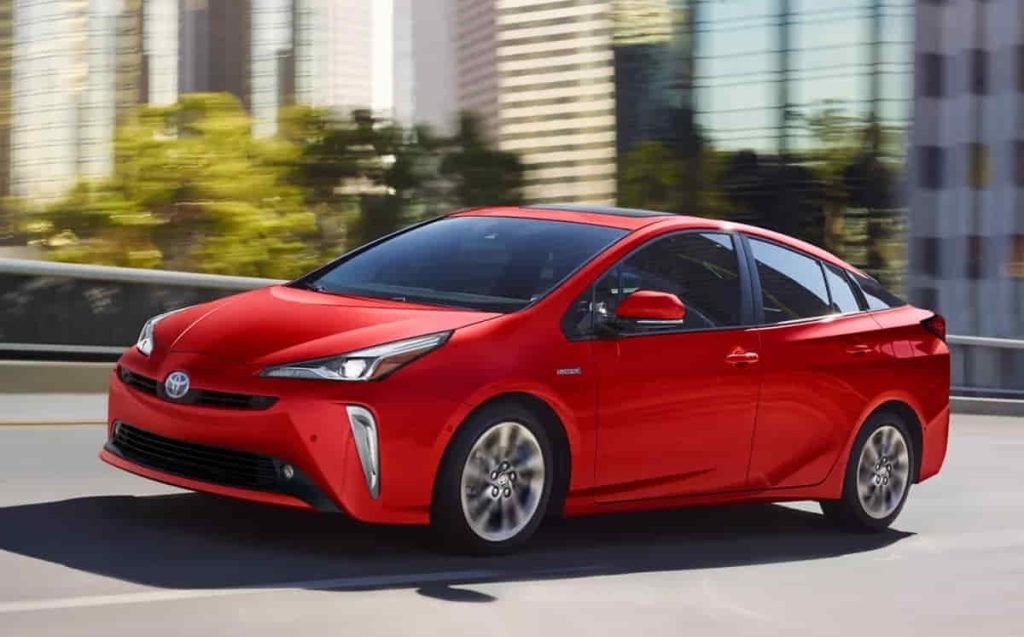 While it retained its position as the best miles-per-gallon car for a long time, it couldn't improve much in terms of design. Undoubtedly, its hybrid rivals look better, but most of them still can't beat Prius' practicality and low running expense.
Expect the new 2022 Toyota Prius to return 54 mpg in the city, 50 mpg on the highway, and 52 mpg combined, courtesy of a 1.8-liter petrol mill assisted by an electric motor. Contrary to plug-in hybrid cars, the Prius juices up its battery through power created during regenerative braking. Although the Japanese automaker also offers a plug-in model, the hybrid is more convenient to own since it doesn't require any charging.
Besides being the class-leading, best mileage car, the new Prius boasts a well-built exterior & interior and reliability. A range of standard safety features makes it one of the safest cars in the segment.
However, the hybrid's main highlight is its fuel economy, and that is evident from its mpg figures. Of course, it is not a sporty hybrid, but it delivers the performance it is made for. It is the reason we see lots of Prius being used as campers and even as Taxis.
3. 2022 Toyota Camry Hybrid – 52 MPG Combined
Toyota made the right decision a long time back when it used its most famous hybrid powertrain for its best-selling mid-size sedan in the USA. The result was a fuel-efficient and powerful car with excellent interior comfort that is hard to beat in its segment.
Toyota claims the Camry hybrid delivers 51 mpg in the city, 53 mpg on the highway, and 52 mpg combined. What's even best is its 15 cubic feet of lavish trunk volume to carry luggage.
The standard amenities comprise LED headlights, a 7.0-inch touch screen (upgradable to 9.0-inch), Apple CarPlay and Android Auto support, and plenty of driver assistance features. Wearing a price tag of around $28,000, it comes equipped with a pre-collision system, lane departure alerts, automatic high beams, radar cruise control, road sign assist, and lane tracing assist.
Yes, the $2,000 premium over the gasoline counterpart seems much for just the hybrid powertrain and CVT transmission. However, what you get in return is totally worth it. Expect it to deliver 30% better fuel economy, extra horsepower, and quieter rides.
The same hybrid powertrain available in the Lexus ES 300h and Toyota Avalon hybrid demand more cash for less efficiency.
4. 2022 Toyota Corolla Hybrid – 52 mpg Combined
After the success of the Prius and Camry hybrid, Toyota decided to unveil a hybrid version of its longstanding famous compact sedan. It employs a 121-hp 1.8-liter four-cylinder engine and electric motor borrowed from the Prius at an affordable price of under $25,000.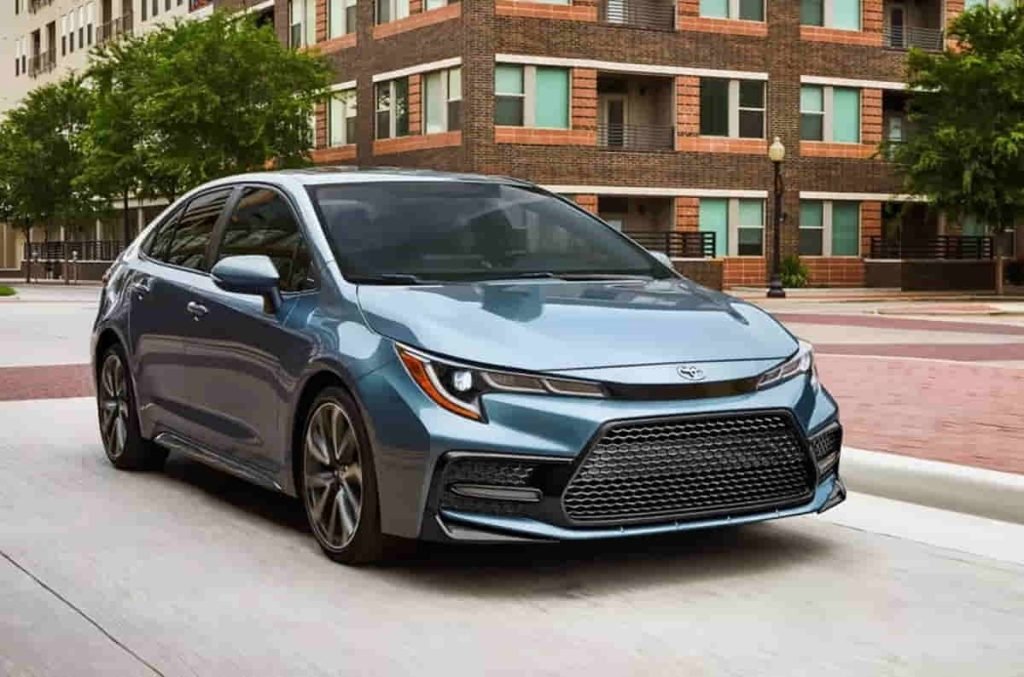 While we see a few downers in the Corolla hybrid, like only one lower-tier trim level and bland driving experience, it really shines in the fuel economy department. The 52 mpg (4.4 L/100km) in the city, 53 mpg (4.5 L/100km) on the highway, and 52 mpg combined make it one of the most economical cars in the hybrid sedan segment.
Other facilities that inspire us to buy this efficient sedan include LED headlamps, keyless entry/ignition, auto climate control, an 8-inch infotainment touch screen, Apple CarPlay, Android Auto with Amazon Alexa compatibility, and a Wi-Fi hotspot.
Through its Safety Sense suite, Toyota ensures collision mitigation, lane departure mitigation, lane-keeping assistance, and adaptive cruise control. The optional amenities include blind-spot monitoring, rear cross-traffic alerts, heated front seating, artificial leather upholstery, and heated mirrors.
5. 2022 Hyundai Elantra Hybrid – 50 MPG Combined
Hyundai introduced the hybrid Elantra for the first time in 2020, featuring the same design as its gasoline sibling. The sedan houses a 1.6-liter GDI Atkinson-cycle four-cylinder engine paired with a permanent-magnet electric motor, collectively producing 139 horsepower and up to 195 lb-ft of torque.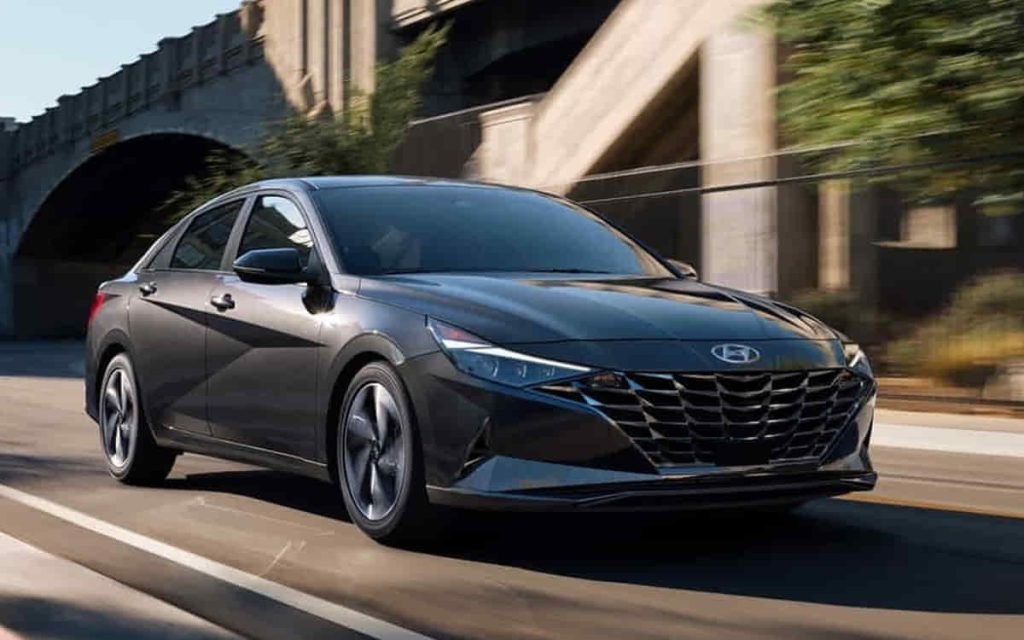 The power output doesn't shy away much of its gasoline models, but what's better is its fuel economy figure of 49 mpg in the city, 52 mpg on the highway, and 50 mpg combined. Even the standard sedan model delivers up to 43 mpg on the highway.
By just dishing out less than $25,000, you can get your hands on the entry-level Elantra Blue with a host of standard features. We are talking about Apple CarPlay and Android Auto support, heated front seats, and a hands-free trunk opener. In the safety department, Hyundai includes lane-keep assist, land departure warning, driver attention monitoring, automatic emergency braking, rear cross-traffic alert, and more.
If that's not enough for you, pay more to enjoy a bigger 10.25-inch touchscreen infotainment system with built-in navigation, leather upholstery with ventilated front seats, and so on.
Yes, it is not as refined as other compact offerings in the segment, but you can't ignore it while choosing among the highest mpg cars.
6. 2022 Hyundai Sonata Hybrid – 47 MPG Combined
The 2022 Hyundai Sonata hybrid combines utility and comfort with its superb built quality and excellent fuel economy. We regard it as the best miles per gallon family car for its 45 mpg in the city, 51 mpg on the highway, and 47 mpg combined ratings, translating to an estimated 686 miles on a tank in the entry-level model.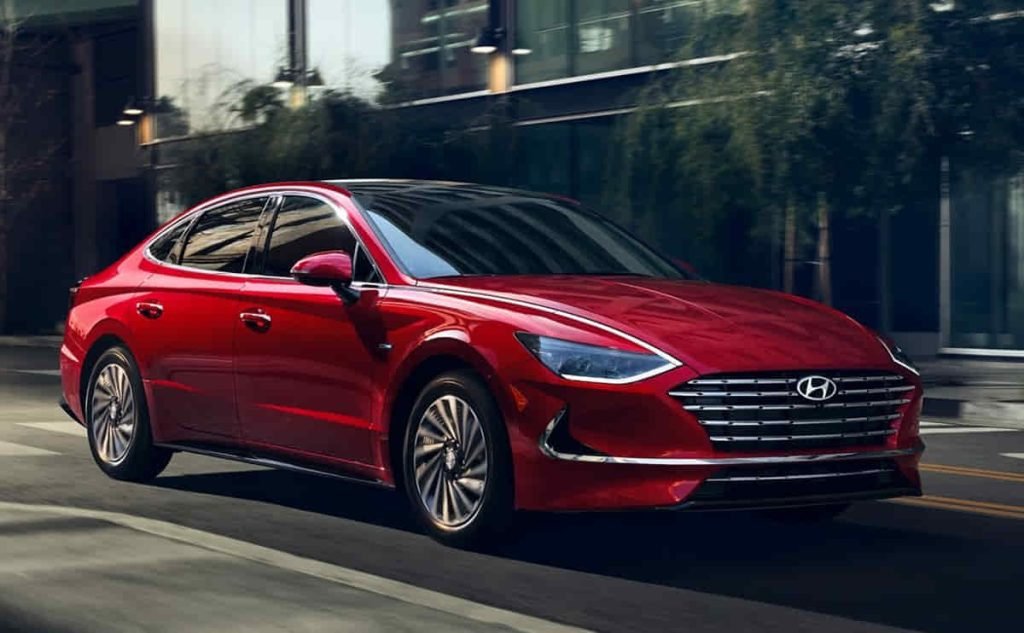 However, excellent fuel efficiency is just one aspect of its popularity. Other things that add to its merits include its comfortable and spacious interior, adequate to carry five, an eight-inch touchscreen with Apple CarPlay, and Android Auto connectivity.
For a little more than $28,000, you get a highly safe sedan with automatic emergency braking with pedestrian detection, blind-spot warning, and collision prevention.
For better amenities, you can pay more for the SEL or Limited. These come with a bit of lower fuel efficiency, but you would appreciate the bigger wheels, wireless smartphone charging, solar cells for interior cooling, and automaker's innovative park assist feature allowing you to park in and out through the remote.
Other plus points of the new Sonata hybrid are its high reliability, five-year/60,000-mile basic warranty, and a 10-year/100,000-mile warranty for the powertrain.
7. 2022 Honda Accord Hybrid – 47 MPG Combined
The 2022 Honda Accord Hybrid is one of the best sedans in its segment, courtesy of its outstanding driving dynamics, roomy and cozy interior, excellent built quality, and last but not least, its superb fuel economy. EPA rates it at 48 mpg for the city and 47 for highway driving, which is not bad for a sedan featuring a 212-horsepower hybrid powertrain.
The best part is it drives pretty much like its non-hybrid variant zooming to 60 mph from a standstill in position in under seven seconds.
Besides its outstanding fuel economy figures, it comes equipped with plenty of driver assistance tech, including lane keep assist, adaptive cruise control, traffic sign recognition, and automatic high beams.
Furthermore, an eight-inch touchscreen lets you use Apple CarPlay and Android Auto and enjoy the premium feel in the upper trim levels. The optional facilities encompass wireless charging and remote start.
For a price of about $27,000, which is just a little higher than the ICE-Accord, the Hybrid model is worth your consideration.
8. 2022 Kia Niro – 43 MPG Combined
The new Niro is an outstanding crossover boasting an intuitive infotainment system, an adequate amount of interior space, 63.2 cubic feet of cargo space, and exceptional fuel economy. EPA estimates it to deliver 46 mpg in the city, 40 mpg on the highway, and 43 mpg combined. Remember, it is a small crossover SUV, not a sedan, offering an above-average economy rating in its segment.
The family-hauler borrows Hyundai Ioniq hybrid's 139-horsepower powertrain, paired with a six-speed automatic. Other niceties involve wireless Apple CarPlay, wireless Android Auto, and a plain 8.0-inch touch screen. Throw in an extra dough to get a 10.25-inch display and an eight-speaker Harman Kardon audio system.
Moreover, the 2022 Kia Niro comes with more active safety features than the previous models. Kia also makes a plug-in hybrid model available for those seeking better fuel efficiency. That said, being a crossover SUV featuring more weight than a sedan, expect the fuel economy numbers to suffer when you speed up at highways.
As far as its driving behavior is concerned, the Niro handles road flaws very nicely and holds its position firmly against its rivals.
Best MPG Cars With Gasoline Powertrain
It is not just hybrids taking place in our list of fuel-efficient cars; we have picked a couple of gasoline-powered vehicles as well.
9. 2022 Volkswagen Jetta – 35 MPG Combined
Starting with the Volkswagen Jetta delivering up to 31 mpg for the city 41 mpg for highway and 35 mpg combined, it is the best you could get from an ICE sedan.
The power comes from a 158-horsepower turbo-four and a six-speed manual transmission. While this power figure isn't as handsome as a few of its competitors, the Jetta certainly delivers better performance than other compact sedans in its class.
Even the models that use the VW's eight-speed automatic rates at 39 mpg on the highway. Moreover, with the Jetta, you do not have to worry while upgrading to the high-performance, 228-hp GLI because its economy stands at an impressive 33 mpg on the highway.
In addition, the new compact Volkswagen now comes with an updated design, improved interior facilities, and new driver assistance tech.
10. 2022 Mitsubishi Mirage – 39 MPG Combined
At a starting price of only above $15,000, the Mirage is one of the most affordable vehicles on this list. It delivers 36/43/39 mpg city/highway/combined, making it an alluring hatchback for buyers who value economy more than anything.
On the downside, it is not the best of vehicles on this list, and adding more cash to your bucket could bring better options.
That does not mean the Mirage comes with zero advantage. Also accessible in sedan body style, it offers plenty of boot space thanks to split-folding rear seats as well as desirable features like automatic emergency braking and Apple CarPlay, and Android Auto support. A five-year/60,000-mile bumper-to-bumper warranty that's completely exchangeable is also a plus point.
On the flip side, if you can sacrifice the mileage a bit, you can get better options in the shape of Hyundai Accent and Kia Rio. We are presenting the alternatives because you might feel Mirage is sluggish for its only one engine choice, i.e., a 77-horsepower, three-cylinder mill. There is no turbo, and the interior isn't luxurious as well due to its cheap-feeling plastics.
Having said that, it is worth every dime if you need a small city car under the $15k price tag.