Have you ever thought about sleeping in your car on a trip? It won't be wrong to say that you must have contemplated it at least once before renting a room in a hotel. Camp-Inn (known for making retro-style travel trailers) has used this idea as an inspiration and created Toyota Prius Camper, which is not just a hybrid car you can travel in but also sleep in as well.
It is perfect for those who want to take their Prius anywhere. Living in a car was not an option before this Prius camper van. With the benefit of having a spacious cabin that sleeps four people, you can travel as far as you want to go without having to worry about renting a hotel or placing a camp in the wild.
What To Expect From Prius Camper
As said earlier, the Prius camper is a chic modern RV conversion that can sleep up to 4 people. Its funny exterior look is not the only feature that stands out; the interior is also one of its kind.
The camper car is 20 inches longer than a regular Prius and 80 inches in height allowing you to easily stand inside comfortably, even if you're 7 feet tall. The curved shape of this modern RV is quite different compared to an angular motor-home people usually use. Nevertheless, this change is good because it has a cozier and warmer vibe to it.
The camper has two compartments; the lower cabin of this motor home holds a convertible double bed that you can change back into seats just by folding the backseats up.
On the other hand, the upper compartment, which runs over the driver's head, provides extra sleeping space. It is quite similar to those found on boats and pickup campers. Behind the upper berth are two large windows, which make the interior look more appealing and allow the natural light to peek inside the camper.
Comfort
Besides being spacious and cozy, the Toyota Prius camper can charge electronic gadgets and run devices through its battery, which offers 100 volts. Furthermore, the conversion model has a mini kitchenette consisting of a microwave and a fridge that run on a battery.
Additionally, you can fold the backseats and convert them into a scaled-down dinette table. This way, you can enjoy your lunches inside the camper in the most comfortable way. You can also add things you need inside the camper such as a sink if you are a long-term camper. The Prius Camper surely provides the highest level of comfort to travelers.
Climate Control and Fuel Efficiency
Why Prius is an excellent option to convert into a camper van is its climate control system. Just turn on the ignition and your car will run on the battery without using the engine's power. The engine will kick in only when the battery drains. As soon as the 12v battery gets full, the engine will sleep again.
Another great thing about climate control is its ability to accommodate you in both dry and cold weather. For warm air, the engine first heats the coolant and then turns off. For cold air, the hybrid employs an electric compressor.
On the other hand, there have been critical discussions regarding its fuel efficiency. Considering the added weight and aerodynamics, it will definitely burn more fuel while traveling but still it's one of the most fuel-efficient vehicles. Moreover, if you keep the climate control ON during the day and at night, it will consume a lot of fuel. It means you might have to visit the gas stations more often.
Inspiration For Smaller Campers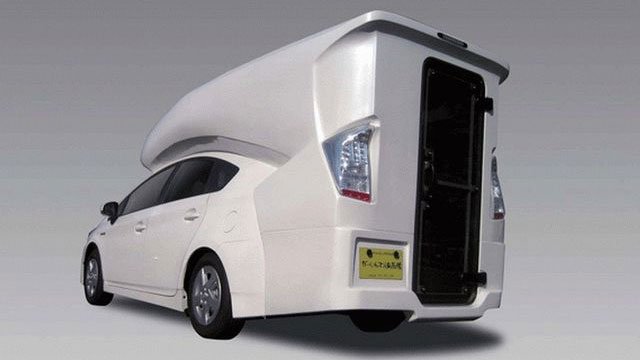 For decades, camper vehicles have been an effective way for families to travel for vacations to different parts of the world and enjoy the landscapes on the way. Most campers are big vehicles, which may not be suitable for a small family. The Toyota Prius Camper sheds light upon smaller and eco-friendly camper vans. Some manufacturers have already started working on the "small is good" motto; Honda Element Camper Kit is the perfect example.
Cost Of The Prius Camper
Getting the Prius camper conversion is tempting, but the price might make you think twice before you go for it. Just the standard model of the modded Prius will cost you over $48,000 if you select the 2019 model. If you already own Prius and want the conversion done, it will still cost you over $20,000. If you don't have one and want a company to buy a Prius and customize it as per your liking, you can contact Car Taka.
In essence, the Prius Camper makes for perfect eco-friendly traveling with your family. It has everything you would need in a family car.
Would you like to buy a Prius Camper or a traditional RV is your first choice? Tell us in the comments section below.