Do you want to travel around the world within the comfort of your home? Well, you can easily do that now by opting for an RV (Recreational Vehicle) that has all the amenities you would require in a house. But the million-dollar question is what is the best RV for full-time living.
Around 1,000,000 Americans lived in their RVs year-round by 2018, according to the Washington Post. The RV sales skyrocketed during COVID. While it shows the mass adoption of RVs, it doesn't mean every RV is the best motorhome for full-time living.
Fairly, the best RV for full-time living depends on some factors and your specific needs. Before we reveal the best RVs to live in, let's discuss the types of RVs and factors that make an RV great.
Types of RVs
Of course, without knowing the different types of RVs, you might be unable to pick the most appropriate recreational vehicle. The three main RV classes include:
Class A RVs – A-Class RVs are the largest you can get giving you a home-like feel because they have every luxury you enjoy in your home. Of course, you cannot park a car inside but you can drive the RV anywhere in the world (provided you have an international license) and they are around 21 to 45 feet long.
Class B RVs – Also known as campervans, these are the smallest in the range and are perfect for weekend escapes. They are 17 to 19 feet long, and you can drive them anywhere.
Class C RVs – Sitting in the middle of A and B, the C Class RVs are affordable and stretch from 20 to 31 feet with a go-anywhere ability.
Lastly, we have towable recreational vehicles, including folding trailers, travel trailers, and fifth-wheel trailers. You have to link them to your vehicle having enough power to tow it.
Now we know different kinds of RVs, here are some factors you should consider before buying your home on wheels.
Factors to Ponder Over When Buying the Best Rv for Full-time Living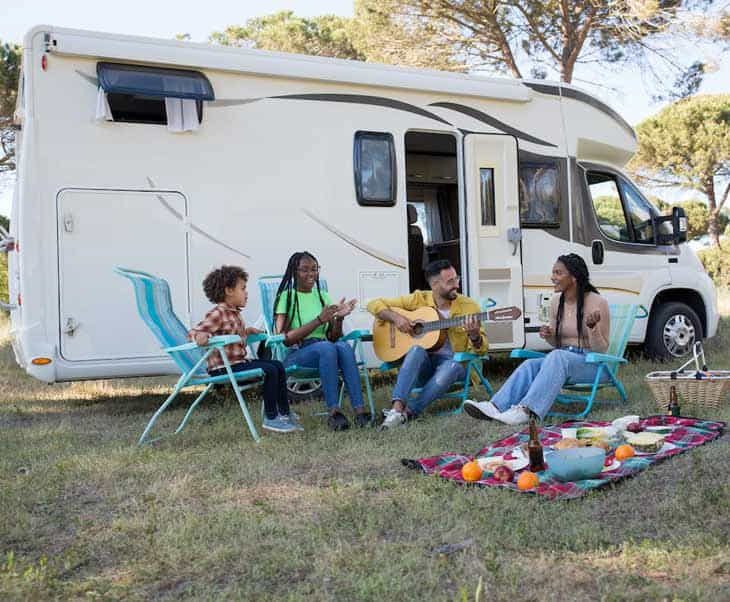 So, first, choose the type of RV you need and then make a list of your wants and needs. If you are a solo traveler, a conversion van would be sufficient. But if you are a family with kids, you would need the best full-size 5th wheel RV, boasting bunk rooms and lofts. You can select the floor plan and other amenities in your RV according to your budget.
Hand-Picked Content: Living in Your Car Hacks | Effective Tips and Essentials You Need
Here are the things you should take into account while purchasing the best RV for full-time living.
Size
When it comes to full-time living, the size of your accommodation always matters. With RVs, it is even more important keeping in mind your current and future needs. We advise you first rent out different RVs and see which type suits your needs.
Once you are sure about the size of the RV, find brands that offer the best recreational vehicles in that category. For instance, for a family of four, a fifth wheel 36 to 42 feet long RV would be great. Make sure you never compromise on your RV needs; otherwise, you have to suffer later.
Mobility
Choose your RV according to your mobility. Would you plan to move often or want to be stationary on a seasonal lot for most of the time in a year? For instance, a big destination trailer won't be practical if you intend to move to a new place every two weeks.
Hand-Picked Content: Best Cars to Sleep in For Camping and Road Adventures
Travel Trailer or Motorhome?
Deciding between a travel trailer and a motorhome will probably confuse you, but we have an easy solution. Do not just buy a luxury travel trailer because you already own a truck to save money. Do not compromise on your RV needs and wants.
If you plan to stay at a place for months, it is wise not to buy a motorhome. A motorhome works best if you move often. You should know it lasts longer if it stays mobile. On the other hand, a travel trailer is easy to maintain and is the best choice to stay stationary most of the time.
6 Best RVs to Live in Full Time
Besides these, there are so many other things you should consider according to your personal requirements and wants. Since RV makers offer you different customization options, do not hesitate to add the creature comforts that matter most to you.
1. Prius Camper – Best Campervan on a Budget
The first on our list of best RVs to live in is the Prius Camper, created by Camp-Inn. It is not a traditional RV where you get a roomy kitchen, a bathroom, or a master-size bed, but it does give you a go-anywhere ability to reach the most relaxing vacation spots, a roomy sleeping space, and a dining space. What else do a small-family needs to live affordably?
While you can now find various camper vans in the market created by coachbuilding companies, we primarily picked the Prius camper van for its affordability. Besides being an inexpensive campervan option, it is roomy enough to sleep 4 and contains a small kitchenette, including a microwave and a fridge that run on a battery.
Furthermore, you can fold down the backseats to turn them into a dinette table and add a sink. It is one of the most fuel-efficient campervans out there due to its hybrid powertrain with lower CO2 emissions.
Hand-Picked Content: Economical and Affordable! Top 10 Best MPG Cars
2. Thor Venetian F42 – Best Class A Motorhome for Full-time Living
If you desire a sleeping space for seven and some slide-outs, the Venetian F42 from Thor Motor Coach would be ideal. This Best Class A motorhome boasts one full and a half bathroom, with the full bathroom getting two sinks, a shower, and a seat.
The living space has opposing seats, a theater-design loveseat at one part and a 92-inch sofa at the other. Besides, there is a huge kitchen with lots of counter space and a refrigerator.
The company offers you a choice between a booth dinette and a buffet dinette with chairs. The master bedroom features a king inclining bed, and your kids can use a drop-down bunk above the cab.
Power comes from a Cummins 8.9L diesel engine fixed on a Freightliner XC-R chassis, which is 43 feet. Thor Motor Coach mentions the GVWR (gross vehicle weight rating) of 44,700 pounds, a freshwater tank volume of 91 gallons, a gray tank capacity of 70 gallons, and a back tank volume of 51 gallons.
In addition, the motorhome provides you with 215 cubic feet of outside storage to accommodate gear, plus lots of storage inside, such as a big wardrobe in the master bedroom. Other highly desirable amenities include a stackable washer and dryer in the bedroom, a dipped induction cooktop, and a refrigerator.
3. Keystone Montana – Best 5th Wheel RV for Full-time Living
Are you looking for the best full-time 5th wheel RV? The Keystone Montana would be perfect. Opt for the Four Season Living Package, and the RV comes equipped with an air conditioner, a furnace, insulated water lines, dump valves, and other facilities to make life easier in any weather conditions.
Besides the weather combating features, this fifth-wheel recreation vehicle offers you lots of storage spaces, such as two large cabinets in the bedroom. Additionally, the RV boasts a separate shower and a toilet room, which could be convenient for couples and families. A vast cooking area helps you cook your favorite meals.
The manufacturer offers you twenty-three floorplans. We highly recommend the 3921FB plan if you need the best RV for full-time family living. It includes an available king-size bed and a hide-a-bed sofa to add extra sleeping spaces. Furthermore, this 41-foot RV gets a fireplace, theater setting, a large refrigerator, and lots of other facilities.
4. Grand Design Reflection – Best Camper For Full-time Living
The Grand Design Reflection offers you four floorplans – all of them with a queen size bed. However, for king size bed, you should select the 315RLTS plan. The Spacious Grand Design Reflection comes with a kitchen island and a 12 cubic feet refrigerator, which would be enough for your family.
According to the floorplan, the RV offers sleeping space for 4 to 6 people. However, if you want a high-capacity furnace, heated and enclosed underbelly, etc., you should select the Arctic 4-Season package. The living space is well equipped and roomy with a cozy sofa and love seats.
You might not have any issue with the Grand Design Reflection because it caters to every traveler's needs. It could be the best camper for full-time living.
To know what would suit your requirements, you should check the floorplans and specs offered by Grand Design RV.
5. Coachmen RV Pursuit 27XPS – 2nd Best Class A Motorhome For Living
The Coachmen RV Company is famous for developing reliable and comfortable recreation vehicles, thanks to its nearly six decades of experience. The Pursuit is one of the best RVs for full-time living. The Class A motorhome's smallest model (27XPS) comes with a sofa, thermofoil countertops, linoleum all through, and a dinette.
The best thing about this 29-foot RV is its connectivity features ranging from an LED TV, pre-wiring for a satellite dish, a charging outlet for your smartphone and other devices, along with a 10-inch touch display radio supporting Bluetooth Apple CarPlay and Android Auto.
Other highly desirable features include shelves, a floor-level bed, stainless steel fridge, a bunk over a cab, a 63-inch sofa, a bathroom with a foot flush toilet, a sink, and a separate shower with a skylight.
6. Winnebago Inspire 34AE – Best RV to Live In for Disabled Persons
Last but not least is the best RV for disabled persons from Winnebago. The Inspire 34AE is built keeping in mind the needs of disabled people who require a wheelchair and assistance for moving around. It is ideal for not only retired people but also for anyone who values extra comfort and room.
When you buy the Inspire 34AE, you get an air-aided wheelchair lift, a roll-in shower, and an adjustable reclining bed. Winnebago has also added a little extra elbow space in the main cabin to accommodate wheelchairs effortlessly.
Other things that make it the best RV for a full-time living are solid vinyl flooring, cozy couches, and loads of storage areas.
What's Better – A New or Used RV?
Buying a new recreational vehicle for a full-time living means you get everything new and functional without any issues. Besides, a new RV comes with warranty coverage, so the manufacturer is bound to rectify the arising problems.
On the other hand, a used RV may have exhausted its warranty period, and you never know what the previous owner fixed. The only thing that might entice you to buy a used RV is its affordable price compared to the new RV.
It is totally up to you whether you like to have a new or a used RV. However, we recommend purchasing a new RV for full-time living. You can customize it to suit your needs, and you know everything about its design and utilities. Pack your stuff wisely and move to full-time RV living.
Final Words
An RV is a mobile home on wheels, and manufacturers keep in mind this fact while building. Most RVs have all the facilities you need in your home, i.e., a bedroom, a kitchen, a bathroom, a living space, etc.
Should you go for a travel trailer, a fifth-wheel trailer, or a Class A, B, or C motorhome – it is entirely up to your requirements. Once you decide the type of RV you want, the next thing is making a choice between New and Used.
If you want to save money and are happy with an RV's design and amenities, you can go for used. However, if you need peace of mind from day one while having the ability to customize your vehicle, buy a new RV.