With soaring inflation and the average rent getting out of control in states like New York, many are looking for the cheapest places to live in the US. The coronavirus pandemic has also changed the way some Americans view life. Therefore, it has affected how those people relate to their work and the need to find a balance.
In that search for happiness, it is crucial to live in areas where there are affordable homes. It is also important to take the weather into consideration when moving somewhere new. The best places to live in the US are often able to combine a good climate and a real estate market that is appealing to buyers.
So, how do you find cheap places to live in the US? Well, more and more organizations are investing resources to analyze the data to help make a more complete assessment of the situation.
When all the crucial elements like weather and housing are taken into account, the cheapest US cities to live in have a few things in common.
Irina Lupa, a real estate market expert with an academic background, told Forbes some interesting things about their findings.
They revealed: "Americans looking for both mild climates and affordable homes will mostly find options in the humid, subtropical regions of the South and the Southeast."
Lupa has covered via PropertyShark a recent study about 20 US cities that are great for housing and climate. RentHop has also published a similar report on the cheapest places to live in the US but without a deep focus on the weather.
Without further ado, here are ten of the best places to live in America.
Cheapest US Cities to Live in with Great Weather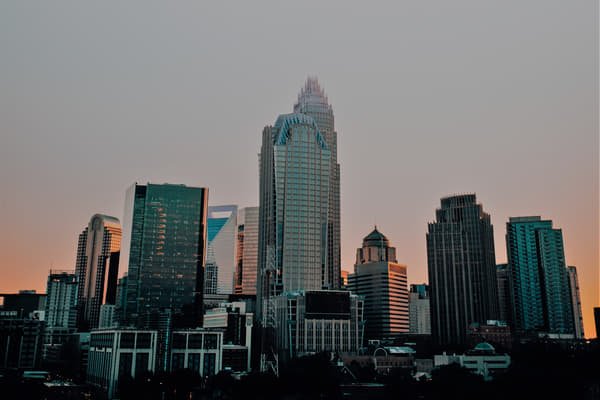 1. Charlotte, North Carolina
Charlotte is one of the fastest-growing cities in the country. First and foremost, it is a financial and business hub with a vibrant community of well-educated people. It is also considered a university town.
Charlotte, which some people call the Queen City, has affordability and mild weather going for it. This climate translates into warm summers and winters that are less cold than in places in the Northeast.
With a median income of $62,817 and a $298,296 median home sale price, Charlotte has an affordability index of 29% that is hard to beat.
Charlotte's top attractions include the Billy Graham Library, Freedom Park, and the NASCAR Hall of Fame. The city, like a lot of places in North Carolina, is going through a boom.
2. Raleigh, North Carolina
Raleigh has many of the structural elements that work so well for Charlotte. It even beats Charlotte when the focus is put just on the economic grades.
The median income is $67,266, and the median home sale price sits at $230,250. Residents in Raleigh only use 21 percent of their income on housing every month.
The weather offers 111 fully clear days in Raleigh compared to 109 for Charlotte. The City of Oaks is home to the North Carolina Museum of Natural Sciences, the North Carolina Museum of Art, and the Pullen Park. Moreover, new residents also claim that people in Raleigh tend to be happier than in other places.
3. Columbus, Georgia
Columbus has an affordability index of 16 percent. The weather is mostly warm, with just 37 days of freezing temperatures (below 32 degrees) per year.
The median income is $47,410, and the median home sale price is $142,900.
In terms of local attractions, Tallulah Gorge State Park, Macon, the National Infantry Museum and Soldier Center, the Columbus Riverwalk, and the National Civil War Naval Museum get a lot of attention.
While it may not have experienced the level of migration and population growth of its two predecessors on the list, Columbus can count on its affordability to make it a real contender.
4. Mobile, Alabama
Alabama is the cheapest state to live in, according to a recent report from WalletHub. Mobile has an interesting profile in that state. The population is growing, and it has developed a certain appeal. Some have even compared it to New Orleans in Louisiana.
Mobile has blue skies 102 days in the year and only 21 with freezing temperatures. Therefore, for weather-minded travelers, it is ideal.
However, it is still relatively affordable to live there. Mobile has a median income of $45,080, and the median home sale price is $140,167. The median monthly rent is $849.
All these numbers are way below the national average. Therefore, they make it an appealing destination for people interested in experiencing the charm of the South.
5. Greensboro, North Carolina
Greensboro rounds up this top 5 list of the cheapest places to live in the US. It confirms the appeal of North Carolina, a state that has attracted a lot of migration in recent years.
Housing affordability is at 23 percent, and the median home sale price is $251,877. The median income is $45,740. The cost of housing makes Greensboro a serious option for those who want something different compared to Charlotte. It is time to check the best places to live in the US without decent weather as a prerequisite.
Affordable Places to Live in the US for Work-Life Balance
1. Wichita, Kansas
Wichita is described as the most affordable city in America for single people. The medium rent is $500, and it has a median home price of $147,700.
The city gave the world fast-food chains Pizza Hut and White Castle. It is still known as the "Air Capital of the World" because of its unique history with aircraft manufacturing companies in the 1930s.
2. Columbus, Ohio
Columbus has a low cost of living. For instance, the median home price of $301,744 is slightly below the national average. The median salary is $52,130.
While it is really known for the Ohio State Buckeyes, it still has plenty of other entertaining activities to offer. The art and music scenes are pretty active.
Theaters and museums in the area make it lively for those who love culture.
3. Albuquerque, New Mexico
The median home price in Albuquerque is below the national average at $314,587. Residents enjoy the blue sky at least 300 days a year.
While prices have gone up in the past years, life in this city is still cheaper than in most big-metro areas in the country.
Those interested in outdoor activities cannot go wrong with Albuquerque. For example, they can enjoy hiking to evade boredom.
4. Oklahoma City, Oklahoma
Oklahoma City has a feel that embodies the Western heritage. It is one of the best cities to live in the country, with a median home sale price of $266,289.
The median salary is $48,380, and life is way cheaper than in the rest of the country, especially when it comes to food and grocery shopping.
The art scene is vibrant, and popular spots include the National Cowboy & Western Heritage Museum.
5. Tulsa, Oklahoma
Affordable housing prices are a great plus for Tulsa. The median home sale price is $258,564, which is lower than the national average.
Those, who now call it home, say Tulsa has a way of grabbing people and never letting go. In other words, residents say once someone visits this city, it is hard not to return.
It is possible to live comfortably in Tulsa, thanks to the lower cost of living.
Conclusion
The cheapest places to live in the US are varied enough to appeal to different sets of people. For instance, what might be great for a single person, will not work for a family. Therefore, it is crucial to evaluate your personal goals. Above all, you need to see what fits you best.