Few US states can rival Georgia when it comes to mountain views, sun-splashed coastlines, and cultural significance. There is no better destination to experience a true taste of the South, and you can take your pick from natural landmarks, breathtaking views, world-famous sporting events, and unmissable attractions across the great state, which is situated east of the Mississippi River.
Coolest Places to Visit in Georgia
If, however, you are having difficulty narrowing down the right destination for an upcoming vacation, here are the best places to visit in Georgia, USA.
1. Tallulah Gorge State Park
It is almost impossible not to fall deeply in love with Tallulah Gorge State Park, which offers 2,689 acres of breathtaking scenery.
The park is located around Tallulah Gorge, which is approximately one thousand feet deep and two miles long. If you look closely, you will see the Tallulah River, which created the jaw-dropping gorge following thousands of years of hard work. Also, not to be missed are the six Tallulah Falls, which are sure to become a highlight of your trip.
It is the perfect destination for avid hikers, too, as you can embark on hiking trails that will take you along the rim of the gorge and will allow you to breathe in a spectacular backdrop you will be unable to forget. What's more, you can take a walk along the suspension bridge, which is situated 80 feet above the bottom of the gorge, so ensure you have your camera at the ready!
2. Augusta
While the city of Augusta might be steeped in history, it currently offers a cool, fresh vibe that's attracting tourists on their drives. In addition to its well-manicured lawns and beautiful azaleas, Augusta is becoming well-regarded for cutting-edge art, improv theater, quirky bistros, and family-friendly festivals.
Of course, if you are a sports fan, there is no better destination to visit than Peach State, as it is home to Augusta National Golf Course, which is the proud home of The Masters.
After a long day on the golf course, you will be craving a hearty meal. One restaurant you will not want to miss is the popular Scoyners, which is well-known for its flavorsome Southern food, especially its barbecue. The family business has been serving family recipes to both locals and tourists for generations, and its longevity is a testament to the quality of its dishes. Just some favorites you will want to sample include the ribs, brisket, and hash with rice.
3. Macon
If you are looking for a vacation filled with exquisite architecture, rich history, soulful music, and southern charm, you will not be disappointed once you arrive in Macon.
Located in central Georgia, it has earned the nickname as the Heart of Georgia, and it can be found 85 miles south of Atlanta. The best time to visit is in late March, which is when the beautiful cherry trees along the plains come into bloom.
One landmark you must experience for yourself is Ocmulgee National Monument, which features earthwork mounds that were created by Native American people and include everything from temples to burial mounds.
If you're traveling to Macon with family or friends, spend the day at Amerson River Park, which offers beautiful woodland, a fun children's playground, walking trails, and a canoe launch.
4. Atlanta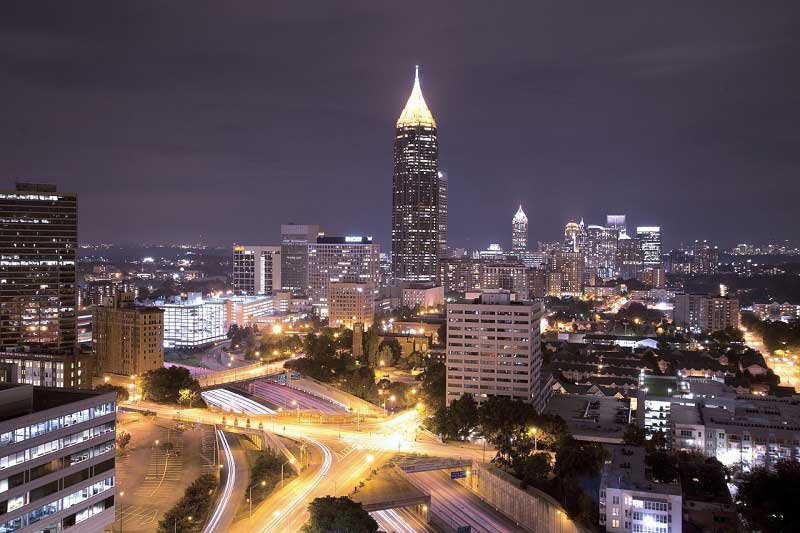 Atlanta has established itself as the leader of the New South, offering a wide variety of top attractions for both young and old. If you decide to pay a visit to the vibrant, modern city, you can expect a mishmash of urban living with towering oak trees, rolling hills, a pine forest and, of course, peach trees!
Attractions you must not overlook when in the capital of Georgia include:
CNN Center
Georgia Aquarium (home to the largest indoor aquarium)
World of Coca-Cola
Centennial Olympic Park
Atlanta Botanical Garden
You also should not miss a visit to Martin Luther King, Jr. National Park, which comprises several buildings connected to the Civil Rights leader, including his childhood home, church, and final resting place.
After a busy day of sightseeing, your stomach will likely be rumbling. Thankfully, Atlanta provides many cool restaurants that are dotted across the city. Those looking for a consistently good steak should head to C. Ellet's at SunTrust Park, while Old Lady Gang is a top pick if you're looking for a family-friendly restaurant that serves up traditional, delicious soul food, such as blackened salmon, yams, and whole wings.
5. Savannah
Millions of tourists make their way to the charming southern city of Savannah every year. It would be difficult not to be mesmerized by the state's oldest city, as it is home to exquisite Victorian architecture, quaint cobbled streets, and natural beauty.
Visitors should definitely book tours of the many beautiful, historic mansions in the city, which will provide an insight into times gone by in Savannah. When you are not immersing yourself in history, you can take a stroll through the city's many beautiful parks, which offer huge oak trees and family-friendly attractions.
Factor's Walk is also an attraction to add to your itinerary, as it features a row of restored warehouses along the scenic riverfront, which now offers attractive stores, restaurants, and galleries.
You cannot visit Savannah and not hop onto one of many Old Town Trolley Tours, which are charming sightseeing buses that will transport you to the best historical sites and attractions across the city, including Forsyth Park, Madison Square, Bull Street Corridor, plus more.
6. Tybee Island
If you are looking for a slice of paradise in Georgia, book tickets to Tybee Island, which is a 20-minute drive away from historic Savannah. Once you arrive, you can enjoy five miles of sandy beaches, which offer no shortage of spectacular views that will make you fall in love with the Peach State.
If the beautiful backdrop and glorious sunshine weren't enough, you will be spoilt for options with the many activities on offer. For instance, you can go:
Fishing
Sailing
Hiking
Cycling
Boating
Alternatively, you can spend your days basking in the summer sun and indulging in delicious southern cuisine. You also could treat yourself to a cocktail at one of the many beach bars or toast a successful trip with a cup of coffee at a cute café – all before watching a sunset that will remain with you long after your vacation is over.
7. Cumberland Island National Seashore
If, however, you are looking for a trip that is a little more rustic and rugged, consider Cumberland Island National Seashore. The preserved wilderness can be found near St. Mary's in Georgia and offers 17 miles of undeveloped beaches, wild horses, and tidal creeks.
Many people choose to visit Cumberland Island as it is a place of historic interest, as Native American people originally inhabited the area. It later became a working plantation before transforming into the Carnegie family winter retreat. In fact, you can pay a visit to the ruins of Carnegie Dungeness Mansion, which Thomas Carnegie built himself in 1884, but it was burned during the 1950s.
It also serves as a protected habitat for a variety of animals and plant life, including raccoons, alligators, white-tailed deer, and various birds.
To reach the island, visitors will need to hop onto a ferry at St. Mary's. Once here, you're free to camp along the seashore, can rent a bicycle at the Sea Camp Dock, or can book a tour with a park ranger. Just ensure you take a good pair of hiking boots with you!
8. Golden Isles
Located halfway between Savannah and Jacksonville, Florida, is Golden Isles, which earned its name thanks to its golden sand beaches that are dotted along the Atlantic coast. Here you will find the port city of Brunswick, which is located on the mainland and is home to many shrimp boats.
You can also visit one of four islands: St. Simons, which is the largest barrier island, as well as Sea Island, Jekyll Island and Little St. Simons Island. Whatever island you choose during a vacation, you will not want to miss a beautiful sunset over the ocean's horizon. Each provides the perfect destination for a spot of camping, kayaking or sunbathing on a beautiful beach.
9. Athens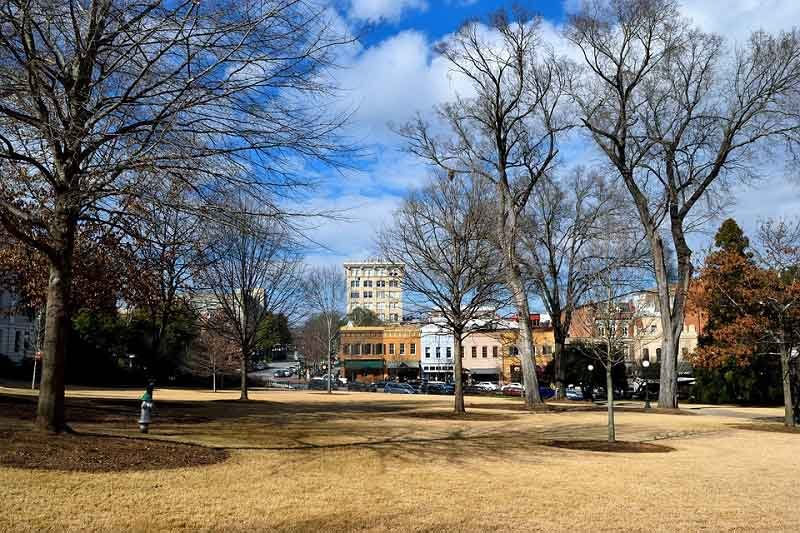 History lovers would be smart to make a beeline for Athens, Georgia, which serves as the starting point for the Antebellum Trail of Historic Towns. The 100-mile trail highlights the various Civil War era properties and period architecture through seven historic communities, as you will start at Athens and make your way through:
Watkinsville
Madison
Eatonton
Milledgeville
Gray/Old Clinton
Macon
Must-see historical sites include Ware-Lyndon House, Elder Mill Covered Bridge, The Eagle Tavern Museum, and Madison-Morgan Cultural Center, plus more.
Visitors should visit the modern downtown, which features a wealth of clothing stores, antique shops, jewelers, galleries and art studios.
Hand-Picked: Read on to Know Some Handy and Easy Tips on How to Clean Jewelry!
It is the best destination in the city to grab a delicious meal, as the exciting restaurant district offers many superb restaurants and cafes that consistently serve mouthwatering dishes.
Not only will you be able to take your pick from grills providing delicious southern cuisine, but you also can book a table at many international restaurants, which range from Vietnamese, Indian, Middle Eastern and Italian.
10. Dahlonega
While Dahlonega might not be as famous as France's Bordeaux or Provence when it comes to wine, it doesn't mean the northern Georgian city isn't worth a visit. If you class yourself as a wine aficionado, you'll be in your element in beautiful Dahlonega, as it features five wineries and 12 wine tasting rooms, which are located in locally operated and owned vineyards that stretch across the picturesque, hilly landscape.
History fans will enjoy exploring the city's gold mining past, as you can take a tour of the Consolidated Gold Mine, which will be led by a knowledgeable guide who will provide insight into the history of the mine and its role in the town's economy.
In addition to exceptional wine and interesting history, visitors can learn more about the town's folklore and might come across spooky sightings on a guided ghost tour. You'll follow a guide along the walking tour, making your way through various cemeteries and creepy locations, hearing scary stories about Civil War soldiers playing cards and a small girl in a white dress, who has been spotted by many in the historic district. It is not for the fainthearted!
11. Chattahoochee National Forest
Chattahoochee National Forest is a must-visit destination for any outdoor enthusiast, as it provides hundreds of miles of hiking trails, as well as many campgrounds, rivers, and streams. Offering towering trees and stunning views, don't be surprised if you never want to return home. If, however, you're looking for kinder walking trails and terrain, head to the connected Oconee National Forest, which mostly features small hills and a flat landscape.
Chattahoochee National Forest is spread out across an incredible 867,000 acres of land in northern Georgia and offers everything from picnic grounds and recreational activities, so it is ideal for a family-friendly getaway in the Peach State.
For instance, you can go:
Horse riding
Cycling
Scenic driving
Fishing
Waterskiing
Boating (motorized and non-motorized)
The park also plays a significant role in US history, as many battles were fought here during the Civil War.
Conclusion
Whether you love history, golf, delicious southern cuisine, natural wonders or world-famous landmarks, the Peach State has it all and then some! From the charming cities of Augusta and Savannah to stunning national parks that will make you wonder why you have never visited before, there is a destination for everyone in the great state of Georgia.