A beach vacation is one of the best ideas for escaping the daily, boring routine of your life. You can visit beaches to stroll on a windswept beach or to lounge on a warm sandy island paradise.
In case you are still determining where you want to go, we've compiled a list of some of the most beautiful beaches in the world for inspiration.
1. Anse Source D'argent, Seychelles
Anse Source d'Argent, one of the most famous beaches on the planet, stretches across La Digue, one of the 115 islands that make up this idyllic archipelago in the Indian Ocean.
The beach shines against a background of huge granite rocks that have weathered and eroded over time. The aquamarine water is perfect for swimming since an offshore reef shields it from ocean waves. You might also catch the view of a huge tortoise or a rare bird species here.
Hand-Picked Content: Underwater Hockey – The Sport You Should Be Playing This Summer!
2. Placencia Beach, Belize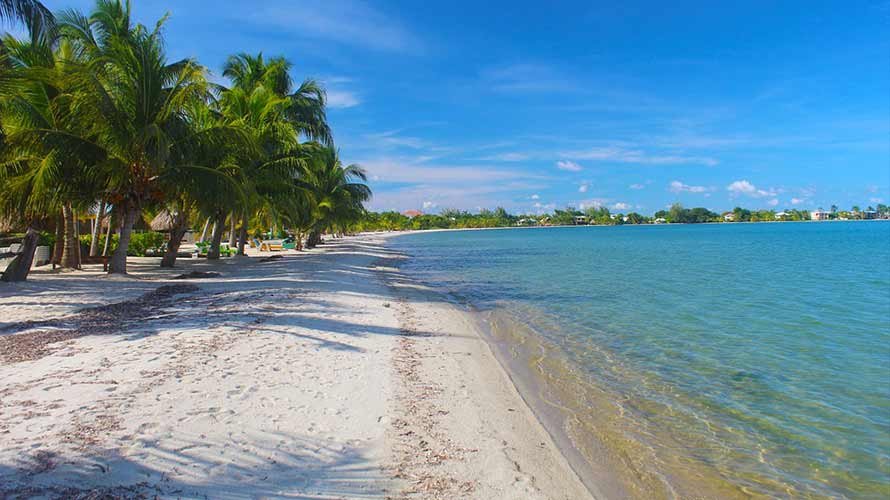 At the southeasternmost point of Belize, Placencia Beach is situated off the Placencia Peninsula's tip. The place is tucked away between luscious rainforests and the Caribbean Sea. It offers several other promises than simply sun and sand. The palm-tree-dotted heaven hosts beautiful waterfalls, a charming fishing hamlet, and Cockscomb Basin Wildlife Sanctuary, the only known jaguar sanctuary on Earth.
3. Boracay White Beach, Philippines
The White Beach in Boracay has earned accolades throughout the years as one of the most stunning beaches around the globe. There is a certain alluring about its pristine white sand, sapphire blue ocean, and spectacular sunsets. Boracay is your answer if you are traveling on a budget.
Given that its waters are level and tranquil, White Beach is also ideal for swimmers. One of Boracay's most well-liked beaches, this three-mile stretch includes everything from beach parties and eateries to hotels and nightlife entertainment.
The beach is divided into three parts, each with a range of lodging options from luxury to affordable.
4. Polihale Beach, Hawaii, USA
The most stunningly gorgeous beach in the Hawaiian Islands is Polihale. This 11 km stretch on the western tip of Kauai, one of the world's most beautiful islands, appears uninhabited and is far from any towns.
It has an air of magic and mysticism still in Hawaii today. If you plan to take a trip here, however, you should take a vehicle because of its badly marked mud sugarcane road leading to the beach.
5. Blue Lagoon, Ölüdeniz, Turkey
Due to the flawless azure and aqua colors of its water, Lüdeniz is referred to as Turkey's Blue Lagoon across the world. This relaxing travel destination offers much more than simply lazing in the sand.
The village of Oludeniz, which gets its name from the Blue Lagoon, has white sands and mild blue seas, is also known as the "dead sea" because of its tranquil waters.
Visitors may anticipate a more laid-back environment since it doesn't host wild nightlife, as well as a variety of sports on and near the lagoon, such as boating and paragliding.
6. Navagio Bay, Zakynthos, Greece
Navagio Bay in Zakynthos, Greece, also goes by the name Shipwreck Cove and boasts magnificent blue waves encircled by tall cliffs. The crash location quickly gained popularity among tourists seeking an undeveloped beach and the seductive cry of the rotting ship.
The ship's head is rusting away, giving the impression that the hull is sinking into the dunes while most of the boat is still above the shore.
A gorgeous beach is concealed in a remote Greek cove, with its sole blemish being the rusted hull of a smuggler. It's one of the country's most photographed locations and is most conveniently reached by water only. Going by its beauty you can safely say that it is one of the most beautiful beaches in the world.
7. Camps Bay, Cape Town, South Africa
As a large part of the stunning beaches right outside its doorstep, Cape Town is considered one of the most beautiful cities in the world. Because of the water currents in the Atlantic Ocean, Camps Bay's water is somewhat chilly compared to other famous beaches, yet this won't detract you from the excellent views that would engulf you along with the famous sunsets.
The beach here has blinding-white sand and is located by the striking background of Table Mountain and the Twelve Apostles Mountain Range.
8. Na Pali Coast, Kauai, Hawaii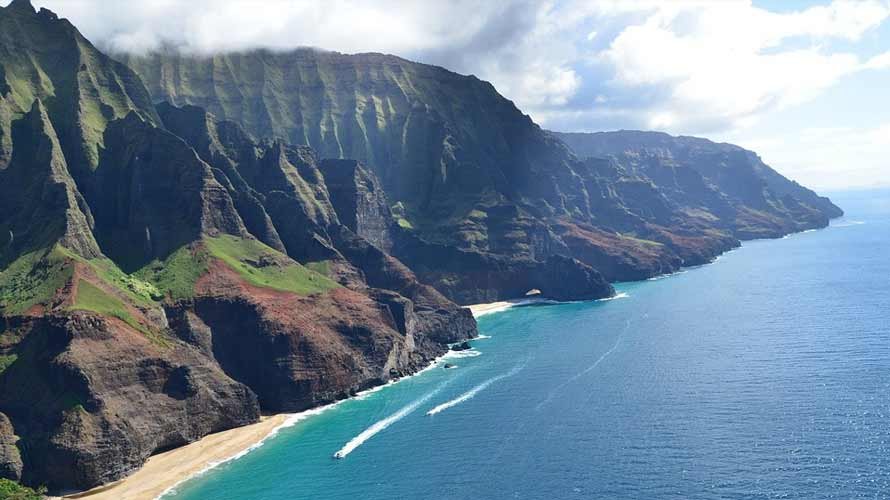 The Na Pali Coast has some of the world's biggest and most stunning waterfalls because of how much rain falls there. The coast's distinctive structure, which includes breathtaking sea arches and secret caverns, is mostly the result of the powerful ocean current and smashing waves.
The ideal way to reach the Na Pali Coast, on the northwest side of Kauai Island, is through a canoe or boat. Experienced hikers may also explore the region by taking the Kalalau Trail, which is a strenuous 22-mile round-trip climb connecting Kee Beach and Kalalau Beach.
9. St. Lucia
When we talk about the most beautiful beaches in the world we cannot avoid the aesthetics of St Lucia. However, the huge pitons' dormant volcanic mountain plugs, towering over the shore, are what makes it famous.
There is plenty to love about Saint Lucia and the things the island is renowned for, such as its magnificent Piton Mountains, refreshing waterfalls, drive-in volcano, lovely beaches, excellent hiking routes, neighborhood street celebrations, and upscale restaurants.
Hand-Picked Content: How to Propose on the Beach? 8 Cute Beach Proposal Ideas
10. Maya Bay, Koh Phi Phi, Thailand
Once you experience the breathtaking views of Maya Bay, you can easily understand why filmmaker Danny Boyle selected it for the Leonardo DiCaprio star. The Beach, owing to the surrounding mangroves, high limestone cliffs, and lush vegetation.
The main beach in the bay is about 200 meters (650 feet) long and has smooth velvety white sand. The water here is incredibly clean and has colorful coral and several rare species beneath it.
Also Read: Strange and Unusual: These Are the 20 Weirdest-Looking Animals
11. Meeru Island, North Atoll, Maldives
Meeru Island Resort & Spa is a tropical haven of coconut palm trees, extensive lengths of white sand beach, warm and crystal clear water in azure waters, and beautiful rainbow coral reefs alive with diverse marine life.
The only resort on Meerufenfushi Island, North Male Atoll, Meeru Island, is the place to go if you're seeking a little piece of paradise. The 1148-foot-long, white-sand beach here is perfect for sunbathing or snorkeling.
12. Long Beach, Vancouver Island, Canada
One might be awestruck by the amazing beauty in places other than tropical beaches. The finest example of this is Long Beach, Canada's Vancouver Island's longest sandy beach and home to breathtaking natural scenery and unrivaled marine wildness.
Between Tofino and Ucluelet and set under the Pacific Rim National Park Reserve confines are 10 miles (16 km) of immaculate sand bordered by thick rainforests and lapped by a chilly, thrashing surf.
Moreover, 20,000 grey whales can be observed traveling along this coast every season between spring and summer.
13. Whitehaven Beach, Queensland, Australia
Whitsunday Island's Whitehaven Beach is a famous Australian four-mile length of environmentally friendly shoreline. Emerald blue waters corn the beach with several covers, inlets, and lagoons. It is on list of the most beautiful beaches in the world because of its aesthetics.
The beautiful sands here are mostly comprised of white silica, which gives them their stunningly dazzling white hue. Due to its distant position, it is hardly ever busy and is the perfect place to spend some alone time, whether it be sunbathing or reading that novel you always wanted to get to.
Bottom Line
Life is too short to not travel and explore the beauty of the world. The beaches we have mentioned are simply to die for and you can have a fun time visiting these water babies at least once in your lifetime.