Are you looking for the best handheld vacuum for those peculiar cleaning jobs at home, inside your car, or anywhere around you?
Food spills, human and pet hair, pet litter, rubber and pencil waste, and other messes on floors, tabletops, sofas, etc., that would take you a long time to clear will now take just a few minutes, thanks to the handheld vacuums.
With the recent advancement of technology, you no longer have to carry bulky and noisy vacuum devices, and there are several aspects you need to consider to select the best handheld vacuum.
We will discuss these factors one by one to make it easier for you to decide.
Perfect Handheld Vacuum Cleaner – Buying Guide
The first thing you need to consider while purchasing a good handheld vacuum cleaner is deciding between corded and cordless vacuums. We will describe these, so you can decide which product suits you best.
Corded Vacuums
Corded vacuums connect to the main switch with about a 20 feet long power cord. The direct electric connection gives them a higher suction power.
They also come with a higher capacity of collecting dust making it easier to collect ample amount of grime without having to empty the canister frequently. These are better suited for comprehensive jobs like cleaning carpets.
As everything has its limitations, the disadvantage of a corded vacuum is its dependency on the electric supply. The machine will not work if you do not have a connection to power and wire will follow you wherever you go making it a hassle and hence, time-consuming as well.
In addition to that, if you do not have a plug within range, you will not be able to collect the mess through it.
Cordless Vacuum
Cordless vacuums work the same way as the corded vacuum with the added advantage of being portable. It means you do not have a wire following you wherever you go.
Cordless Vacuums are far easier to carry around, and you can use them on all surfaces, which makes them more convenient. They also save your time and require less effort since you do not have to worry about getting the cable within reach and plugging or unplugging the vacuum cleaner.

Furthermore, these are lighter in weight, making it easier to do small jobs like cleaning stairs and car interior.
The disadvantage of using a cordless vacuum is that it runs on batteries. The battery power usually lasts approximately 20-30 minutes per session, which means once it exhausts, you can no longer use it unless you have a backup. Some vacuums offer power-saving mode to increase usage time, but that doesn't work as good as corded vacuums.
Another major factor while deciding the best vacuum cleaner is deciding between a bag-less and bagged vacuum. Let's discuss these in detail:
Bag-less Vacuum
Cordless vacuums are mostly bag-less that collect dirt, and you can reuse them multiple times. No need to buy bags and change them.
This hassle-free process keeps the user at ease. The downside of a bag-less vacuum is that it spills dust as you empty the container making the area dirty again. Additionally, grime tends to fill up the filters quicker, making it hard to get maximum suction.
Bagged Vacuum
Vacuums come in bagged editions as well that have replaceable containers, which allow you to avoid the risk of spilling the dirt. You have to throw away the sealed used bag after it fills up and change it with a new one. Furthermore, the bag acts as a secondary filter, so you don't need to clean the vacuum regularly. The only disadvantage with this product is that it will not work if you run out of spare bags at home. You have to visit the store for it.
Now that you have decided between cord and cordless along with bagged and bag-less devices let's throw some light on other important factors.
Power
The power of the vacuum translates to its suction capabilities. The more the power, the better it will perform, saving you time in cleaning.
Dirt Container
The bigger the dirt container, the lesser the pain of emptying it repeatedly. Some dirt containers are transparent, which makes it easier for you to know when it requires clearing.
Budget-Friendly
It is always better to invest your money in a cheap vacuum cleaner. Of course, we all want to get the job done for the least amount of money, but we need to know the difference between products. The brands differ in characteristics and quality. If we analyze the market, we can find the best vacuum within $50-$70 (excluding the extensions and attachments).
Weight and Size
The 'weight' of the best handheld vacuum you are going to buy matters A LOT. A bulky device makes it hard for you to use and control it. The best handheld vacuum cleaner is lightweight, allowing kids and the elderly to use it easily. Furthermore, it must be easy to operate for everyone and compact enough to be stored and carry effortlessly. If it's heavy and holds a lot of space, stay away from it.
Attachments
The attachments also make a huge difference in the overall usage of the vacuum. These accessories allow you to utilize the machine for multiple tasks. These typically include a brush for pet hair, upholstery brushes, a crevice tool for all those "hard to reach" corners, and flat wands for carpets and floors or liquids.
Knowing all these factors, you do get a head-start and clear mind as to what you should look for in the best handheld vacuum. The market offers so many products that you will find yourself conflicted between prices and products.
Let us clear the air for you and give you a list of 10 best handheld vacuums of 2019.
10 Leading Handheld and Cordless Vacuums
---
BLACK+DECKER Dustbuster Handheld Vacuum (HHVI325JR22)
It is a lightweight and portable vacuum, powered by lithium technology to provide strong suction and extended run time. Its Cyclonic action aids in keeping the filter spotless and suction strong, making it super easy to collect dirt in less time. Its translucent bowl and filter allow you to wash and reuse it. It has an impressive body shape and is easy to handle, so you can use it for a more extended period and not worry about the battery running out.
Pros
Translucent washable bowl
Lightweight
Strong suction power
Cons
It is hard to remove the filter
Accessories:
Translucent, washable bowl and washable filter
Flip-up brush for upholstery
Wall-mount attachment
BLACK+DECKER Dustbuster Handheld Vacuum (CHV1410L)
This edition from Black+Decker has an outstanding performance. It is also powered by lithium-ion batteries delivering powerful suction. It has a suction power of 15.2 AW and a dustbowl capacity of 20.6 oz. This best handheld vacuum from Black+Decker employs cyclonic action, which assists in keeping the filter dirt-free. Moreover, the bag-less dirt bowl allows you to manage the collected dirt easily. The best feature is its quick charge technology, which automatically turns the vacuum off after it's charged.
Pros
High suction power
Washable filters
Smart charge technology
Portable
Cons
Only charges vertically and may get knocked off
Noisy
Needs to be emptied quite often
Accessories:
Rotating thin nozzle for a range of uses
Flip-up brush and pull-out crevice tool for tight places
Homasy Portable Handheld Vacuum Cleaner
This cordless portable vacuum has a strong suction power and is powered by high capacity lithium batteries. The device can run for 30 minutes straight and fully charge within 3-4 hours. The salient features of this best handheld vacuum include temperature protection, input voltage protection, and input current protecting built in the system to ensure the equipment's safety while charging. It also comes with three different types of attachments to help you thoroughly clean the dust or liquid from anywhere.
Pros
Cordless, Portable, and lightweight
Higher working time compared to most other vacuums
Protection features; Temperature, current and voltage protection
Not too noisy
Cons
Hard to clean the dirt bowl
Only recommended for small messes
Does not come with a rotating brush
Accessories:
Crevice tool
Rubber attachment
Washable filter
Brush attachment
Makita Xlc02R1B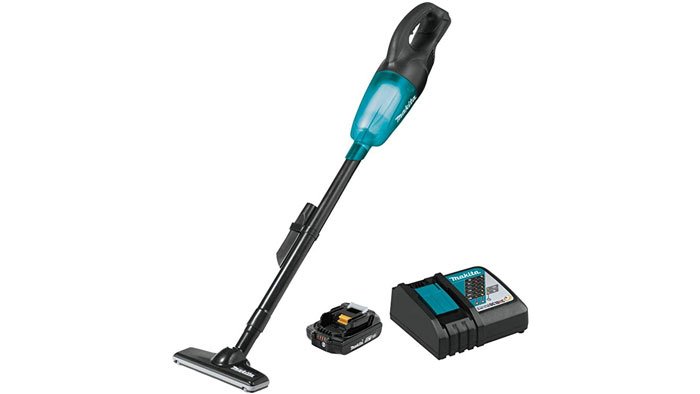 This cordless portable vacuum is fast, efficient, and has a high suction power. The 2.0Ah lithium-ion battery offers up to 15 minutes of working time. Moreover, it has a bag-less two-stage cloth filtration system that makes cleaning and debris disposal quick and straightforward. Thanks to the storage capacity, you don't have to be worried about emptying the container again and again. The best part about this model is the variety of accessories it offers. The redesigned floor nozzle increases its length making it more convenient for use. You don't have to "bend" when using it on the floor or carpets. However, it isn't recommended to clean your car's interior because it doesn't come with the required accessories.
Pros
Lightweight and easy to carry
Manoeuvrable
Recharges fast
Reasonably quite
Cons
Short battery time
Dust accumulates on the filter
The small size of tubes
Accessories:
Floor Nozzle and Nozzle Holder
Extension Attachment
Cloth Vacuum Filter
BLACK+DECKER dustbuster Handheld Vacuum, Cordless, Black (BDH2000L)
This portable, ultra-compact, cordless vacuum has lithium integral batteries. As with other devices from the manufacturer, it also follows cyclonic action, for a cleaner filter and stronger suction power. Its translucent washable bowl is also easy to clean and reuse, making it very convenient for you to handle it. You do not have to replace bags. In addition to that, this best handheld vacuum from Black Decker has an indicator light that signals when the vacuum is fully charged. You might feel discomfort while emptying the dustbin since it isn't designed well for this purpose.
Nevertheless, the rest of it has you covered up quite well. Overall, the head of this vacuum is its main highlight since it can twist and turn, making it much easier to clean those hard to reach spots. You can use this best handheld vacuum in small cars and for home cleaning jobs.
Pros
Rotating nozzle
Three-stage filter that keeps your home's air clean
Recharges in only 6 minutes
Cons
Does not perform well on hardwood flooring
Noisy
Accessories:
Onboard crevice tool
Brush tool
Rubber pet-hair attachment
BISSELL Pet Hair Eraser Lithium-Ion Cordless Hand Vacuum
This corded vacuum is ideal for collecting your pet's hair. It's suction ability can easily take hair off the furniture. Apart from furniture, it also works on fabrics and the floor. It has a rubberized nozzle for fabrics and furniture and a narrower, harder nozzle for the floor. Furthermore, this best handheld vacuum includes a motorized brush tool and crevice tool to get to those tight spots that you normally wouldn't be able to reach, plus a transparent dirt cup to check when to clean it.
Pros
Great for pet hair cleaning
Budget-friendly
Lightweight
Cons
Requires long charging time
Battery life is concise
Accessories:
Cord Wrap
Crevice tool
Brush tool
Dirt Devil Scorpion Handheld Vacuum Cleaner
This best handheld vacuum boasts outstanding cleaning and suction power. This corded model has a 16-foot power cord, which means you can use this machine in almost all places in your home for as long as you need without having to recharge the device. Weighing less than four pounds makes it easy to carry around your home. This product has a small nozzle and a dust cup, so it needs constant cleaning, which is a little troublesome and tiring. All in all, it is a very compact and robust machine that you can use inside your house.
Pros
Long cord
Powerful
Comfortable handling positions
Cons
Noisy
The vents on the sides sometimes blow the dirt out
Dust-cup needs to be cleaned frequently
Accessories:
Dusting brush
Brush attachment for use on carpet
2.5ft hose
Crevice tool
Strap/sling cleaner
LOVIN PRODUCT Car Vacuum
This model runs on a high-performance motor that has a fair suction capability with low noise. It is a corded handheld vacuum, connected to a 15ft power cord. The machine also includes two filters and works on dry and wet surfaces. Moreover, it comes with a zippered carrying bag, which you can use to keep this best handheld vacuum and its parts safely. This makes it easy to carry wherever you go. In addition to that, its human-friendly design has the detachable curve head bin that avoids the spilt dirt. Even though this is a corded model, it is widely used for cars thanks to its flat long head.
Pros
Very economical
two filters that work on both dry and wet surfaces
Easy to carry when travelling with a zippered carrying bag
Low noise
Cons
Not that powerful compared to other models
Accessories:
Long mouth
Brush
Soft long tube
Dyson V6 Trigger Cordless Vacuum
This best handheld vacuum comes with supreme suction power, three times of any other handheld in use today. It runs for about 20 minutes straight at full potential. The Dyson Digital Motor V6 is three times faster than any other conventional motor. Besides, this machine has two-tier radial cyclones (total of 15 cyclones) working parallel to increase airflow and capture fine dust. Emptying the bin of a vacuum could never be that simpler and more comfortable; just push a button to open the valve at the bottom, and the dust will flow out.
The vacuum focuses more on the ease of users. It perfectly fits the shape of your hand, and the centre of gravity is set near the grip for secure handling. However, some users aren't that comfortable with it. You can use it for car and home cleaning purposes as well. Like all things, the best ones come at a price, and this vacuum wears a lofty price tag of $199.
Pros
Very high suction power
Good customer service
Cons
The battery runtime is not good
Heavyweight
Accessories:
Motorized brush
Combination tool
Crevice tool
BISSELL Lightweight Hand Vacuum and Car Vacuum, 19851
As the name suggests, it is a lightweight, high-performance cordless product engineered for versatile cleaning in hard to reach spots. Powered by a 22V lithium-ion battery, it cleans the mess in very little time. Its ergonomic design supported by comfortable soft grips is one of the highlights of this best handheld vacuum. It provides you with better control over the motion of the machine and requires less effort on your part.
Pros
Lightweight
Comfortable to use
Easy to empty the dirt cup
Motorized brush roll for multi-purpose cleaning
Cons
Vents placed in the sides blow away the particles
Accessories:
Built-in extension hose
Motorized brush roll
Extension wand
Crevice tool
Dusting brush
Final Words
There you have it, ten best handheld vacuums you can buy this year. Which one you should pick, should depend on your requirements. Do you need one for car cleaning, pet hair removal, or you want an all-rounder, our list contains all types of devices. Check the accessories, the suction power, design and ergonomics of these vacuums closely, and then make your buying decision.