Chrysler's Dodge division released one of the most unusual trucks ever made. Called the Lil' Red Express Truck, this truck offered hard-to-find styling and serious performance ability. In fact, in 1978, the Dodge Lil' Red Express, was the quickest vehicle made in the United States from 0 to 100 MPH as tested by Car and Driver magazine. This included the Corvette and all other powerful classic cars; the Lil' Red Express Truck beat all of them.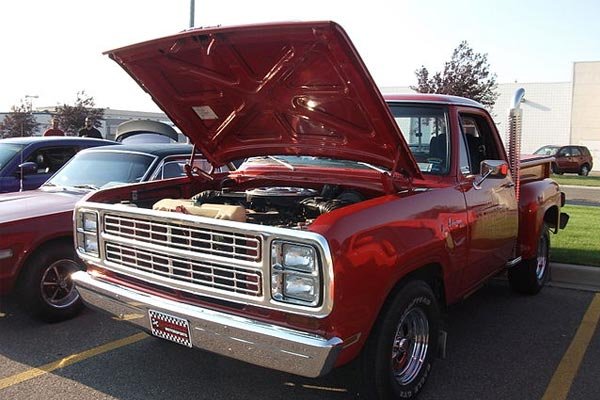 The red express is symbolic of a time long passed. It's categorized as the "Last American Hotrod". This dodge Lil' Red Express hit the market on a pretty limited scale from 1978 to 1979. The flashy red design of this express served as a sign of loud, fun, and rowdy at that time.
At the time of its release, the catalytic converter is necessary to install in every car because of environmental regulations. So Lil' Red showed up to beat the combination of the truck with bed car. You can also say it muscle car with a bed.
Lil' Red Truck
Today, very good examples of the Dodge Lil' Red Express Truck may be purchased in the $15K to $25K range. Continue reading to learn more about the truck!
Appearance Details
The Little Red Truck is built on the Dodge's 115-inch short-wheelbase. It has a Utiline-style half-ton D150 frame with 6,050-pounds gross vehicle weight. What made it travel so quickly was the engine that Dodge installed, the E58-specification police engine equipped with SuperFlow heads, a police cam (252° duration with 33° of overlap), heavy-duty valve springs, dual-snorkel air intake, and cold air induction. A modified A-727 transmission with a 2500 rpm stall converter helped a 3.55 Sure Grip rear axle assembly going.
The truck's package also included Hemi-style free-flow mufflers with a crossover pipe breathing through 2 x 2.5" monster chrome stacks. The stacks jetted up the truck's sides. One of the reasons the Lil' Red Express Truck was so quick was due to a loophole in the regulations. It didn't have to have any restrictive catalytic converters in the exhaust pathway like passenger cars required.
And here's another juicy detail: this truck is originally supposed to be called the 'Red Warlock'. But the name changed somewhere between the truck's conception and its March 1978 launch.
Engine Performance
A modified eight-cylinder engine produces 225 horsepower with 295 lb-ft torque. Moreover, this is boisterous with incredible features. This Lil' Red was one of the fastest American-made production vehicles and its part and parcel were responsible for its enduring legacy.
This muscle truck was manufactured in very limited numbers and it had two editions. The original version was 1978 and the later updated model was 1979. Installation of Catalytic Converter slowed down its performance. Only 2,188 Lil' Red Express trucks were produced in 1978. And in 1979 the number of manufactured trucks was 5,118. So, less than ten thousand trucks have ever been made.
Outstanding Styling
For styling, it was quite bold. According to this RAM truck dealer, a fire engine red paint scheme with big graphics embellished the cab's doors. Moreover, on the front, the Lil' Red Express Truck rode on GR60x15 raised white letter tires with seven- and eight-inch wheels. The interiors could be attained with a standard bench seat in red or black or with available buckets, and a fold-down arm/rest console was also available.
The Lil' Red Express Truck was quitting unique yet sold only 2,188 units in 1978. Nonetheless, for some time it gave its owners a taste of the raw power of America's quickest factory vehicle.
1978 Lil' Red Express Truck
With the 1978 Dodge Lil' Red Express Truck's success, the production of the 1979 Dodge Lil' Red Express Truck had upped to 5,118. Most of the features remained unchanged for 1979. But there were a few changes which include the ability to use unleaded gas, a catalytic converter, and a more restrained 85 MPH speedometer.
The most exciting styling changes on the 1979 editions were the new flat hood and dual square headlights that replaced the round versions on the 1978 Dodge Lil' Red Express Truck and the 1979's rode on LR60x15 raised white letter tires on eight-inch chrome wheels on all four corners.
Conclusion
In the market, there are countable trucks that are well-maintained. In addition to this, there are also fan clubs and competitions for Lil' Red Express Dodge Truck. Moreover, this truck is one of the top-rated restoration targets. There are still some muscle pickups like Shelby F-150 super in the market, but this little beast captures both the fun of a fast car and the charm of the classic ride.
Image by Wikimedia