Tools are an essential part of our lives. We use them for easy fixes at home and work.
If you are a professional like an HVAC, a cable repairman, a carpenter, a construction worker, an electrician, a technician, a plumber, or a handyman that requires specialized gear to perform their jobs, you need the foremost tool backpack to store your stuff at one place.
It would increase your productivity and efficiency. The best tool backpack can hold things like a hammer, laptop, nails, screws, and other gadgets. With that said, it is not easy to find the tool backpack that meets your needs since they are made of different materials and come in various sizes and capacities.
Toolboxes made out of plastic or metal were widely used in the past, but they had several issues. Firstly, they were cumbersome to carry around for a long.
Secondly, they had minimal space for carrying tools, even the folding toolboxes. Thirdly, these boxes were not durable. Moreover, they used to get scratches and rust very fast, so they were frequently replaced.
To make it convenient for you to carry your tools around in something durable and easy to hold, we are going to share with you the ultimate tool backpacks you can invest in this year.
---
Top 14 Tool Backpacks
---
Now that you know what you need to look for in a regular or a heavy-duty tool backpack, here is the list of 14 top-rated tool backpacks. Keep all the above-mentioned points in mind, and pick the one that best suits your requirements.
1. De Walt DGL523 Lighted Tool Backpack Bag
It is an LED-lighted backpack featuring 57 pockets. If you need to carry many tools and want them appropriately organized, this would be a great option. The outer pockets allow quick access to most used items. Pockets, in and out, are made in a variety of sizes for you to accommodate all your accessories. It is, without a doubt, one of the finest tool backpacks you will find in the market today.
Pros
LED-Light
Padded back, handles, and straps for extra comfort
Good storage capacity
Three levels of illumination
Cons
Quality issues
The base is not waterproof
Pockets are too small
2. Veto Pro Pac Tech Pac Service Technician Bag
Veto Pro Pac works well for someone who carries a lot of accessories and tools. It has 44 pockets inside, outside, and even on the central panel of the backpack. It has room for tall and small items, which makes it very convenient and the finest tool backpack.
Pros
Waterproof
1800 PVC impregnated nylon
Well balanced and stable
Cons
Shoulder straps aren't designed well
Expensive
3. CLC 1132 75 Pocket Heavy-Duty Tool Backpack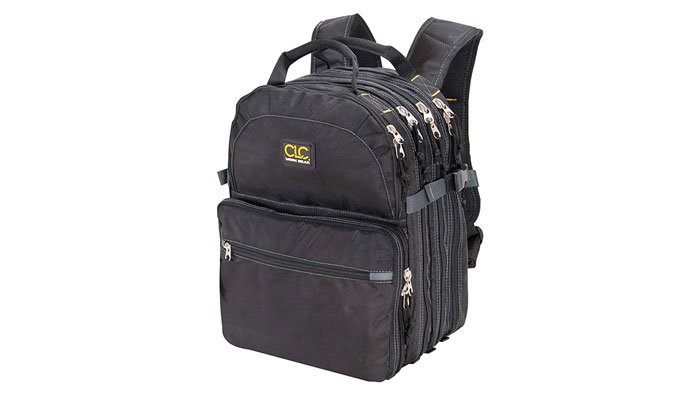 If you have to carry many tools onsite, this would be the finest tool backpack. The high quality of this bag is its main attraction. It has a total of 75 pockets and two primary compartments. The first is for putting in your basic tools and accessories while the second is designed to hold power tools. It protects your electrical gears and batteries from damage. Thanks to these features, CLC is quite a popular tool backpack.
Pros
Padded back support
Compression pockets
Strong ballistic polyester fabric material
Water-resistant
Huge storage capacity with many compartments for little tools
Cons
Stitching problems
Zippers are not long-lasting
Only works well for smaller tools
4. Fluke Pack30 Professional Tool Backpack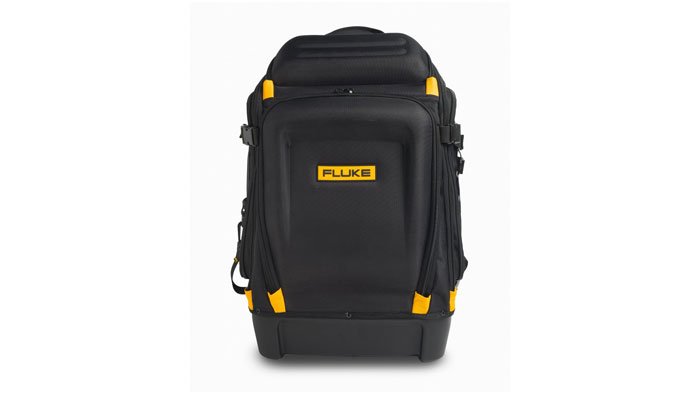 Built with high-quality polyester, Fluke is an ideal choice to go with if you are looking for a heavy-duty backpack. It consists of more than 30 pockets with three main storage compartments to keep your tools organized and separated. The bottom is molded as well to protect your items and balance the weight of this tool backpack.
Pros
Rugged Waterproof molded bottom
Padded back
Adjustable chest strap
Durable Build
Cons
5. Amazon Basics Tool Backpack
Amazon Basics Tool Backpack is a good option for anyone who requires a unique, functional, and reliable storage solution for their gears. If you have to switch between two jobs, then this bag would work great. You can casually take it to your work environment. Taking it casually around does not mean you will have to compromise on space. It has 51 pockets to make sure it covers all of your needs.
Pros
Hands-free and convenient transport for all gears
Padded back support
Adjustable chest strap
Affordable
Cons
No pocket for the laptop
Challenging to maneuver in narrow spaces
6. WORKPRO Tool Backpack
This tool backpack from WORKPRO is excellent for heavy-duty jobs. It has a simple design with 41 pockets and a separate laptop storage pouch as well for your convenience. The base of this bag is molded for the stability and protection of your belongings inside.
Pros
Ideal for a Contractor, Electrician, Plumber, HVAC, Cable Repairman
Has a laptop compartment
Made of durable fabric
Dual straps for holding and chest strap for grip
Cons
Not recommended for regular jobs
Can't accommodate a laptop bigger than 17"
7. Klein Tools 55421BP-14 Electrician Tool Backpack
These are among the top-rated backpacks available in the market. It has 39 pockets of varied sizes to store small and large tools. The bottom is fully molded to ensure the safety of your products and the stability of the bag.
Pros
The backpack is well balanced
Spacious
Tall for long-handled tools
Cons
Heavy
The molded bottom is made of plastic
Shoulder straps fall
Can only fit a small-sized laptop
8. Rugged Tools Pro Tool Backpack
This tool backpack comes in two models. The smaller one has webbed handles while the bigger model has molded rubber grip handles as well as a molded plastic bottom. It has 40 pockets, constructed of 1680 polyester by Denier. This durable heavy-duty backpack features padded shoulder straps for comfortability. This weatherproof bag is built for severe conditions to cater to most tradesman's needs.
Pros
Molded plastic hard bottom
Body made of semi-hard shell
Padded back support
Sternum strap
Versatile pockets
Heavy weatherproof material
Excellent zippers
Cons
It is not well balanced, so does not stand
9. Carhartt Legacy Standard Tool Backpack
This tool backpack from Carhartt has a special water-resistant coating to keep your items safe and free from harm. The pack has a total of 43 pockets, divided into two compartments. You can even carry this bag casually for work or school. Moreover, it has a rubber bottom to prevent your items from being damaged.
Pros
Water repellent
Contour fit shoulder straps
Padded air-mesh back
Cons
Limited storage
Not made for heavy jobs
10. Revco GB100 BSX Extreme Gear Backpack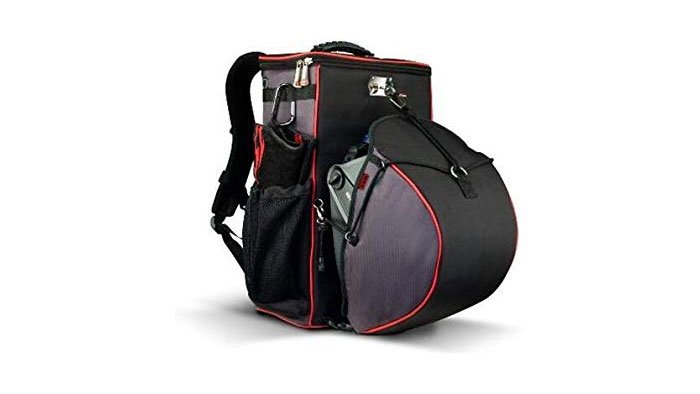 This tool backpack suits construction workers, who have to carry lots of tools with them. We recommend it for welders mostly. The feature that differentiates this bag from the rest is its helmet catch. You can put your helmet inside to avoid it from being scratched. Other than that, it has a padded back, and one large main compartment with smaller pockets inside.
Pros
Lightweight
Padded shoulder, top handle, and back
Spacious
Durable and Comfortable
Helmet catch feature
Cons
Zippers aren't of good quality
Could be stitched better
Not water resistant
11. IRONLAND Electrician Tool Backpack
Like its name, Iron-land is designed for electricians. This tool backpack for electricians has 23 pockets in perfect sizes to carry tools of different lengths from drills to sprits. It can help you keep your tools organized wherever you go without the hassle of packing and unpacking. It is also lightweight, which makes it easier for you to travel and carry. The polyester material is durable and effective; it can handle harsh and rough conditions.
Pros
Padded shoulder straps
Lightweight
Back support to relieve excessive weight from the shoulders
Durable material used
Waterproof base
Cons
Do not firmly hold tools that are bigger
12. Carhartt Legacy Expandable-Front Tool Backpack
This bag is a great option to consider if you are a technician. It has two main compartments boasting a total of 43 pockets that help keep your gears organized. It is made out of heavy-duty polyester (100%) where the rain defender hat acts as a water repellent. On top of that, it has an abrasion-resistant base as well, keeping your items safe from all kinds of damage.
Pros
Durable, strong nylon material
Padded back
Weatherproof
Cons
Storage capacity is less
Suited for light works only
13. ToolPak Original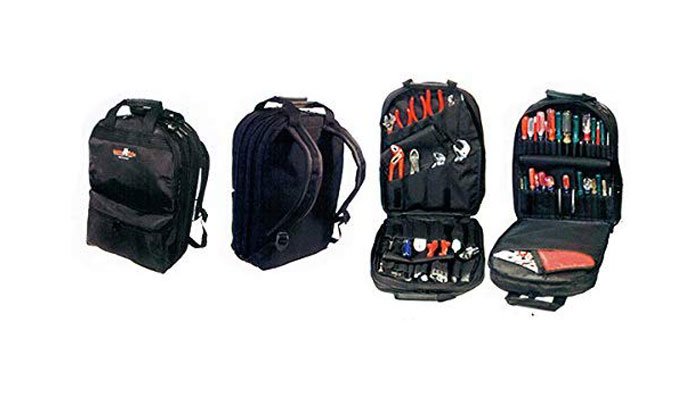 If you like to stay organized, this is the best tool backpack option. There are 108 adaptable pockets and tool holders, divided into six panels, each for different shaped tools. It has three compartments, each with two panels. One compartment is for a laptop or a tablet.
Pros
Durable and Portable
Waterproof
Includes drop light tool
Cons
Limited space for large items
14. Acmetool Backpacks, MILWAUKEE-48-22-8301
Made of 1680 ballistic nylon, the Acmetool backpacks are ideal for tough job site conditions. It has 48 pockets out of which two are hard-shell pockets to protect your electronic equipment. This tool backpack offers impact resistance that protects the items inside from water and dirt. It also permits the backpack to stand up front. We recommend it for those who have to carry metal hardware.
Pros
Water and dirt resistant
Compact design
Padded body
Comfortable straps
Cons
Lesser storage capacity compared to others on the list
---
What is a Tool Backpack, and How Does it Work?
---
A tool backpack may look like just another backpack with two straps, but they are far from ordinary. Tool backpacks are made out of canvas or other quality materials to withstand harsh conditions and safeguard the tools inside them.
On the inside, they feature multiple storage compartments of different sizes, allowing you to keep things like a hammer, laptop, phones, wires, and even tiny things like nails. Other than the compartments, you will also find zippers, pockets, and even molded pockets, specially made for delicate items.
You don't want to damage stuff like safety glasses, batteries, hard-disk, etc. These tool backpacks come in different sizes as well, letting you choose among large, medium, and small, as per your requirements.
Types of Tool Backpacks
Tool backpacks typically serve workers who need to carry different tools with them. They are mainly categorized into two types: Regular and Heavy-duty. Regular backpacks, also known as utility backpacks, work well for campers and hikers who only need basic toolsets such as screwdrivers, some wrenches, and other small tools.
On the other hand, professional workers mostly need heavy-duty tool backpacks. A tool backpack for electricians keeps different wires and tools organized. Whenever they need to travel to a place to fix any electrical fault, they just need to put it on the back. A tool backpack for technicians, plumbers, or carpenters is usually made of durable fabrics.
These heavy-duty tool backpacks do not puncture and come with a reinforced bottom and extra hooks. Lastly, mechanics also make use of a tool backpack for mechanicals. They need tools to examine any kind of mechanical issue. Therefore, carrying a bag that can fit all the critical accessories improves their efficiency and output.
---
What Should You Consider for the finest Tool Backpack
---
Material
The material is one of the most critical factors you need to consider when choosing a backpack tool bag for yourself. The tool backpack is made of sturdy fabrics that can withstand tough weather conditions and rigid surfaces, preventing quick wear and tear. Cotton canvas, Cordura, Rip-Stop Nylon, polyester blend, and other heavy-duty materials are considered suitable for backpacks.
Durability
Make sure the backpack you buy is durable. It is always smart to invest one time in a good backpack rather than buying several cheap tool backpacks. A durable tool bag uses strong waterproof adhesives, sturdy thread, long-lasting materials, well-stitched seams, and quality zippers. The construction of the bag also plays a vital role in determining its durability.
Compartments and Their Sizes
It is almost impossible to have all the tools of the same size. The tool backpack has compartments of different sizes to accommodate various gear. The pockets inside should fit the gears you mostly carry.
Moreover, a well-planned layout of pockets and zippers is an essential consideration. They help you become more organized with your things and make it easier to pack and unpack them without wasting time. If you need to carry electronic devices like tablets, laptops, hard disks, and power banks with you, then look for tech and tool backpacks with separate compartments for electronics.
Storage
Just like the size of compartments, the overall size of the bag matters as well. The tool backpack offers a functional storage capacity sufficient for most. We can find large, medium, and small-sized backpacks with different storage capacities, so select the one according to your gears.
Convenience
It is very crucial to carry a tool bag that is convenient for you to use. Padded shoulder straps make it comfy for you to carry the bag on your shoulders. Moreover, the reinforcement on the back distributes the weight evenly, which puts less pressure on your back. Besides, look for a bag that you can store easily. It should be easy for you to clean and maintain, as well.
Budget
A factor you definitely cannot ignore is the price tag on the backpack. You always need to make sure you are investing in what you need only. A smart idea for people under budget would be to prioritize what they need most in a tool backpack. For instance, if you do not carry many tools, then you can invest in durability and small size.
On the other hand, if you carry lots of tools, then you can invest in a tool backpack featuring many pockets and forget about the material it was made of. Always prioritize when it comes to budgeting for anything to make sure you do not compromise on what you need.
Frequency Asked Questions
1. Are tool Backpacks Waterproof?
Not all tool backpacks are waterproof, but most of them are water-resistant. If you are looking to invest in the preeminent tool backpack, then you should find one that is waterproof. The molded base and the construction material distinguish one from the others.
2. How Do I Know Which Size Is Perfect For Me?
Just like clothes, try wearing them on. You need to check if the size works well with your body weight. See if you can balance yourself quickly and make sure that the bag covers most of your back. The shoulders shouldn't feel too stretched or too loose. If they do, try adjusting them or get a bigger size.
3. Is it Alright To Clean it in the Washing Machine?
We suggest not to clean the bag in a washing machine since the molded bottom will pose issues. Simply clean your tool backpack by soaking it in soapy water for some time and washing it using a soft-bristled brush to get rid of dirt.
4. Where To Buy the Best Tool Backpack?
You can buy these bags online or from your local market. We advise you to read our guide for the leading tool backpacks and do your research before the purchase. We have listed the best of the best, so go through each one by one to find the bag that suits your needs.