No man is considered perfect in this professional world. Everyone in the organization is totally dependent on others, making a team overall.
"From the CEO to the peon, everyone in an organization works in a team to run a business smoothly."
It is significant to promote a work environment that boosts cooperation among colleagues for an organization to run competently and meet its objectives.
Unfortunately for most associations, this doesn't happen normally, and in this way, you should try and discover some strategies to help build and maintain an agreeable work environment.
There are tons of activities and steps that the CEO along with the employees can take to help improve the two-way relationship.
Team Spirit is Indispensable
Most modern organizations are strongly centered on teams. Indeed, even those with key posts like graphic-designing and publishing need dynamic collaboration among different individuals from the association for a final emergence of a product.
Basically, teamwork is an essential component of any organization to prosper.
"Any member of the organization without teamwork can't be effective."
He has to become a part of a team to establish himself as an effective member. That's why most of the great organizations have developed such software systems or programs to identify and recognize a sincere and dedicated employee so that he or she may be appreciated and rewarded in multiple ways. There are many such sources that are doing a lot for the recognition of really committed employees.
Here we have some proven strategies to establish a long-lasting collaboration amongst employees.
1. Look for a Team Right from the Beginning
You should hire people who try to fit themselves into the organization's team culture. Use interviews and pre-employment evaluations well to decide an individual's character and qualities. Search for the spirit of collaboration and an ability to tune in so as to decide if a candidate can perform well in a team environment.
Apart from qualification and professional skills, evaluating a candidate's soft skills is also essential. Is the candidate flexible, confident, adaptable, and mingles well with new people? If they have the right mindset and passion for proving themselves, they will contribute to the organization beyond your imagination.
2. Teamwork Must Be a Part of your Culture
For co-workers to effectively team up, the administration inside the firm must work to establish collaboration which is the key value of the enterprise. Besides, employees do see their leadership working unanimously as a team to achieve goals. Plus, the company's leadership does honor teams in public when they succeed at working together to attain their objectives.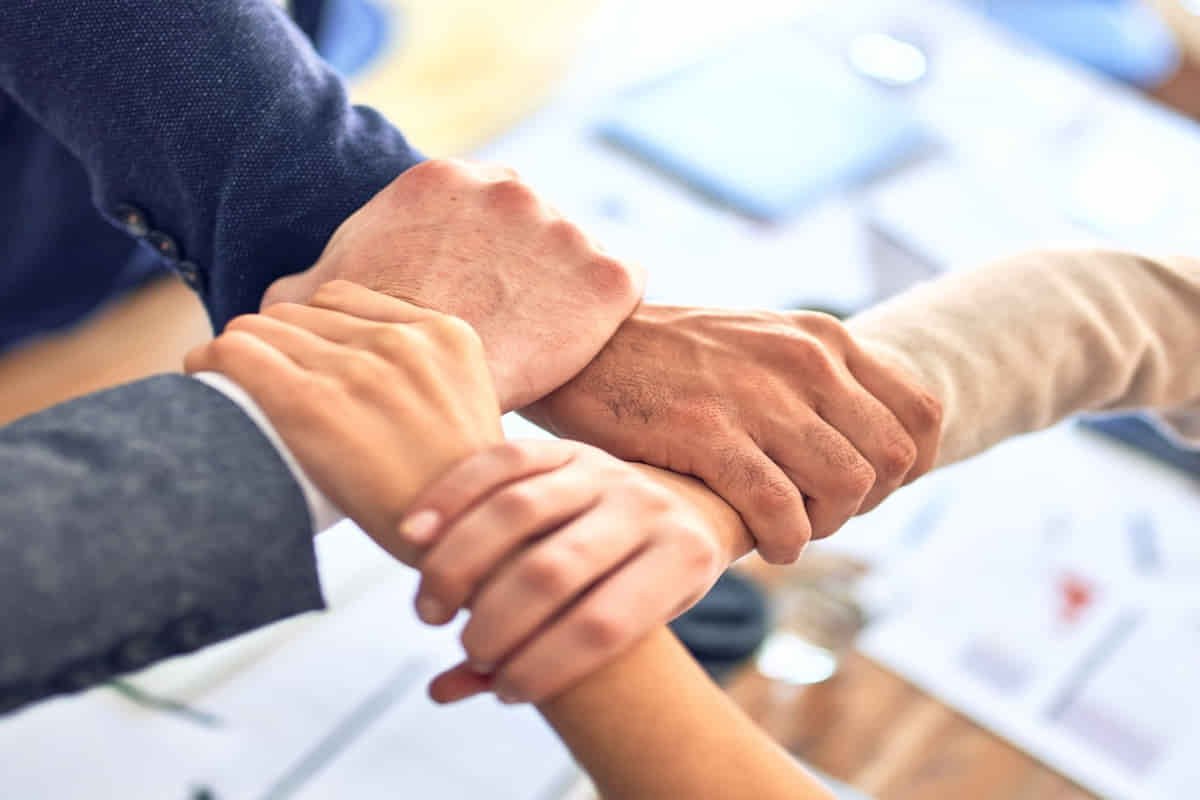 Grouping employees together to achieve a collective goal builds their collaborative spirit. There is so much you can do alone; a team can foster better results in no time. Every organization has a different culture, but very few are successful in introducing a collaborative working environment. If teamwork and participation are in the core organizational norm, new employees will take no time to blend within the culture.
3. Leaders Must Establish a Healthy Environment
To really improve cooperation, leaders have to provide a healthy work environment where employees are not hesitant to share their ideas. Leaders must establish a culture where the exchange of ideas is empowered and remunerated. Teamwork must be a focal point of them to improve joint effort.
If you look at the work culture of organizations, you will notice the task distribution amongst various teams. Every team is managed by a responsible individual, often known as a leader. The leaders foster effective collaboration and optimal productivity for the timely completion of tasks. If a leader does not encourage individual confidence and exchange of ideas, teamwork can't coexist with dominance. Hence, a leader must support company culture and have a friendly attitude for reaching goals faster and efficiently.
4. Team Spirit Originates from the Top
Building successful teams with the correct frame of mind emerge from the most elevated levels of an organization. Just by smoothing the conventional organizational management. One can also expect to impart the correct team culture.
Every organization has some kind of hierarchy that dominates the workplace. However, it does not necessarily mean employees have to get intimidated by the people working on top-of-the-line. Building gradual trust in employees and giving them calculated freedom of voicing their opinion is the core of success.
Managers and business owners must treat their employees as equals and encourage team efforts. Setting examples and showing team spirit through actions helps develop a team culture where people can freely voice their opinion.
5. Consider the Team Responsible for Results
You need to establish a transparent team and employees' expectations. Ensure everybody knows that it's the outcome of the team's collaboration that matters. Your reward system should be based on the team's ability to accomplish its objectives. Moreover, acknowledge individual recognition based on a commitment to the collaboration.
Individual recognition validates the employee of their skills and makes them feel seen and heard. However, individual recognition has to take a back seat sometimes when fostering team efforts. An organization must keep collective team rewards upon completion of a milestone. This way, employees within one team encourage one another to complete tasks with total dedication.
6. Keep Communication Lines Open
Need to sustain open and free-minded communication among colleagues and executives. Seek ideas and suggestions from colleagues on approaches to accomplish the team's objectives.
Having a team that respects you and follows your command is excellent. However, they must be able to think on the base level and present their thoughts. Employees working in a team have a heightened sense of surroundings, and they tend to think out of the box. Asking for their ideas and inputs can help the team reach their goals faster.
If any employee within the team wants to give their input, listen to them and give them your full attention. Even if their opinion doesn't fit the criteria, appreciate them for their idea. As a team leader, it is essential to push the employees out of their comfort zone. Provide them with an environment where they don't feel intimidated to share their ideas.
7. Resolve Team Clashes Quickly
Team differences can be sunk if they are addressed in time. Clashes among the members of the organization should resolve quickly. If the individual simply doesn't fit into the team canvas, replace the person with the one who does so as to secure the integrity of the team.
It is crucial to have like-minded and easily adaptable people within one team. While it is impossible to avoid clashes, they can be sorted out before disagreements increase. Smooth communication should be encouraged within the team, and a supervisor should help make decisions when two or more people disagree. As a team leader, you must act upon aggressive situations faster and find valuable solutions to promote employee satisfaction.
8. Keep the Team Spirit High
Team members can perform the best when their individual commitments to the team well-perceived. This, in reply, prompts a reinforcing of the team spirit among its individual members.
Every individual needs appreciation to motivate them to work harder. A business owner must ensure they appreciate their team to help them feel recharged from time to time. Celebrate each milestone with your team and give them small rewards to cheer them up. The reward can include a bonus, a dinner, a paid leave, a movie ticket, or anything your employees might appreciate.
Conclusion
Teamwork can help workers become part of the strategic planning procedure ensuring they can know how to get objectives. It's significant that each colleague becomes tied up with the plan.
Alleviating spirit and team building should be the goal of every organization as it pushes employees to work at their optimal potential. Rewards, appreciation, and increment are ways to push your team to work at their maximum potential.