Do you enjoy picnicking out in the forest?
Excellent! It is an opportunity to leave the world behind and connect with your family and nature.
Are you a professional swimmer looking for a bag to store your gear?
A serious swimmer does need seven pieces of swimming gear in their swim bag.
Or, you're just a student in search of a casual bag for your books.
Whatever is the case, you need a reliable backpack. The problem is, there's a sea of different bags to choose from!
Don't worry! Choosing the perfect backpack doesn't have to be difficult at all. We've got you covered with our list of the top 10 backpacks. Each bag has been tried and tested for its particular use. We've made sure to check the essentials for each product, such as its durability, comfortability, and design.
Top 10 Backpacks
1. Best Laptop Backpack: The North Face Router 17 Inch
The 17-Inch Router Backpack from North Face is a one-of-a-kind laptop carrier, perfect for everyday travel. This airport-friendly bag is lightweight at only 3 lbs and endures general wear and tear. The exterior is made from durable 500D Cordura nylon matte ripstop, 420D nylon, and 680D ballistics nylon with reflective accents. You have an excellent selection of backpack colors to choose from, such as black, pine green, red, and more.
With its large shape and practical storage pockets both on the interior and exterior, the North Face Router safely and efficiently stores all your essentials. The spacious main compartment, along with the FlexVent suspension system, steadily holds your books, folders, and other similar items. You also get a better organization with the Router 17-inch, thanks to a checkpoint-friendly laptop section with fleece lining, two vertical zip pockets on the outside, and two Teksever-fabric water bottle pockets. There is also an extra front pocket with a further internal pocket for your tablet, a zippered pocket, and elastic webbing useful for taming cords.
Not only is this laptop backpack highly practical, but it is also super comfortable as well. The injection-molded shoulder straps add extra comfort while wearing the bag for a long time. Your back will stay dry and tension-free with the moisture-wicking lumbar panel and padded mesh construction. There's also a removable waist belt for when you need extra support.
All-in-all, the North Face Router 17-inch laptop backpack is a perfect choice if you require a highly functional, durable, stylish, and travel-friendly laptop rucksack.
Top Features:
Cordura nylon fabric exterior
FlexVent suspension system
Teksever-fabric water bottle pockets
Moisture-wicking lumbar panel for increased comfort
Pros:
Lightweight and durable construction
Very comfortable to wear, and doesn't put a strain on the back
A lot of interiors and exterior pockets for more organization and flexibility
Cons:
Larger size than the average backpack
2. Preeminent Carry-on Backpack: Oakley Kitchen Sink
Our best carry-on backpack is Oakley Kitchen Sink. It weighs 4.5 lbs and has a massive capacity, allowing you to pack enough equipment for three days. It is the best choice. However, if you're a very active individual searching for a flexible, comfortable, and rugged backpack for your trips.
The nylon-polyester material combination, along with the various types of external storage options, gives this carry-on its immense durability and flexibility. The rucksack has large outer zippered sections that can fit up to three 16-ounce water bottles. The three external adjustable straps on the pockets are useful for holding extra items such as a blanket or rolled-up jacket. Oakley Kitchen Sink also features sturdy metal clasps, metal hooks, and durable metal zipper pulls. On the back, it has a large admin panel that is great for phones, pens, and other similar items.
The internal storage options are quite impressive as well. Along with the large main compartment, a laptop compartment can accommodate up to a 17-inch device. An inner bag at the bottom part of the bag is highly practical for storing your dirty shoes or sweaty gym clothes. So, no need to carry an extra suitcase for smelly or dirty items.
Also, the Oakley Kitchen Sink carry-on bag is very comfortable to wear for more extended periods. The shoulder straps are padded for extra comfort. The waist belt also offers more support and eases the strain on your back and shoulders.
If you're on the lookout for a carry-on that cannot only fit all your items but is also durable enough for taking along everywhere, Oakley Kitchen Sink would be the best choice.
Top Features:
Three large, heavy-duty clips on exterior
Top and bottom made from tear-resistant and rip-resistant fabric
Hard-shell zipper case on top of the backpack
Large, secluded shoe compartment on the bottom
Pros:
Extremely spacious and organized backpack
Accommodates many useful travel essentials
Separate sections for sunglasses, laptop or other devices, and shoes
Cons:
It is on the heavier side, which is obvious for a heavy-duty carry-on
3. Best Travel Backpack: Nomatic Travel Bag 40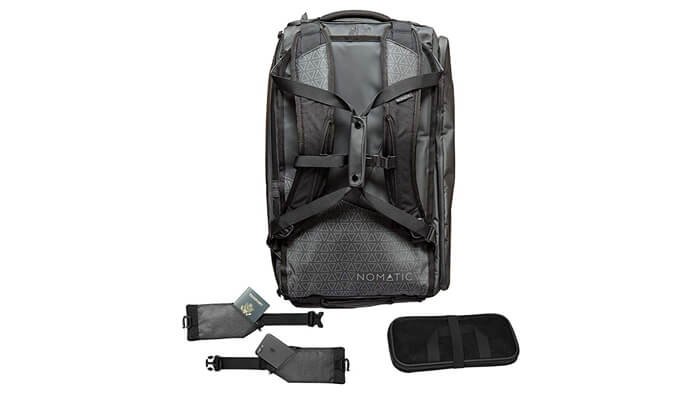 The 40-liter Nomatic Travel Bag is a modern-looking, minimalist backpack specially built for the millennial travelers. This sleek, well-designed backpack weighs 4 lbs, and you can easily attach it to your rolling suitcase. The straps are handy for converting the backpack into a duffel bag. The exterior is made from waterproof, durable materials and practical zippers.
With this best travel backpack, you can pack with ultimate efficiency and keep all items super organized. There's a dedicated laptop pocket, a notebook pocket, a magnetic water bottle holder, and even a hidden money pocket to keep your valuables safe. The pockets are RFID-safe to protect your electronic devices from hackers. A removable shell also offers a simple, convenient storage option for glasses. There are also cord pass-throughs and a retractable key chain that lets you keep your keys easily accessible.
Overall, Nomatic Travel Bag 40 is one of the best travel backpacks for those who desire styling, convenience, and high-level organization in one rucksack.
Top Features:
Magnetic water bottle holder
Removable shell for glasses
RFID safe pockets
Hidden money pocket
Easily converts into a duffel bag
Pros:
Durable and water-resistant exterior
The hip-belt easily detaches
Front-loading style makes it easy to store and access all your items
Cons:
Price is on the expensive end
4. Leading Gym Backpack: Locker Pack LUX 24L
Locker Pack LUX is a sleek, stylish, and compact bag that's not only durable but is also super easy to use. The 24-liter backpack has a waterproof exterior and a minimalist design with great attention to detail. The bag is made of patented OutLayr treated 16-ounce cotton canvas with an 8-ounce Australian loomed canvas top portion. A molded shell framework gives Locker Pack LUX a unique shape to the pack.
The bag is lined with 30D nylon fabric on the inside, effectively protecting your gear from both water and dirt. There is a dedicated internal section for a 13-inch laptop, interior mesh pockets, and a large opening in the front of the backpack. It's effortless to pack all your gym clothes in one go by opening the entire front section. The top locker loop also makes it easy to hang the bag anywhere.
What's great about this one of the best gym backpacks is that you can access the interior pockets from the outside. You don't have to open the entire bag and rummage through your gym gear for your other belongings. Additionally, the removable chest strap and leather straps work to make the bag very comfortable to wear.
Top Features:
Made of patented OutLayr treated 16-ounce cotton canvas
Compartment for a 13-inch laptop
Top locker loop
Leather straps that adjust to the body shape
Pros:
Comfortable and easy to carry the backpack
Very sleek and stylish design
Waterproof exterior
The front pocket makes it very convenient to access all gym clothes
Cons:
Less capacity for bulkier items
5. Best Cycling Backpack: Especial Medio Cycling
Timbuk 2 has specifically designed the Especial Medio Cycling backpack for bicyclists. This frameless rucksack weighs only 3 lbs and has a 30-liter capacity. The top access main pocket, easily expandable material, and soft foam straps offer a more comfortable and safer biking experience. The pointed top improves over-the-shoulder visibility when you're cycling.
Timbuk 2 made the Especial Medio Cycling bag from durable Cordura nylon fabric and internally lined it with waterproof material to keep items dry in the rain. It also features reflective paneling on the exterior for safe cycling in the dark. Three exterior zip pockets make it easy to store and access any tools or small essentials. It also has a U-lock pocket that you can use as a water bottle compartment. In the main internal pocket, you can fit a 15-inch laptop and keep it secure within the flexible, coated nylon.
A detachable waist belt makes the Especial Medio Cycling backpack comfortable to carry. You can also move large, bulky items such as skateboards, wheels, or packages with the external compression straps. These straps help to stabilize abnormally sized loads.
Top Features:
Pointed top for improved over-the-shoulder visibility
Cordura nylon fabric exterior with reflective paneling
Plush backpack straps with hydration
External compression straps to stabilize loads
Pros:
Highly expandable rucksack
Lightweight and very easy to carry
Conveniently allows you to secure large loads
Cons:
Cannot fully utilize the organizer compartment
6. Finest Outdoor Backpack: Osprey Daylite Plus 20L
Osprey Daylite Plus is a versatile 20-liter daypack weighing 1.2 lbs only. This nifty outdoor backpack has a laptop compartment that can hold up to a 15-inch laptop and a lot of room for adjustability. It is comfortable to carry around with you on outdoor daytime adventures. You can even take it on a rugged day hike or a long walk. The best part? One of the best outdoor backpacks from Osprey comes at a very reasonable price.
The bag is super light, but you can still see a lot of internal storage space. It has quick-grab pockets that let you conveniently store and access items. There's a ventilated spacer mesh panel that allows airflow nicely across the back. It means you won't have to worry about sweating your back. The two external mesh pockets, quick-release compression straps on the side, and detachable webbing hip belt contribute to this daypack's comfortability and accessibility.
Top Features:
Ventilated spacer mesh panel for airflow
Quick-grab pockets
Side compression straps
Detachable webbing hip belt
Pros:
Extremely comfortable to carry
Quick-grab pockets are convenient
Lightweight design
Cons:
Side pockets are not too secure for bottles
7. Foremost School Backpack: Herschel Casual Daypack Heritage
Standing at the top of the best school backpacks, Herschel Casual Daypack Heritage is a classic, functional bag that comes in a range of colors. This versatile rucksack has a 21.5-liter capacity and is also perfect for students having an on-the-go lifestyle. It offers a laid-back, casual vibe; however, it doesn't compromise on professionalism and the ability to help you stay fully organized.
Inside, there's Herschel's signature striped fabric liner, a 15-inch laptop sleeve, and an elasticized document section. This lightweight bag has ultra-comfortable straps with a mesh-cushioned lining that is ventilated. The faux leather bottom of the bag allows you to take this Herschel anywhere without worrying about getting dirt or stains. The faux leather material on the handle makes it easy to carry this daypack around. On the other hand, the flap over the front zipper features extra security for your items.
Top Features:
15-inch interior laptop sleeve
Ultra-comfortable straps with mesh cushioned lining
Internal lining made from signature Herschel striped fabric
Pros:
The classic diamond design looks casual and professional
Affordable backpack
Big enough sleeve for a 15-inch laptop
Very comfortable to wear
Cons:
The exterior is not too durable
8. Top Picnic Backpack: VonShef 4 Person Picnic Backpack with Blanket
Among the best picnic backpacks, you'll find on the market is the VonShef 4 Person Picnic bag, which comes with a blanket. This bag also offers a considerably large capacity and a durable, waterproof exterior layer that makes it suitable for all types of picnics. On the outside, you'll find elegant detailing made from tan leather, solid straps, and a carrying handle.
Just as the name suggests, this picnic backpack features a dining set for four people along with a fairly large, durable blanket. There is an integrated water bottle holder along with an insulated compartment lined with aluminum foil for keeping food cold or hot for longer. This VonShef bag also includes useful picnic accessories such as a bottle opener, salt and pepper shakers, and a neat chopping board.
Top Features:
600D polyester waterproof exterior
Sturdy carrying handle and straps
Insulated compartment lined with aluminum foil
Pros:
Lightweight design makes it easy to carry
Durable and convenient picnic bag
Includes a lot of useful picnic accessories
Cons:
Could use more food storage capacity
9. Best Hiking Backpack: Deuter Speed Lite 20
Deuter Speed Lite is one of the best hiking backpacks you'll find out there, thanks to its minimalistic design and super lightweight, just above 1 pound. Made from 420D nylon and 210D nylon with PU coating, it can hold up to 20 liters. A sleek, athletic V-shape offers hikers with great freedom of movement.
Deuter Speed Lite 20 offers a whole lot of storage with neat add-ons that give you a better hiking experience. For example, it has accessory loops that can hold your gear, such as helmets. The bag also features a zippered top pocket, stretchy water bottle pockets on the side, a loop for a safety light, and an easy-access front panel compartment.
This hiking backpack is also very easy to carry and is super comfortable. Furthermore, it comes with a detachable hip belt and a chest strap that you can adjust according to your desired height and width. The ergonomic shoulder straps, along with the padded back, ensure comfortable wear. The bag also has an innovative air-escape feature that helps to keep you fresh while hiking in hot weather.
Overall, we'd say, Deuter Speed Lite 20 is the best-value small hiking backpack you'll come across.
Top Features:
Athletic V-shape design
Ergonomic shoulder straps
Ventilated padded back
Pros:
Great backpack for day hikes
Comfortable and ultra-light
Wonderful athletic design
Cons:
Not suitable for a long hike
10. Leading Swimmer Backpack: TYR Alliance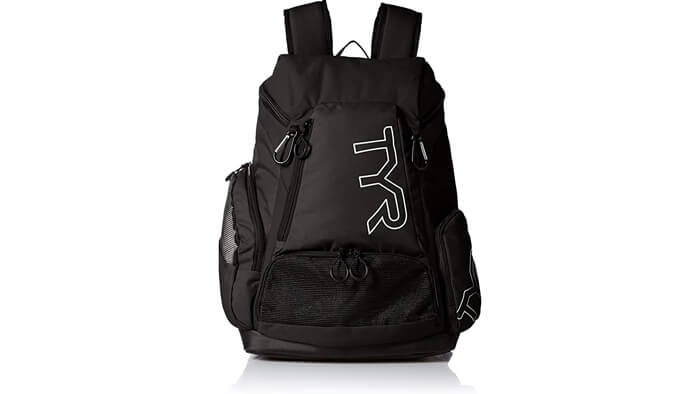 The TYR Alliance backpack is the top choice for swimmers everywhere. The smartly engineered design with stylish colors fits all your swimming necessities perfectly. Among the best swimmer backpacks on the market, it is sturdy and water-resistant, yet light enough to carry with you quickly.
The TYR Alliance swimmer backpack has sleek, spacious storage options, including easy-access side pockets, protective electronic device sleeve, and separate compartments for wet and dry items. The bag's open-mouth main storage section makes it super easy and quick to fit large equipment inside. There are also two very handy and convenient clips hanging on the front of the bag. You can use them for key rings, goggles, or anything else you need to access quickly. The added lumbar support on the back of the TYR Alliance makes it comfortable to wear.
We'd recommend TYR Alliance to all types of swimmers out there. It's the perfect swimmer backpack for storing all your swimming gear and much more.
Top Features:
Open-mouth main storage compartment
Two external hanging clips
Extra lumbar comfort on the back
Pros:
Very useful wet and dry separations for keeping dry items safe
Great design and reasonable size and capacity
Comfortable back and straps
Sturdy build
Cons:
Could use a more significant top opening
Read our buying guide, so you know what to look for in a backpack
Backpacks Buying Guide
You probably have many questions before buying the right bag for yourself. It's totally natural. If you're stuck on whether a backpack is a perfect fit for you or not, ask yourself the following:
Is the Backpack Comfortable?
No doubt, comfort is the most important thing to look for in a backpack. You don't want to lug around extra weight only to find your back and shoulders aching later. Search for soft shoulder straps, back padding, and an added hip belt for extra comfort. All these features will help reduce the strain on your shoulders and back, allowing you to carry the backpack around longer.
Is It Durable?
You should be able to use your backpack for a long time without worrying about breaking or damaging the material. Usually, manufacturers use nylon or canvas fabric to make a heavy-duty backpack. Similarly, leather bags are also very durable, though they are more expensive.
In addition to having sturdy material, the backpack should be able to protect your contents. It means you must look for some kind of waterproof features or extra padding. Padded material is necessary for safeguarding delicate equipment. Such as laptops or tablets, while the waterproof function is essential for protecting the overall contents of your bag.
Is It the Right Size Backpack?
Individuals differ in their body structure; therefore, find a backpack that fits on your body. The appropriate size is proportional to your torso length and fits nicely around your hips. You can generally find extra small, small, medium, and large-sized backpacks.
Activity-specific Backpacks
You will find hundreds of thousands of different backpacks on the market today. For instance, you can get travel bags, daypacks, sports backpacks, picnic backpacks, and a lot more. If you know the exact purpose of your rucksack, choosing the right one is easy. Sports backpacks are light and can endure more wear and tear. So, if you are a sportsperson or are generally very active, you need a sports bag. Similarly, if you're more inclined toward outdoor activities. You definitely need a rucksack that is waterproof and durable.
Conclusion
Unfortunately, there is no magical backpack out there that's perfect for all. Therefore, you need to select the rucksack that best suits your needs. Travelling, hiking, and other activities will become a whole lot easier. Moreover, if you've got the right backpack with you.
If it feels like there are many nitty-gritty details to pay attention to, just read our quick buying guide. As long as you know the basics of your backpack requirements. It will be easy to choose the perfect fit for yourself.