Recently, there has been a significant shift in focus towards providing staff with an excellent experience within the workplace. The latest generation of professionals not only want good benefits and pay, but they also want to work in a warm and welcoming environment. When designing an office space, you also need to consider the requirements of your employees and the development of your team.
While the policies you implement and how you interact with your staff will profoundly affect workplace culture, aesthetics also play a major role in the employee experience. If you are looking for a simple but effective way to enhance your company culture, start by building an office space that your employees will love.
Not sure where to start? These tips are sure to design office space and boost employee morale.
1. Lighten the Mood
The lighting within your office has a significant impact on the overall mood of employees. Ditching the bland light fixtures found in most corporate spaces for more modern options is an excellent way of freshening up the workspace.
The best part is that light fixtures are one of the cheapest interior design upgrades available. Businesses can strategically replace fixtures in a few key areas, such as the foyer and break room, for just a few hundred dollars.
2. Purchase Flexible Furniture
Sitting at the same desk day after day can become monotonous and increase feelings of burnout. Why not give your staff the chance to break away from their desk by adding some new furniture to your office space?
You could invest in standing desks, a few couches, or even some recliners. When a staff member is looking for a change of scenery, they can temporarily relocate.
Whenever possible, opt for light furniture. This will give your staff the freedom to move the furniture around when they need to collaborate on the latest project or hold team meetings.
3. Switch to Laptops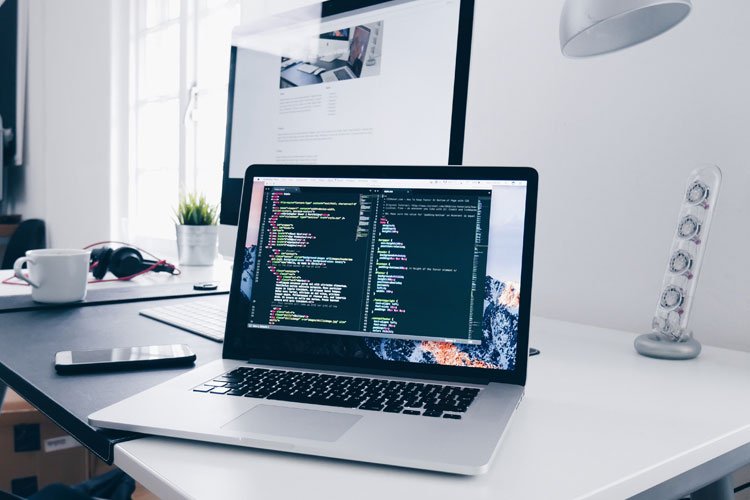 Is your company still relying on big, bulky desktop computers? If so, then it is time to make the switch to laptops.
Laptop computers will make life so much easier on your staff members. Without them, your team will not be able to use all of that flexible seating that you are planning to install. Laptops also open the door for remote or hybrid work opportunities, which has become necessary in recent events.
4. Add Some New Amenities
Has your break room had the same old coffee maker and refrigerator for the last five years? If so, it may be time to offer some new perks to your staff.
The exact amenities you can offer will depend on how much space you have available and what kind of business you run. The types of amenities that benefit your staff may be different. If you have a vacant conference room collecting dust, consider converting it into a stretching and relaxation space. This will give employees a way to remove themselves from their job stresses during break time.
Whether you start small by implementing a single tip outlined above or make sweeping changes to your office space. Your staff is sure to be appreciative of your efforts.
5. Cover Up The Wire Clutter:
It might be a no-brainer, but wires are extremely annoying. Not only do they look bad, but reduce productivity as well. Going wireless is an excellent way to enhance both the look and productivity.
Hide the wires of desktops, printers, copiers, and other wired machines in the wall or floor. Or align them behind furniture for a clean outlook.
6. Plants Are Man's Best Friend:
Plants are a great addition to your office space. They give a refreshing look and freshen up the place. Also, plants increase productivity and mindfulness.
Placing a few colorful potted plants will increase the aesthetics of the place. It will also help set a good mood around the workplace.
Also Read: The Ultimate Guide to Indoor Vegetable Garden!
7. Get Your Ceilings High: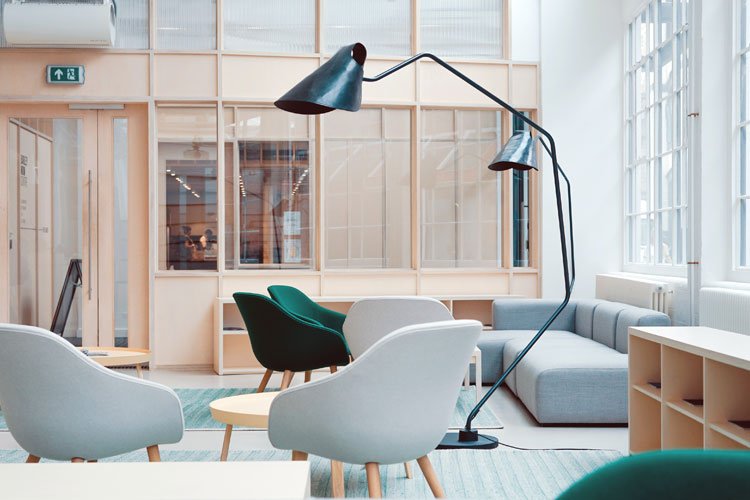 As per research, ceilings higher than 10 feet are associated with free-thinking and creativity. Whether building a new office or renovating an existing one, consider raising your ceilings. It will increase the creativity and productivity among employees and bring more profit to the business.
8. Natural Light Helps:
Natural light boosts the creativity, productivity, and moods of workers. Having windows- be they small or big- can change the outlook of a room. Incorporate windows or light spaces to make your workspace open and bright.
If windows are not possible, use lights that give off soft wavelengths. Various natural lighting options are available nowadays. You can use them not only to make your office look beautiful but also to increase productivity.
9. Cut Down on the Noise:
Noise hinders productivity and work rate big time. Study shows that it often results in low productivity, stress, and increased illness. Employees complain about the noise the most daily.
The most common source of noise among indoor/ closed offices is the HVAC system. Install a noise-free system in your office. For other kinds, such as traffic from outside, install a sound masking system in your office. Or, you can provide noise-canceling headphones to your employees.
10. Use Glass Partitions:
Open, bright, airy- these are what good offices look like. And, glass partitions are the way to do it! Glass partitions are an emerging trend among modern office designs. Also, they make the space look open and bright.
Glass partitions also increase the amount of natural light in the office while maintaining privacy. Huge walls and doors make the space closed-up, dark and suffocating. Glass partitions are a perfect alternative for enhancing your workspace.
An Ideal Office Design!
There is no such thing as an ideal office design. Your office design depends upon many factors, including what you do, the size of your place, and what it looks like.
Whether you are making an office from the scratch or doing minor changes, consider your colleagues. Adapt the changes that will benefit them, brighten their mood, and boost their creativity.
Whether you start small by implementing a single tip outlined above or make sweeping changes to your office space, your staff is sure to be appreciative of your efforts.
The whole outlook also differs from office to office. For a medical workplace, a minimal look will work better. Whereas for a creative outlet, bright and vibrant will do the job. Also, keep in mind that the image of your company is associated with your workplace.