If you're looking for some fantastic ideas of how to propose a girl of your dreams, then you've arrived at the right place. In this blog, we're going to discuss some amazing proposal ideas that she won't be able to refuse.
The hardest thing to do is to have the courage to express your feelings. Putting into words what exactly a person is feeling can be a difficult task, especially when the feelings relate to someone we truly admire, cherish and love. In any relationship, whether it's how to propose to a girl you love or how to propose to a guy you like, it's all about love, and expressing all the emotions, you feel for that person is not always easy. Eventually, you might find yourself speechless and at a loss for words.
That's why we're here to help you say it correctly! In the event that you wish to pop the much-anticipated question, now is the perfect time to get down on your knees, hold a ring in your hand, and break the news to your loved one. Because with February just around the corner, love is already in the air, and what time could be more perfect than this month to propose?
Whether you met at school, through a mutual friend, or on a dating app, you've finally found love, and it's time to keep it going. We are certain you already know, however, that deciding how to propose is a complex task. So, to help you plan a proposal that isn't only romantic but also relates to your love story, we're going to talk about some unique ideas and proposal tips that will make it pretty easy for you to plan one on your own.
So, let's get started, shall we?
What to Consider When Planning How to Propose a Girl for Marriage!
It's time to act. There's no doubt about it. Soon, you'll be asking the woman of your dreams to marry you. In your heart, you know this is the woman for you, and you want to spend the rest of your life with her. Yet, before the wedding, you have to pop the question.
Since this is your first time doing this, what should you do to prepare for such an important event? How to get a girl to say yes in such a way that she cannot say no?
It is understandable to feel pressured when you want to pull off the best proposal ever. Your top priority should be making certain her proposal is perfect.
Make her feel good about herself and give her something she can brag about because women are quite picky about what they want in their proposals.
Putting together one of the best proposals ever requires the creativity and understanding of your girl. She needs to make the decision now to share her body, mind, soul, heart, and life with you for the remainder of her life (hopefully🤞).Due to the fact that every woman is different, from the sentimental type to nature lovers, animal lovers, to loud and boisterous women, your creativity game is certainly on the line here. So, based on thorough research, we've come up with the following marriage proposal ideas. But before you plan it, you need to take care of some important things.
Things to Ask Before Proposing to a Girl
Ensure That You're On the Same Page
Marriage is a major step taken by anyone in their life. So, although it may seem obvious, it's crucial to make sure you both have marriage on your minds before you begin planning how to propose to a girl you love for marriage.
Talk to your partner about your future. Tell them that one day you hope to get married and ask if they see marriage in their future, as well. Are you worried that this conversation will seem too much like a proposal? If so, you can begin by talking about your best friend's recent engagement and lead into it from there. Is it difficult? Perhaps, but you'll hopefully come away from it knowing what your partner will say when you open up the ring box.
Talk With Their Parents
It may seem old school, but you need to get things right. So, start in the right direction, i.e., discussing it with parents beforehand and asking their permission. Well, whether your partner says it or not, getting their parent's approval priorly will always impress them. In fact, even studies show that parental approval and disapproval significantly influence the success of any relationship.
The level of family support is crucial. You should ask your partner's parents for their support if he or she has hinted to you in any way that you need their help. That does not mean your partner is someone's property, however. It's a gesture of respect and goodwill, basically. You could say something like this: "I love your son/daughter deeply, and I want our relationship to last forever.". I plan to propose, so I want you to be a part of this exciting moment."
Buy the Ring
Consider the engagement ring as a piece of jewelry your partner will wear every day for the rest of their lives. If you're having trouble deciding, take a photo of the jewelry they wear every day, check out their Pinterest boards, or ask friends or family for suggestions. Purchasing jewelry from a store with great ratings and service is vital when it comes to jewelers. Lastly, be sure to learn their ring size. If it isn't a secret proposal, just ask.
Nevertheless, if you're planning a surprise, check your partner's jewelry first. Identify a ring that he or she regularly wears (and note which finger it goes on). Afterward, either take it to a jeweler or measure how far it fits on your own finger.
Once you're done with the basic yet fundamental pre-proposal requisites, let's move on to the actual proposal part.
Romantic Ways to Propose a Girl
We're going to break our ideas for how to propose to a girl into different categories so that you can pick out one based on your girl's nature.
1. Organize a Beach Proposal
Beach wedding proposals are a wonderfully romantic way to ask your beloved to marry you. A beautiful ocean and the feeling of being the one and only couple to be on earth make this the perfect place for a couple to begin their lives together. Beaches provide the perfect backdrop for an unforgettable and romantic proposal.
2. Private Boats or Yachts Can be Rented
When your price range is not limited and your partner likes extravagant things, then this type of proposal will be perfect for you. It is not only a romantic way to propose but will give your partner a feeling that you're open to going to any extent for them.
3. A Musical Proposal Might be Fun
Plan a surprise performance of your fiancé-to-be's favorite love song by a choir, high school marching band, or steel drum group in a park, public square, or open area for your proposal. If you want to make it more personal, you can ask the performers to feature your fiancé's name in the lyrics.
4. Make Her Feel Special by Involving her Family and Friends
Are you planning to go on a trip with her friends and family? If so, consider including them in the planning process. You should consider this option only if you can trust the person with the truth. There is nothing worse than a carefully planned marriage proposal to go awry due to a member of a family member.
Cute Proposal Ideas
What about a fun proposal if you two are lighthearted and like to laugh? So, what is the cutest way to propose to a girl? We've got a few cute proposal ideas that will get your creative juices flowing on how you can make your proposal unique, silly, and fun.
1. Your Own Fortune Cookie Message
Invite her to a Chinese restaurant of your choice. Consider replacing the traditional fortune cookie message with a marriage proposal message that says, "Will you marry me?" Be sure to tell the server which cookie belongs to your girlfriend at the end of the meal!
2. How About Coffee? Glaze a Mug For Her
If your gal is a caffeine junkie, then this proposal will be your cup of tea. 😉 So, how to propose to a girl in a simple yet sweet way? Sign up for a ceramics workshop. Create a coffee cup with the words "Will you marry me?" written inside the cup. Ensure she finishes her cup of steaming joe. Hold the ring in your hand when she finishes the cup.
3. It's Cool if You Like Street Art
Well, this one's pretty simple. Hire a graffiti artist to paint your proposal on a wall. Go on a walk with her in that neighborhood, and stop at the wall. Bend down and pull out your ring, and you're all good to go.
The Good Old Classical Way of Proposing
The following are some classic ways to propose to her. They're tried and true and are sure to work!
1. Amp up the Romance with Candlelight
There's nothing better than taking your bae out for a candlelight dinner. You can give the candlelit dinner proposal type a twist of your own even though it is quite common. Try softening the lights and using candles instead. This will set the scene for something truly magnificent. A romantic night can't be complete without candles.
Spice up the event a little by coming up with a few ideas. You might want to play some relaxing music in the background of your dinner setting. This can even be outside. Booking a special location will allow you to have it set up to your specifications.
2. Consider Proposing to Her Where You Met Her First
Since the beginning of your dating relationship, it's unlikely that anyone has not asked you how and where you met. It's something special, and it speaks volumes about the two of you. It's even more fun and sweet if you propose at the same place where you met. Regardless of the location, if you can make it memorable, go for it. It's okay if you get to know each other at a park, beach, or in a restaurant or hotel. Recreating the atmosphere and proposing there would be awesome. Additionally, it will make your beloved think that even the slightest details of the time you spend with her are important to you, which is what we say, is damn romantic.
Proposal Ideas for the Daredevils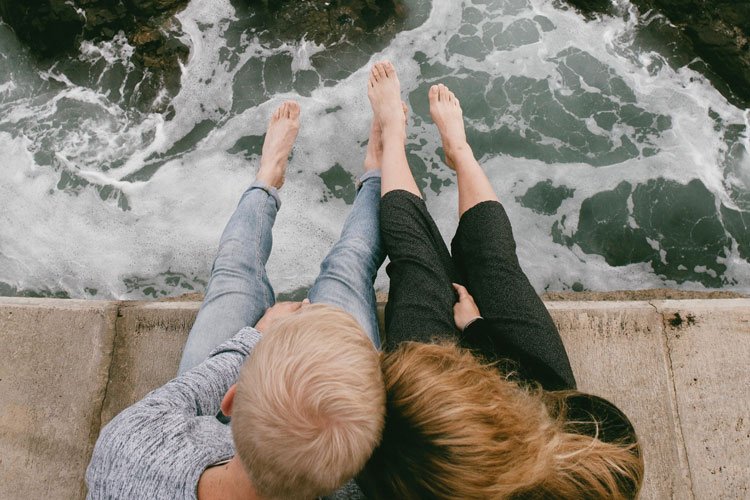 If you and your bae are the adventurous types, then the proposal needs to reflect your thrilling side, too. These proposal ideas will be perfect for you:
1. Take Her for Diving
What can be more romantic than asking your loved one to say yes deep down in the ocean? Nothing, right? So, are you game? Go on a romantic island trip with your fiance-to-be. Take her scuba diving when you're there. Location is key here, so choose an underwater spot that is both scenic and simple enough to propose. When you're underwater, you won't be able to hear your partner, so try holding a water-resistant sign that asks the question. You can also simply get down on one knee and present your partner with the ring.
2. Go Skydiving
You've got to try this one if you're looking for adrenaline rushes. Hopefully, your partner in crime is a daredevil as well because you're going to have to convince them to go skydiving with you. Before proposing this extravagant activity, make sure you are prepared. Put a sign on your skydiving jumpsuit that reads 'Will You Marry Me?' and flick it out while your loved one is flying with you in the air. So leave the whole sappy speech and put on a ring on their finger for when you two are back on earth.
Last But Not Least!
Keep in mind that you know your girl the best despite all these tips, and this is your proposal. Follow your heart and improvise on the tips given here. No matter what you do, you will hear a definite yes if you love your girl and she loves you back.
There is nothing more important than making beautiful memories that you and your partner will cherish for the rest of your lives. Relax and enjoy this special time together as a proposal will be a pivotal moment in your lives together. Wishing you the best!