Motorcycling has the credit for exploring new places with total freedom for people who have a strong wanderlust.
Compared to traveling in a car, a motorcycle road trip gives you a better up-close connection to your environment. It offers you the liberty to smell wildflowers, hear the sound of birds and rivers running alongside the road, and feel every moment of your ride, as you take sharp turns and enjoy the stunning scenery around. Undoubtedly, a trip wearing a special jacket on your favorite motorbike is a memorable experience.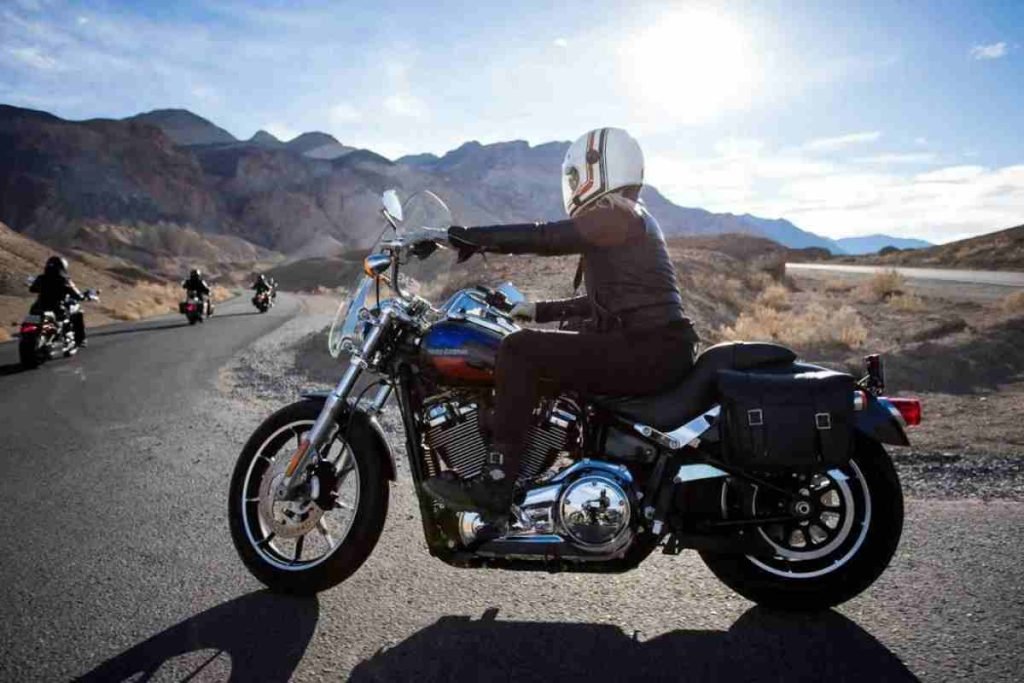 However, motorcycle road trips come with their own challenges, as you have to tackle varied road conditions and unpredictable weather. To make your journey safe, comfortable, and adventurous, you should prepare wisely.
We guarantee if you follow our motorcycle road trip guide, you will not have to face any trouble along the line.
How to Have a Safe And Convenient Motorcycle Road Trip?
1. Pick Your Ride Carefully
It doesn't matter if you plan to take your bike or rent one for the road trip, you should ensure to own the right motorcycle as per your height, weight, and riding plan. Long road trips tend to be exhausting, so the positioning of the handlebars, footsteps, and seats must be according to your height and seating place. You can also think of things like highway pegs to add more comfort into your journeys.
Traveling by motorcycle comes with some disadvantages – the major one is the limited storage space for your luggage. Therefore, you need to add more storage space and pack smart. Ensure you motorbike has saddlebags that are waterproof and lockable to protect your things.
While deciding the best motorcycle for your road trip, ask yourself what type of adventure you seek. Do you love to hit the beaten path or just the paved path? Is your journey only consist of straight paths or some canyon traveling as well? Do you think you will encounter gas stations along the way for a long journey? In addition, ask yourself can you handle the weight of your bike if you drop it.
Experts recommend a bigger bike for motorway traveling since it features saddlebags, wide front fairings, backrests, and footboards for a relaxing journey. For off-roaders, perhaps the best option is an adventure touring bike.
2. Packing for Your Motorcycle Road Trip
As mentioned earlier, packing smart is the key for a motorcycle road trip. It should be according to your trip plan and your individual likings. Keep in mind your trip's duration and destination. If you plan to spend night camping, you have to pack extra stuff for that.
Buy saddlebags, tail-bags, or tank bags to preserve your things. Use packing cubes to arrange the stuff and make sure to pack light to minimize the weight for a smoother and more stable ride. Use disposable stuff and sachets instead of bottles.
3. Devise Your Route and Have a Backup Plan
After finalizing your destination, the next step is to devise the best route to enjoy the remarkable scenes. Plan breaks for fuel and food according to the trip. Carry a physical map for the times when you have to alter your route due to road accidents.
Besides, a backup plan is necessary if you want to travel on a budget. Especially for a motorcycle road trip when things do not go according to the set plan. Extreme weather or varying road settings may make it hard to carry on your devised route. New road development may take you to a surprising dirt road where you have to travel for hours.
We have heard many stories of travelers who had to re-route their whole journey last minute due to unforeseen alterations in weather. You should be ready to go with the flow and change your route during a motorcycle road trip. Otherwise, you have to bear an uncomfortable journey for an extended period.
The best part is, when you change direction, you end up seeing places you never have imagined. These include attractive paths, wildlife, appealing eateries, and odd roadside charm. Therefore, it is prudent to have a plan. But, you should be ready to ditch it and adopt a completely new road if you have to.
4. Right Dressing
Sporting an appropriate dress for your journey is as important as selecting the right motorbike. It can help avoid weakened vision, uneasiness, and cold or wet scenario. We suggest you put on a helmet, gloves, boots, eyewear, a lengthy pant and a jacket in both dry and cold conditions.
The clothes must have multiple storages spaces to carry ID and travel insurance, as well as, the cash for easier accessibility.
The helmet and jacket must have some kind of reflective material to stay visible on the road at night. Furthermore, the gloves, boots, and jacket must be waterproof for better protection.
5. Motorcycle Road Trip Checklist
Here is the minimalist motorcycle road trip checklist for a hassle-free, entertaining, and safe journey.
A motorcycle cross country road trip is all about the journey rather than the destination. It is more crucial to stay safe and comfortable than to follow a dirty, uneven, and dangerous road.
Keep a physical map and consult it before and during your tour. It will take you to places you never have envisioned.
Bluetooth Headphones or Earphones
If you love solitude and want to avoid road noise, a Bluetooth headphone would be your perfect companion. This tech tool will not only enhance your ride experience but will also make the journey less tiring and more fun.
---
Like any other automobile, motorcycles can break down any time during a ride due to various reasons. Before starting your motorcycle road trip, visit your trusted mechanic for a thorough checkup. If you got it serviced lately, you should still inspect its brakes, tires, lights, and fluid levels before the journey. Ensure to tighten all the bolts, as well.
Long trips may need consistent maintenance because tires tend to wear out, parts get loose and oil level drops with use. Your motorbike requires a standard toolkit, made exactly for your particular model. You should know if your bike needs metric tools or imperial sizes. It is wise to buy a pre-assembled kit from your manufacturer rather than getting different tools from different manufacturers.
Besides the motorcycle toolkit, you should also have extra bulbs, fuses, and spark plugs along with zip ties, some bungee cables, an electrical tape, a tire mending kit, a tire pressure device, locking pliers, and a light.
Even if you don't know fixing different motorbike problems, you can still do it by taking help from various online videos. In case you are not comfortable with DIY repairs, the only option remains is the towing service.
Read More: Affirm Financing on Motorcycle Accessories
You must place reflective tape on certain surfaces on your motorcycle to stay visible on the road. It will enhance the visibility of your bike in the dark, especially after sundown.
---
To refill the tire pressure when it drops or fully re-inflate a flat tire, you need a portable air compressor. Make sure the air compressor is lightweight, compact, and has enough pressure to top up your bike's tires.
---
Wearing a Helmet is Indispensable for a Road Trip
A helmet is the only accessory that can protect your head in case of a road mishap. Buy the one that offers complete protection to your head and is lightweight. It is completely impractical to purchase a heavy helmet for a day-long journey.
---
Probably, this is the most skipped and overlooked riding tool. You can't rely on cell phone flashlight because it drains battery quickly. Severe weather conditions may bring dark clouds and require you to use a motorbike mounted flashlight, as well.
---
Avoid another misadventure on a long motorcycle road trip. If you are out of gas in the boonies where fuel pumps are few and far between, what will you do. An extra fuel tank for your motorbike is as necessary as water for yourself. To avoid any inconvenience because of fuel shortage, carry an extra fuel tank with you.
Conclusion
Spending some time to devise a plan for your motorcycle road trip can help save you from a mishap. This brief guide has everything that would make your motorcycle adventure trouble-free and enjoyable.